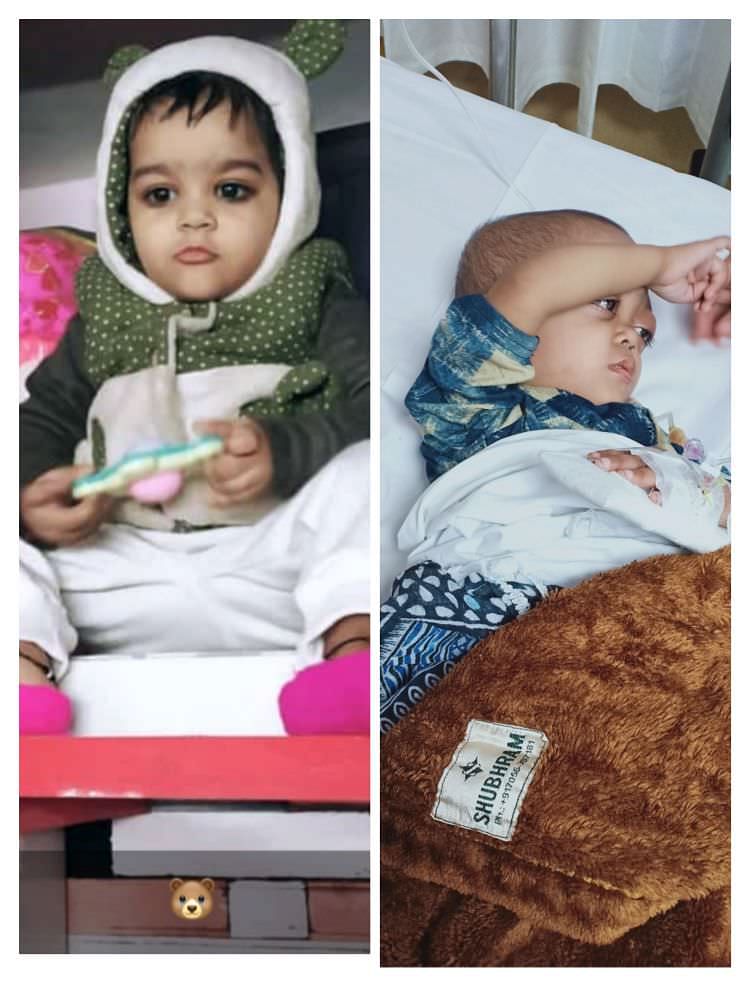 My 2 years niece, TRISHNA SHARMA is battling for her life. She is suffering from ganglioneuroblastoma, a solid and malignant tumor that spread in abdomen, chest, and adrenal glands. She needs urgent treatment for survival.
How it all started...
On 15th November 2020, just after 7 days for Trishna's birthday. She had a mild fever, we thought it was normal and we gave her regular medicine. She started feeling well after few hours.
After few days, it happened again, fever started troubling her. We took her to the local hospital. After an initial screening doctor recommended for URINE test and the result was positive. They found URINE infection and gave us some medicines. Luckily the URINE infection tested negative after few days of treatment...but this was not over yet.
She again had 101 fever after 2-3 days. Now, this became a very serious concern for our family, then we decided to take her to the hospital immediately. At the hospital, the doctor advised an ultrasound followed by a CT scan. We took her to Lal path lab for the same and we were hoping for the normal report but it was there. Doctors diagnosed our baby with neuroblastoma (Cancer). After listening to this word, we got stunned. It felt like we lost the whole world. We were not sure how to react to this. She has just started and we had so many plans for her and suddenly everything ended.
No one said anything for 2 min then I decided to ask for the treatment.
The doctor said that her cancer is advancing day by day. We need to start her chemotherapy immediately. We gathered funds whatever we had to start our baby's treatment. Since her cancer had reached the advance stage doctors had suggested 3 cycles of chemotherapy followed by surgery and again chemotherapy, radiation, and bone marrow transplant if required.
She underwent 2 chemotherapy cycles in 3 weeks and we had already spent around 2 lacs. Doctors have given us an estimated cost of treatment for 1st year was of Rs.1500000 to 2000000 lacs and there is a possibility of exceeding this number depending upon the baby's condition.
Her father was an interior designer but he lost the job in the Covid pandemic in May 2020. He doesn't have any other source of income. He was feeding his family and bearing the hospital expenses basis the savings which he had but now it is almost finished.
He has started feeling depressed for not being able to arrange funds for treatment.
We are doing our level best to arrange funds. Now, this the way I found to reach out to you people for your support. We cannot bear the thought of losing her. Please support us in this crucial time. A single penny can make a huge difference.
Thank you!