About Pran Vayu
We group of driven individuals spread across India and the US, actively supporting COVID relief efforts from supplying oxygen concentrators, paying school fees for those financially affected, to supplying sustenance kits. Our focus is on Tier 2 and Tier 3 cities in India including remote villages.
www.pranvayu.org
https://twitter.com/pranvayu
___________________________________
Project Details: We bring you this
story from the beautiful but distressed, Himachal Pradesh
in India. Sirmaur is the southernmost district of Himachal Pradesh, northern India. It is largely mountainous and rural, with 90% of its population living in villages.
In the district of Sirmaur, there is a hilly remote area

Baru Sahib,

where basic healthcare amenities have been missing.

In that effect, Pran Vayu is partnering with the
Kalgidhar Society
a charitable hospital of 100 beds in the hilly remote area of Baru Sahib in Himachal Pradesh. Although the situation in mainland is getting under control, things are still getting worse in the remote areas with the surge capacity growing exponentially. With local donations, they could just now add 350 beds in adjacent areas of the hospital where front-line workers can be extended. The
district magistrate has declared this make-shift facility as a COVID care center
.

Your donation will go towards the following resources that the remote village of Sirmaur needs to combat COVID 19:
We need 10 O2 concentrators: Every $1000 raised will go towards one 10 LPM O2 concentrator (we are expecting the price to be higher than this).

Every $200 goes towards protecting one front-line worker for a month. We need to protect at least 20.
Every $30 feeds one family of four for a month. We need to feed 100 families.
Every $20 helps us measure O2 levels so we can administer proper O2 use. We need 50 oximeters.
___________________________________
"With your help we can fully contain the impact of the virus in Siramur and its surrounding areas. Please consider helping us"
- Siranjeet Singh, Pran Vayu Partner (Kaligarh)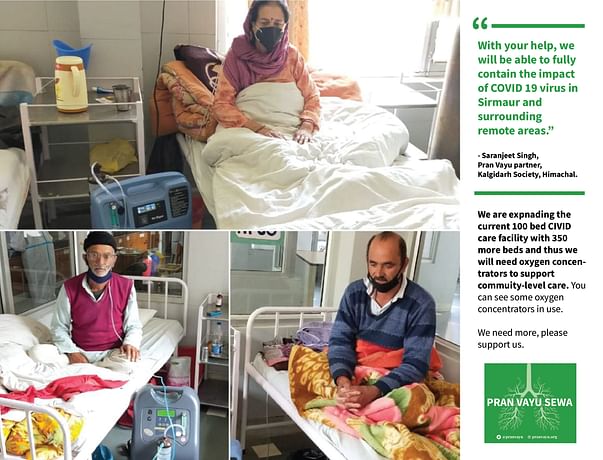 ___________________________________
Thank you for your consideration and help. For any questions please reach out to us on
www.pranvayu.org
or on
pranvayusewa@gmail.com
. Follow us on Twitter at @pranvayu for latest updates from our efforts on the ground.