The national capital recently recorded this month as the coldest November yet and this is only expected to get worse. Winters are here and while this seems like the perfect opportunity for us to upgrade our closets with new boots, leather jackets, and snug sweaters, there are many who are not that fortunate to even have blankets to keep them warm. As many as 10,933 Indians (an average of 781 per year) have died over the past 14 years–between 2001 to 2014–due to "cold and exposure'. With Increasing air pollution levels and the early onset of winter this year, this number is only expected to increase.
As we sit inside our houses comforted by warm clothes, heaters, and countless amenities we must realize the plight of those in need.
Join hands with Girl Up Faridabad's campaign "Raahat" to provide the gift of warmth. Raahat is an initiative introduced to provide high-quality warm blankets and other winter supplies to the underprivileged around us. All the money collected will be used to buy blankets which will then be disturbed to various shelters, schools, and homeless individuals across the National Capital Region [NCR]. The fundraiser will be open for a month in which we strive to collect as many funds as possible.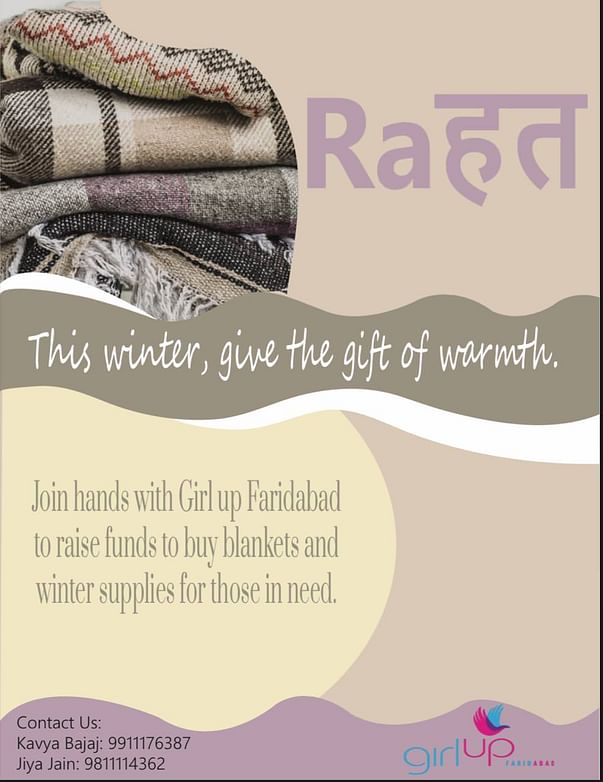 Take this opportunity to realize your privilege and serve humanity by donating to our fundraiser. With
every 200 rupee donation
, we will be able to reach out and help one person in need. This winter
Donate and save a life.