A BOWL A DAY is an initiative started by us at the The Philanthropist and the Happy Dog - or PHD, if you may! We started at the onset of covid 19 in 2020 by feeding 85+ dogs across 5 sectors in Noida. Today, we proudly feed 150+ dogs everyday. With the passage of time, our little family grew and we've been able to help and support so many animals who were perishing without food or water in the most unimaginable conditions.
We feed 150+ dogs across 4 sectors in Noida everyday - they are fed hot, freshly prepared chicken rice with a hint of turmeric (its super good for their skin!)

It costs us INR 500 / $ 7 to feed ONE DOG FOR ONE WHOLE MONTH.

We rely very heavily on our donors as this mammoth task wouldn't be possible without everyone supporting us monthly.
We currently have over 30 new born puppies under our care. Most of them live in an under construction site, which makes it impossible for them to hunt for food. Their only source of food is what we provide everyday.
Most of the time, we find puppies and dogs in need of help during our feeding rounds. A week ago, we rescued a 25 day old puppy who was found lying on the road - shivering and crying incessantly. He was rushed to the vet where we found that he had severely low temperature as a result of an external injury. He suffered a pelvic fracture.
Moon - as we named him shortly after, is recovering at a foster home right now. He is undergoing treatment and is starting to learn how to walk all over again!
Apart from puppies like Moon, we rescue dogs from abusive homes. Harry was abused for two months as a puppy and left alone in the balcony of a flat in Noida 24/7. When all measures failed, we seeked help from a national NGO - People for Animals, and successfully brought him out of that home.
This is how he was kept in the house -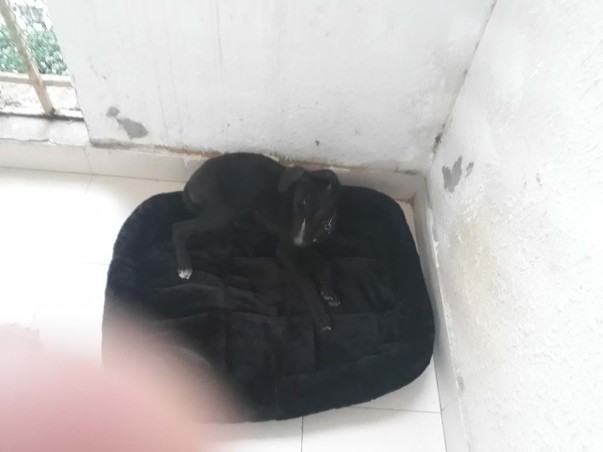 This is Harry today -
We have many more dogs up for adoption, who need funds to live in a paid boarding until they can find forever homes. One such sweet girl is Juno. She was abandoned when she contracted parvo, a deadly virus. Her previous family refused to spend any money on her treatment and left her untreated. She's thriving as of today, but unfortunately, she has no home to go to.
We look after many old, ailing dogs as well. Bhumi is one such dog under our care. She is a distemper survivor with a fractured jaw and only one eye. She was unable to survive on the road being a weaker dog. She was bullied very often and one day she was attacked very badly by the other dogs in the area. Bhumi is now off the road and permanently under our care living in a paid boarding. Her boarding costs INR 5000 monthly.
Before -
After -
I have been working for community animals for the last 7 years and this charity aims to help every animal in need. I conduct sterilization drives, vaccination drives, adoptions, feeding, rescue and fostering of dogs, I am in need of funds for feeding and to meet the medical treatment expenses of my rescues.
We need every bit of support we can get. If our cause has struck the rights chords in your heart, consider being a monthly donor with us. You will see the happiness it'll bring into your life, to help a voiceless on the street!