In the wake of the pandemic and lockdown, education for underprivileged children across the nation has taken a big blow. It is estimated that 4 million children will drop out from the school due to the gap created and more than 20 million children will go atleast 2 years behind in their learning curve.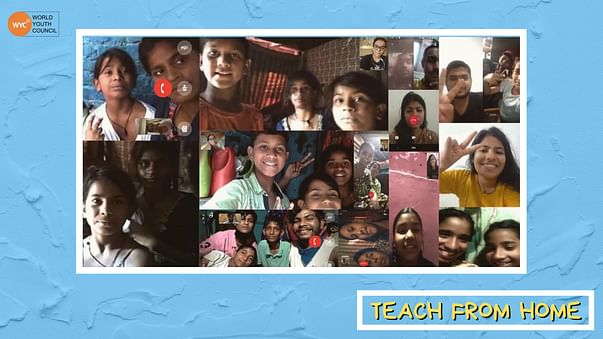 About Teach From Home
Teach From Home is an initiative which aims to support and maintain the learning & education of underprivileged children who have a basic smartphone & cellular phone accessibility. The initiative was born in the wake of pandemic and consequent lockdown. Through Teach From Home, young people volunteer to teach English & Mathematics following the unique curriculum curated understanding the needs and focus area of the children. The classes are conducted live on
Google Meet
,
Whatsapp
video call and normal voice calls.
Impact so far
Teach From Home
, in just 5 months, has enrolled 3000+ students in 100+ cities through different interventions with atleast
200,000+ live online classes conducted with maximum 1:3 teacher-student ratio
.
The initiative is dedicatedly runnning as
TFH Regular
in 7 cities (Delhi, Ranchi, Guwahati, Jaipur, Bikaner Mumbai, Bangalore) with 500+ happy children & their satisfied parents. The progress so far has been made purely with passion and devotion & zero funds. In order to grow from this stage and to ensure uninterrupted learning for the students, funds are essential.
Who are we raising funds for?
Teach From Home Initiative is enrolling 1000 children across 10 cities in India who are receiving dedicated learning support and individual attention.
Teach From Home Mission Boards -

TFH Mission Boards is the special attention program for Class 10 and Class 12 students. The fundraiser will benefit 500 students across 3 cities in Uttar Pradesh and Bihar.

Donating INR 1000 will help support one student for 3 months.
Teach From Home Regular -

TFH Regular is the flagship program for 10 to 17 year old students. The fundraiser will benefit 500 students across 7 cities - Delhi, Mumbai, Bangalore, Guwahati, Ranchi, Jaipur and Bikaner.

Donating INR 500 will help support one student for 3 months.
Application of the Funds
The funds raised will be used for following:
Books & Handouts (Course books, workbooks, notes handouts, etc.) along with Courier charges
Data & Talktime Recharge (Internet packs for students with smart phone, talktime packs for students with cellular phones)
Technology (CRM, DBMS, Evaluation & Monitoring Software)
Teaching Support (Teachers, Experts, Volunteer Training, Unique Curriculum Curation, etc.)