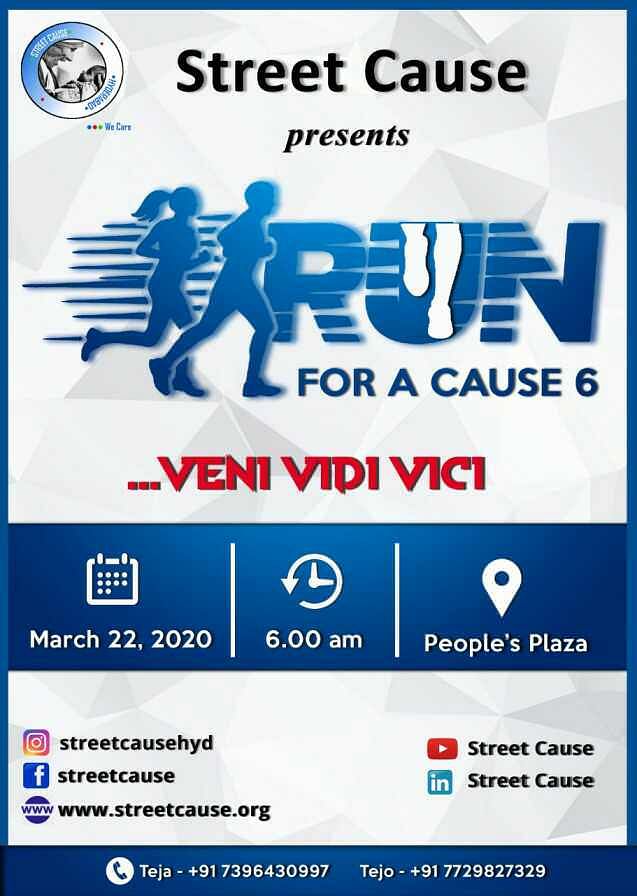 What could be the price of innocent smiles of those kids or the warmth of one's home?What could be the price of a child's education or their right to a life with dignity?
Sometimes, most invaluable things come at the cost of your participation in our humble endeavours.
People usually say a dream doesn't become reality through magic, it takes sweat, determination and hard work.
For long years the line, Street Cause has been transforming dreams of many underprivileged and destitute of the society into a magical reality by helping them become suffice.
For years down the line, people have waited for some foreign hero to come down to help the destitute meet with their needs.
This year, let's be the helping hand to someone in need rather than being the praying lips. Street Cause, the largest student-run NGO in the city is back with its annual fundraising event : *RUN FOR A CAUSE 6*, the proceedings of which shall be used to conduct various socio-economic activities.
RFC 6 forum is now open for pass sales. This year, RFC 6 has complete digital passes wherein the pass would be digitally transferred to the participant's mail I'd and SMS. *A certificate of participation is issued to those who take part in the run.*
*Venue:* *People's Plaza, Necklace Road*
*Timings* : *6 AM onwards*
*Date: 22nd March 2020*
So let's rock it up!
Website:
www.streetcause.org
Contact name: TARUN PASRIJA .
LINK FOR DOCUMENT FOR PROOF AND ABOUT STREET CAUSE :
( https://drive.google.com/file/d/1babXTFrHE-GOGcD2Qw72-p-zJZhV2_9s/view?usp=sharing )FUNDS WILL BE UTILISED FOR THE ORPHANAGES, OLD AGE HOMES AND TO DEVELOP GOVT- SCHOOLS ETC FOR MORE INFO ABOUT THE UTILISED OF FUNDS COPY THE ABOVE GOOGLE DRIVE LINK AND OPEN IT.....