Imagine a world where well-being is our default state. Where our body, energy, mind and emotions enable us to operate at our true potential. Where the entire ecosystem of people and institutions across our lifecycle, support us to be our true self and live life fully and freely.

A Grim Reality
Today, physical and mental chronic ailments constitute the biggest chunk of the burden of disease. 1 in 20 families, a total of 60 million Indians, go below poverty line annually, due to a "health shock" in the family. Mankind is losing both its health and its wealth.

Existing healthcare providers are unable to take us patients from ill-ness to well-ness, most significantly due to a limited capacity and incentives of healthcare providers being aligned primarily to financial gain.
Neither are wellness providers able to fully serve their purpose. Genuine and time-tested knowledge is lost in the overload of information. Traditional sciences are often over-simplified, misrepresented, or available in an esoteric form. Like modern medicine, wellness practitioners often have a narrow focus. Their interventions are also characterized by an absence of measurability of impact.
Introducing Aanand Yog Coaches (AYC)
Swasth Yog Institute was formed in 2017 to address this dire need, based on our research and experience of impacting over 1 million lives through our parent organization,
Swasth Foundation
, we realized that we need a new health provider who enables us to take our health in our own hands, by equipping us to align and harmonize ourselves. We aim to create a new cadre of integrative health professionals - Aanand Yog Coaches (AYCs) - who enable people from all walks of life to make a paradigm shift in lifestyle, by living a life of Yog, leading to well-being.

Aanand Yog Coaches (AYCs) deliver a range of interventions such as group workshops and courses and personalized sessions to build the necessary knowledge, skill and mindset barriers to enable us all to take our health in our own hands. We envisage AYCs across the world, in every city, town and village – bringing health and joy back to all.
Here is a summary of the work we have done so far...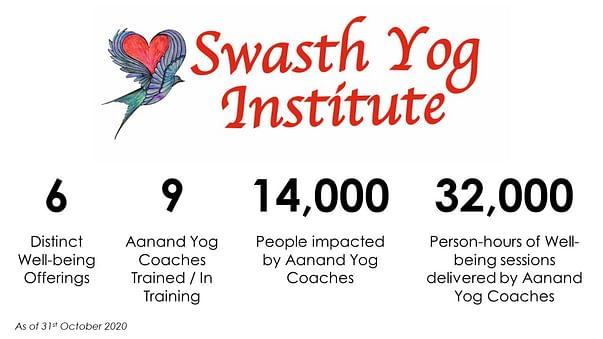 And here is the way that lays ahead next year...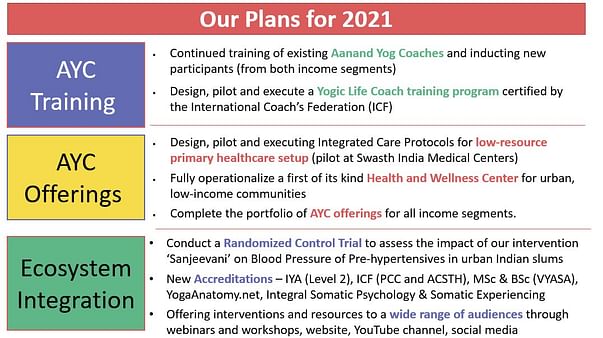 We need your support to make this dream a reality
To make the above happen, we need a minimum of Rs. 44,00,000 (44 Lacs) over the year, or Rs. 11 Lacs per quarter to sustain base expenses of a lean 7-member team, operating costs of wellness center and cost of certifications. In the spirit of harmonizing the East and the West, we solicit half the contributions from India, and the remaining half from rest of the world.
For Indian citizens AND for Tax Exemption in India - Pay on Milaap
- ZERO TRANSACTION FEE - https://milaap.org/fundraisers/support-swasth-yog-institute-1
For all others, click here to donate
(tax exemption for US, UK tax payers) - https://fundraisers.giveindia.org/campaigns/support-swasth-yog-institute-and-aanandalaya-bring-health-and-joy-to-all
How your contribution will support us:
INR 1.67 lakh funds the training and support cost of an Aanand Yog Coach Level 1 over 1 year (certifications in Yog, Coaching, Integrative Care)

INR 31,000 supports 1 month of stipend and support cost of a community-based Aanand Yog Saathi (supporting 200 hypertensives/diabetics a month)

INR 10,000 supports 1 person from a low-income community to go through a batch of Sanjeevani (our flagship well-being offering over 3 months)

INR 1,100 enables 1 person from a low-income community to be health screened and inducted into an integrative approach to chronic disease management