We are a not-for-profit organization on a Mission to Empower Children & Youth by building Essential Life Skills.
Why?
By 2030, an estimated 825 million children are expected to leave school without basic secondary-level skills. To address the skills mismatch contributing to high youth unemployment, children & youth need to be provided with opportunities to explore, practice, make mistakes and learn. At the same time, supported with a positive work environment for them to thrive and be job-ready.
Watch this video to see our impact:
Life skills leading to achievements

How?
For acquiring, nurturing & succeeding in work, youth in schools & colleges need to develop a mix of foundational skills, life skills, digital and job-specific skills. Schools focus on foundational skills, while there is an increase in demand for digital skills in the market. For a smooth transition from school to work, we onboard children & youth (age 13 years and above) as Interns from economically challenging backgrounds. We provide them a platform to explore different areas of their interest, build on their strengths, and empower them with the essential life skills required for them to be job-ready. They are also supported with a monthly stipend to make them self-reliant. Throughout their internship, they explore different areas of their interests, design, plan, execute projects & track impact. Working on these projects makes them ready for the current jobs in the market.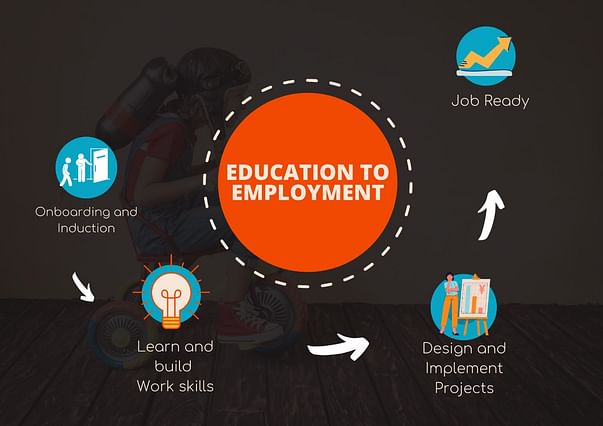 Quarterly Funding details:
The current projects run by these interns are:
1.
Success Stories
- An interview series to connect with role models across the world and to inspire the Genz generation to follow their passion and build their action plans. 3 interns have designed, planned, and invited successful people from diverse sets of professions, and are soon beginning with the series from 26th August 2021.
Project cost: Rs.95,000/-
https://www.youtube.com/channel/UCOhiApJ311qqabyhS4SMthA
2. Essential skills through fun Quizzes - 2 of our interns are working on learning and empowering their peers across India, by planning fun and easy quizzes, designing a program to onboard, execute and map the outcomes of skill development in the youth who are part of the program.
Project cost:
Rs.45,000/-

3. Communications - Youth who are in their final years of college, and have chosen streams such as mass media, advertising, marketing, and other similar fields, join us and put their knowledge to application, practice and improve their skills to build the pathway for their future. We are looking at supporting 5 interns in this quarter through this vertical and giving them exposure to the market.
Project cost: Rs.60,000/-
The skills in the focus of all these projects are problem-solving, leadership, teamwork, creativity, aiming high, staying positive, listening & speaking along with specific work skills required as per the project.
Do you like what we do and connect to the cause? Join us in this movement of empowering the youth. We truly believe in together we can do more. Share our work within your networks and help us reach more audiences, to positively impact more youth's lives.
If you have any queries, do write to us at postbox@pencilbricks.org. To know more about our work, visit: https://www.pencilbricks.org/life-skills