TLDR : The new exodus of migrant workers following Delhi's lockdown has begun and Suresh is one of many suffering the consequences of same. So far, migrant worker Suresh Kumar has had to sell off his land and wife's jewellery in a bid to sustain his family during 2020's lockdown. The rickshaw he bought last year requires him to pay a monthly installment of Rs. 14,000. Failing to do so would strip him off his only means to sustain his family. Help us raise Rs 42,000 (3 month's worth of installments) to help Suresh fight off the financial crisis his family of 7 (including his 3 children) are facing!
जब सुरेश अपना दर्द बयां कर रहे थे तो उस समय उनका 8 साल का बेटा सत्यम उनसे पूछता है, पापा हम गांव कितनी देर में पहुंचेंगे? बच्चे के सवाल पर सुरेश की आँखे फिर नम हो जाती हैं।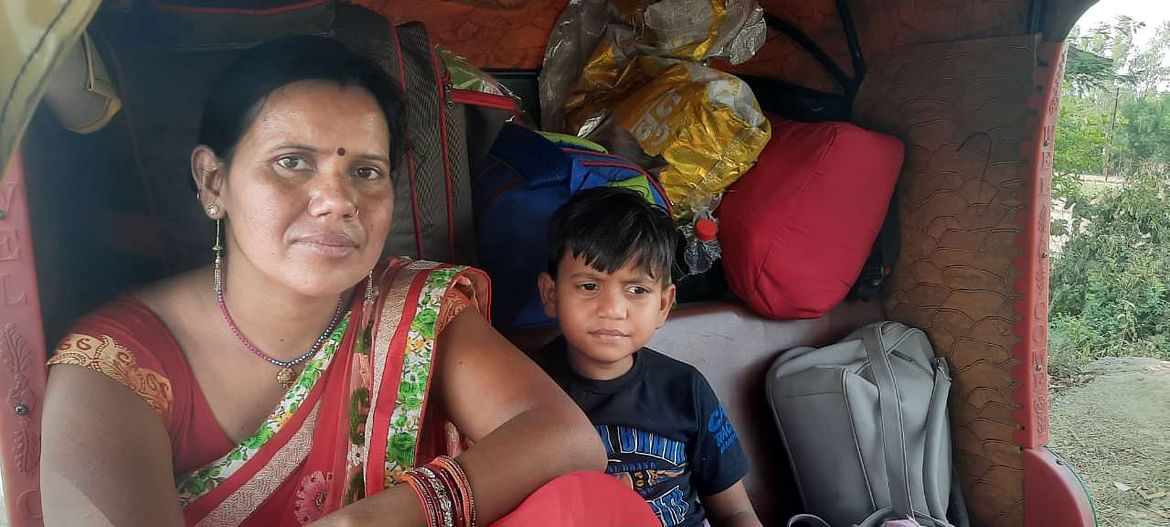 Sitting under a tree on the roadside of NH-24 (national highway), Suresh Kumar tried to smile at his eight-year-old son. But, he was unable to hide the pain because of his swollen feet and smarting palms, red and hurting from all the hours of driving an autorickshaw, all the way from Delhi to Sitapur in Uttar Pradesh — a distance of about 426 kilometres (kms).
His ordeal, however, was far from over, as Kumar had another 600 kms to drive to reach his hometown Muzaffarpur in Bihar, where he, his wife and his son, and three more passengers had stopped for a short break. They had spread sheets under a roadside tree and were trying to sleep.
"Last year during the lockdown I was trapped in Delhi for three months. I had to sell my land in the village, and my wife's jewellery, in order to pay my rent in the city and repay the instalments on my auto," Kumar told Gaon Connection's Mohit Shukla, a rural media platform.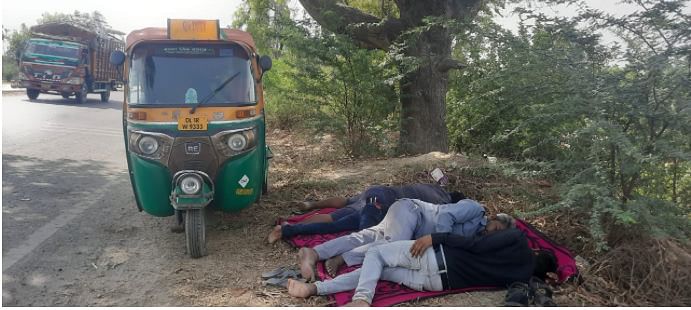 So, as soon as Delhi Chief Minister Arvind Kejriwal announced a week-long lockdown in the national capital on April 19 morning, Kumar, an autorickshaw driver in Delhi, felt it was prudent to rush home. Despite Kejriwal's appeal and assurances to migrant workers to not leave the city, Kumar was not swayed.Yesterday, in his address to the nation on the situation of COVID-19 pandemic in the country, Prime Minister Narendra Modi also urged migrant workers to remain where they were. However, migrant workers like Kumar have little faith in the government as last year, amid the lockdown, millions of them were stranded in cities without shelter, food, water or money. Thousands of them had to return home on foot in peak summer heat. Some even died in the effort.
"We left Delhi at 10 pm [on April 19]. My auto besides running on CNG also runs on petrol and I am spending from my pocket refilling the petrol that gives me ten kms per litre," said Kumar. "Just when I thought I would complete the payment on my rickshaw and repay his other loans, the second lockdown has been declared," he added.
जब सुरेश अपना दर्द बयां कर रहे थे तो उस समय उनका 8 साल का बेटा सत्यम उनसे पूछता है, पापा हम गांव कितनी देर में पहुंचेंगे? बच्चे के सवाल पर सुरेश की आँखे फिर नम हो जाती हैं।
Invest in Suresh's future by directly supporting his only means of livelihood

Article on Suresh's story covered by GaonConnection's Mohit Shukla who's helping me organize a fundraiser for him
पिछली बार बीवी के गहने और जमीन बेचकर 3 महीने गुजारे थे, इसलिए निकल पड़े | Migrant workers stories
Through Project Aasha, we wish to cater to the specific monetary requirements of migrant workers we get in contact with through on ground journalists. Donations in kind are extremely helpful but may not always be the sustainable solution during this crisis. Instead investing to resurrect their sources of livelihood can help them in the long run. Please support migrant workers during this time through donations in both kind as well as cash!