My name is VARAN SINGH ROHILA and I am a student at NIT HAMIRPUR. Me and my team (SUMIT SHARMA, VIVEK GUSAIN) are looking to raise sponsorship to help us pay for the cost incurred for our participation in the upcoming program organised by Hult Prize Foundation and United Nations which will take place in Thailand in March 2020.
Let me introduce you something about Hult Prize. Hult Prize, organized by Hult Prize Foundation and United Nations, was established by Bertil Hult, and is an annual, year-long competition that crowd-sources ideas from college students after challenging them to solve a pressing social issue around topics such as food security, water access, energy, and education. This year's challenge is "Bold Business for Better Planet".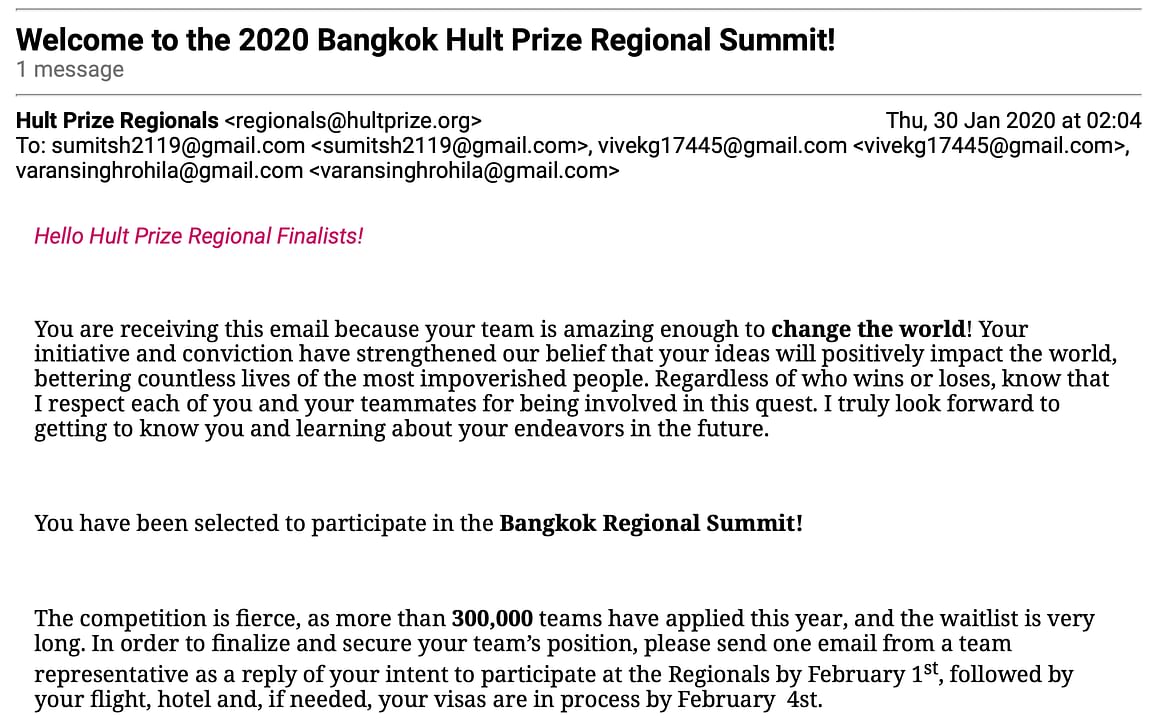 The Prize is a partnership between Hult International Business School and the United Nations Foundation. Former President Bill Clinton selects the challenge topic and announces the winner each September; he mentioned it in a 2012 TIME Magazine article about "the top 5 ideas that are changing the world for the better". The Hult prize has been referred to as the "Nobel Prize for students" by Nobel laureate Muhammad Yunus.
I'm writing to you to ask you to support our trip to Thailand. Just a small donation and you can help us join hands to make positive changes to our world. Without your assistance and sponsorship, we won't be able to afford this great opportunity.
If you would like to speak further about our trip, feel free we'd love to answer any questions you have and give you more information.
Our Team:
Sumit Sharma -
Third Year Engineering Under Graduate at NIT Hamirpur, gaining experiences from Several Social Business Case Study and Risk Management competitions, he loves to make use of his problem-solving, marketing strategy, and Business Development skills to seek a solution and bring a change. In the past, he had also worked as a Community Builder for the Hult Prize Foundation in India. Networking and Event management has also been his top interests.
Vivek Gusain - A Third-year Btech ECE student in N.I.T Hamirpur, driven by innovation and determination, working towards having an impact over 1 million people through innovative business ideas in coherence with the needs of millions in our country and across the globe. Coordinator in Indian Society for Technical Education. He has experience of Organizing many technical and Social events including Hult Prize On Campus Round. Entrepreneurship is his one true love and Hult prize is the golden opportunity to make his dream come true.
Varan Singh Rohila-
Third year B. Tech Computer Science student intrigued by the possibilities of data science and machine learning with the aim to impact the environment using knowledge and experience in this field and computer science at the core.
2 years experience in machine learning through internships and participation in various machine learning competitions, recently won two of them. Pianist, graphic designing and many more in the hobby section.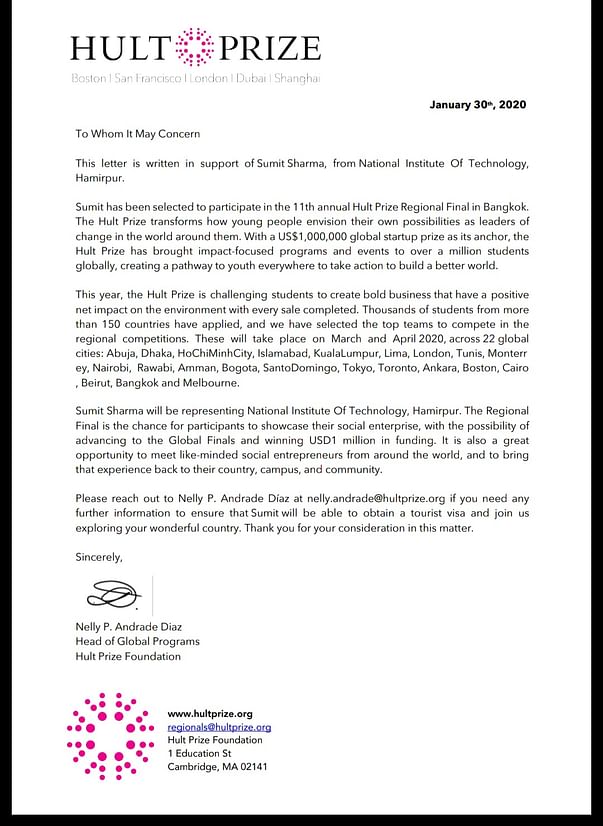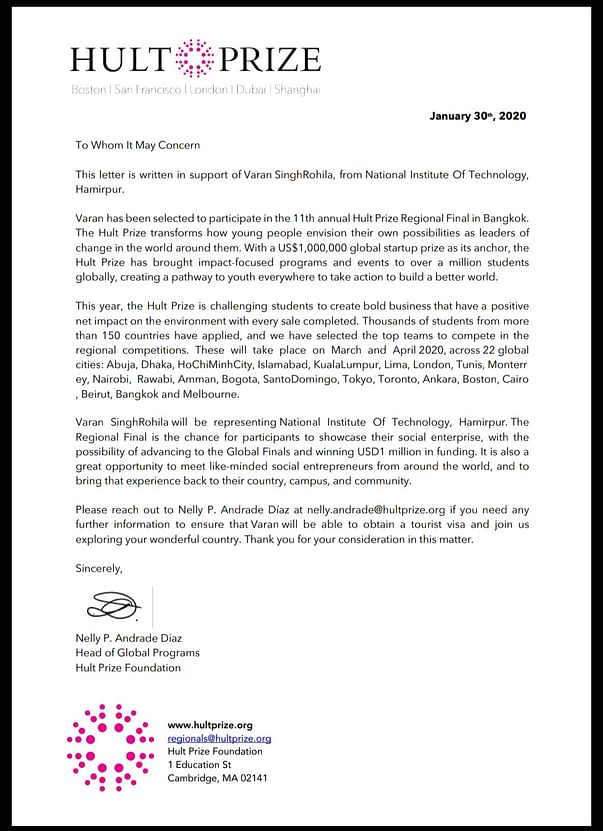 Cost Breakdown:
Round Trip Tickets: 17,400 INR
Visa charges: 2,230 INR
Accommodation: 8,000 INR
Total for one person: 27,630 INR
Grand total for 3 people: 82,890 INR