Burnt Houses & Shops, Burnt Books, Broken Benches and Charred Schools: Let's us stand for our Children affected in Delhi Violence.

School is the place which taught us A for apple B for ball,
School is the place which taught us all;
School is the place where we made friends,
School is the place where we met the ends;
School is the place where we first recited Jill & Jack,
School is the place where we still feel like going back.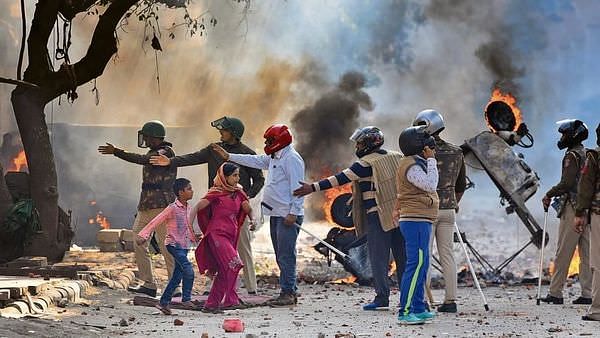 But unfortunately the children studying in the Schools of North East Delhi will never be able to relive their school days as their favourite playgrounds, books, desk & benches, crafts on the wall, smart computer labs and class rooms are burnt into ashes due to Delhi Violence.
These schools will require ages to reconstruct their infrastructure and resources. Meanwhile the future of these children will still be uncertain. Schools like DRP School, Shiv Vihar, Krishna Bharthi Model School, Arun Modern Public School are completely charred into ashes due to the communal tension leaving the future of 3000+ children in dark.
Who we are:
Hindustan Talks
is a Delhi based non-profit organization started by likeminded people from varied professional sector – journalism, engineering, corporate sector who have join hands to work for the betterment of the society. As a result from past 5 years we have been working at ground level in the field of Education, Livelihood, Skilling, Sanitation, Agriculture and Rural Development. Hence, registered in 2018, as a Public Charitable Trust, Hindustan Talks works as a catalyst, focused on overall development of the marginalized community to leave no loop holes unplugged.
How your support helps:
Only with your support and commitment these children can go back to their School to continue with their dreams and give them Hope in Humanity. In this journey Hindustan Talks is committed to join hands with you to send these children back to their classrooms, the place where they belong.
At this time of crisis, we plan to raise urgent funds for necessary study materials: Books, stationery, desk benches, white boards and markers in order to ensure that their studies aren't affected and these children aren't further traumatized of losing their school and education.
By making a small donation, you can help Hindustan Talks provide an immediate relief to the parents, children and school management who lost their Schools due to communal tension in Delhi.