ABOUT US:

Hello! We are happy that you found our little attempt towards making the life of 130 families a little better during the pandemic. During these unprecedented times, 3 fellows of 'Teach For India Fellowship Program' i.e, us, saw that the families of our 130 students are facing problems that are of unimaginable level! These problems mainly revolve around the kids and their families not being able to have one proper square meal in a day. It in turn is affecting their education since the kids are not in a stable mental state to focus on their studies. They are focused mainly on short term survival and fending for their family. Our young bravehearts of 6th, 8th and 9th Graders in Government Kannada Higher Primary School, Gangondanahalli, near Vijaynagar (Bangalore) who are 10-15 years old are forced to leave schools and take up part time jobs in places like petrol pumps, scrap yards and small shops.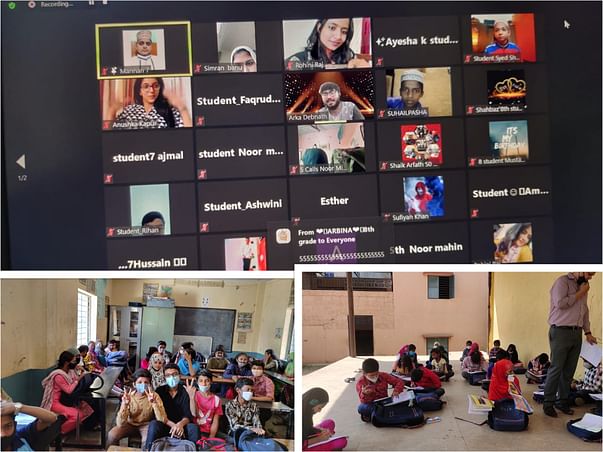 Our kids come from an underprivileged community where they face challenges everyday. They do not live perfect lives. And the context they come from are as unique as them, but they fight hard and they fight back against all the inequities. Over the course of one year with us they have shown what they are capable of being powerful leaders and there so many qualities in them that are yet to be harnessed. As educators, we want to ensure that 'NO CHILD IS LEFT BEHIND' and hence, we and the fellows before us have supported them in many spheres over the last one year-


With the support of Teach For India, we have been able to distribute over smartphones to our children and that has helped them to continue their education in a virtual setting when the schools were closed last year.
Along with that, Teach For India also helped us by providing ration kits to a few families who needed urgent support.
We launched volunteer programs which ensured that students receive individual attention during online learning- this helped us in improving the mastery of our kids in all subjects. Additionally, we trained them in plenty of other life skills.
Over the past year, we focused on the mental and physical well- being of our students and supported them during any crisis.
!!!! REALITY CHECK !!!!

Only 45% of our students were able to avail all the above mentioned benefits while the others were spending most of their time trying to survive the harsh situations that life threw at them during the pandemic.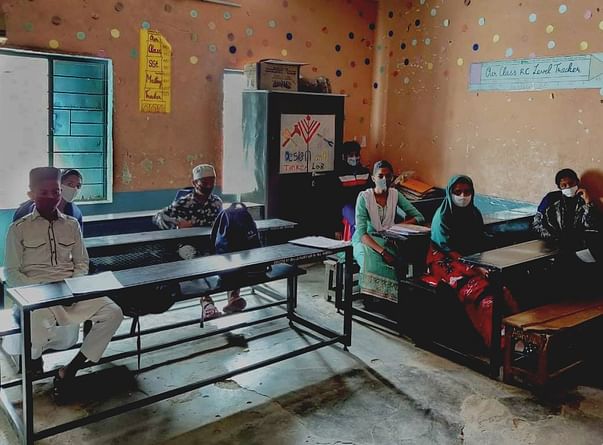 WHY DONATE TO OUR CAUSE?

We saw the destruction that the second wave of the pandemic caused to the families right in front of our eyes.


With the imposition of Lockdown in Karnataka we saw our children and their families suffering, with the sole earner of the family losing their jobs and them going out of ration and falling under the burden of financial crisis.
Apart from this, many of the families were asked by their landowners to vacate from their house after they failed to pay the rent for a few months.
We saw many cases of medical emergencies that could not be catered to due to lack of money.
Hearing news about younger age groups being more susceptible to the third wave makes us terrified to even think about the dangers lurking around the unsafe communities that our kids live in.

The 3 of us are distressed after hearing so many parents cry to us over the phone, seeking help, asking us to have their backs and to save their families.

It is impossible for us to support such a huge number of people (130 families x 5-6 members approximately) with the money that we have.

Hence, we are reaching out to the kind people out there who can help us raise money for such a huge number of people.


HOW WILL THE FUNDS BE USED? - OUR BUDGET-BREAKUP

While we want to support the families with Rs. 5000 each, we have realised that it will mount up to Rs. 6 Lakhs. We are not trying to be over ambitious with our drive hence we have limited our target to only Rs. 3,60,000. However, the 3 of us, along with the 130 families will be elated if we are able to collect more than the stipulated amount for our cause.

Here is our break-up for the Rs. 3,60,000 that we have in mind:

Monetary support:
For 2 months ( Rs. 1000 per month for 130 families) = Rs. 2,60,000

Medical support:
For any kind of medical emergency = Rs. 1,00,000*

(*NOTE: If the amount collected for the medical emergency is not used in the next year for the above purpose we will be handing over the accounts to the next fellow who takes care of these students after us/ we will support the children with classroom supplies, field trips, educational seminars, competitions, etc/ it will be equally distributed to all families before the 3 of us pass out of the fellowship.)

All details about our expenses can be found on this
sheet
. (We will also tell you which child your money was sent to and how it helped them)

THANK YOU FOR BEING HERE AND SHOWING INTEREST IN
OUR INITIATIVE.


Please DONATE and SHARE with your family/friends- Every bit counts and it will make a huge difference for us.

We will keep updating this space with the thankyou notes/ video messages from students.

Feel free to reach out to us over email. Here are our contacts:
Arka - arka.debnath2020@teachforindia.org
Rohini- rohini.raj2020@teachforindia.org
Anushka- anushka.kapur2020@teachforindia.org

If you want to get to know more about our kids, do let us know. It would be our honor to give you a glimpse of our classroom routine over video call/ even include you in one of our classes as an observer.

Your contribution will go a long way in helping our kids to explore the world around them and achieve our goals for the year.