While Thane is on the path of recovering, will we ever help to recover the fates of our city animals? Can we at least try?
Help us provide medical facilities to the Pawsome but the voiceless of Thane!
The voiceless are the ones who suffer the most in any given situation and I want to stand by them. Will you?
A shelter home for rescued animals is coming up in Thane on a 10,000 sq ft plot in Waghbil, Thane in next 2 to 3 months. The centre — named
Freedom Farm
, being built by
Yeoor Environmental Society(YES)
and
Citizens for Animal Protection (CAP)
— will provide shelter and medical treatment to rescued animals.
https://indianexpress.com/article/cities/mumbai/shelter-home-for-rescued-animals-soon-in-thane-6603991/
But from where will the medical facility come? And their treatment expense???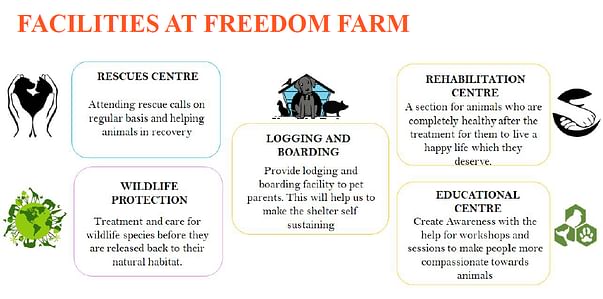 Who is going to pay for their medical surgeries in the long run? In a time of pandemic where we are unable to think beyond our own savings can we push ourselves to save lives of such helpless but adorable beings!?
Our city animals need us now more than ever!
As we all know that the city authorities will keep animals and livestock very low on priority, which is the default during any calamity. Given the unprecedented and uniquely uncertain nature of these times, we are helpless without you!
Pandemic has made us realise the importance of medical care, isn't it?
While humans are taking care of other humans, let's not forget to give our Pawesome friends the medical care they need.
The street animals usually suffer from malnutrition, infections, conditions such as transmissible venereal tumours, rooted in a lack of access to medical care and attention.
Right now, as many as 45,000 stray dogs are estimated to be roaming the streets of Thane city. Such dogs and other free-roaming animals survive against great odds in this urban jun

gle.




For decades the voiceless creatures, the animals have been suffering. They can't speak for themselves, they can't tell where it hurts, they can't even convey that they're not at ease. These helpless creatures reflect a million emotions from their eyes.

Since most of the dogs, cats live on a busy street, the most common type of injury is due to road accidents. The injuries can range from scratches to fractures, and sometimes even paralysis. Long-term care is totally worth it but it comes at a price.

"Additionally, these animals live near open drains, a huge source of infection. And some times these treatments require long-term care which does not come cheap and costs can vary greatly based on the stage of the disease. This is the most difficult aspect to account for, as it is entirely unpredictable."

And it isn't limited to dogs but similar ill fortunes are found in Thane for Cats, Donkeys, Cows, Buffalos, Goats, Horses, Birds and Pigs. And as our city is close to the forest, we encounter wildlife rescue missions too and their medical care!
Currently in Thane, there is no centre specifically for Wild Animals.
We have the talent, the base and the kindness to serve the street and wildlife animals. What we don't have in this money-making world is the money to get the medical facility ready.
Animals are living beings too! But they can't earn money to afford routine medical care. All they can earn to live healthily is your attention!
We as an organisation are totally dependent on the generosity of people like you.
Take a paws!!
And reflect on what
Gandhiji
once said: -
"The greatness of a nation and its moral progress can be judged by the way its animals are treated."
Thank you for being strong during the pandemic! It's time to be kind too.
This Campaign is being run by
Dhairya Foundation
with support from
Women Care Foundation (WCF)
for Freedom Farm.
Please click
here
to know more about the organisations associated with this campaign.