Hi, I have been feeding 8 stray dogs living in a park 2-3 minutes away from my house on main road since 2016 January. Now, Since this lockdown started. I saw more dogs starting to wander in search for food. 3 females are in my street and 2 females opposite to my street and then 4 dogs (one female and 3 males(her sons)) are 100 meters away in way of going to the main road. Then the 5 dogs (1 male and 4 females) in the park and 3 females outside on the main road.
And it is not just feeding. One female's(khujli - from park group) back left leg was crushed by some car on march 12th 2019. i got her picked up by friendicoes animal shelter somehow one day late due to financial reason. she lost the leg due the extent of the damage. one dog i saw last year (bijli) badly emaciated in august last week of august. i fed her everyday and now she jumps on me even if she see me again after 15 minutes bijli lives on the road with other two. one female puppy(chhutki) around 5-7 months that time...punctured right eye. saw her in 3 week of September 2019 (now in the park group). got her eye cleaned. now she is well and mingled well with the park group dogs.
The 8 dogs (of the park and the main road) i have fed every day from 4 years BUT since this lockdown happened i couldn't stand to see the near by dogs everyday ripping plastic/polythene bags in search for food whole day. Literally everything is closed now from where they could get left over or thrown away food and there is no water source too. I put plastic bucket in the park and one bucket for the main road dogs. In total i have been feeding the 8 + 5 + 4 = 17 dogs daily and sometimes some random dogs comes and then need to feed them too. can't say no.
I my self have a fracture in my lower spine which i found out on birthday last year on may 29th and since then i am on bed rest. I am not allowed to bend..twist...or even drive at all. can walk only for an hour maximum. so i can't go far or walk for long or drive. Else i would or could have taken care of more dogs for sure and other animals too.
The 8 dogs i have fed always raw chicken feet or raw chicken skeleton(meatless). But now all meat shops are closed. So i feed milk and bread to all 17 of them.
To each i give 250 ml milk and 5-7 slices. so i buy 5 litres of milk(Rs. 225 - 260) and 8-10 packets of bread(Rs. 150-180) which comes with 11-12 slices. Daily cost came down to between minimum Rs. 350 and maximum Rs. 450.
On 24 April saved pocket money finished due to sudden increase of spending. That's the reason i created the fundraiser to get some support. Hopefully it will work out as it is already the second day of no food.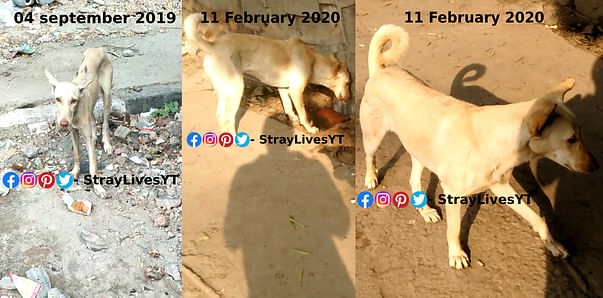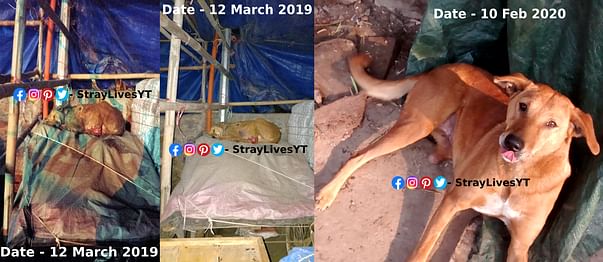 INSTAGRAM - StrayLivesYT