Hi, I'm Nandini. I have been looking after the dogs and a few cats in Indirapuram. We feed 150+ dogs and a few cats daily in various parts of the Ghaziabad district. We medicate the injured ones and also sterilize and vaccinate as many as we can.
These are the following areas in which we currently need help -
1.
Feeding:
With close to 150 dogs and a few cats to look after, the food bill is huge. It costs us close to Rs. 330 to feed one dog for an entire month.The dogs are fed one healthy meal in the morning which consists of Rice and Chicken.
2.
Sterilization
: We sterilize close to 20 dogs, on an average, every week. Since May of last year, we've sterilized more than 1000 dogs with 900 dogs in Indirapuram, 54 dogs in Dadri and Greater Noida and 35 dogs in Noida Sector 62. Sterilization is most probably the costliest animal welfare activity with each spay/neuter costing Rs. 1500 and Rs. 3500 in private clinics. Needless to say, sterilization is the only way we can ensure a safe life for our animals on the streets.
3.
Vaccination:
We have vaccinated over 200 puppies in Indirapuram since May of last year. We vaccinated them against the deadly Parvo/Distemper and Rabies. These puppies, when they become of age, are also sterilized to avoid unnecessary litters on the street.
4.
Rescues:
With critical cases like Begum who has several vaginal tumours
Sheru who has severe skin infection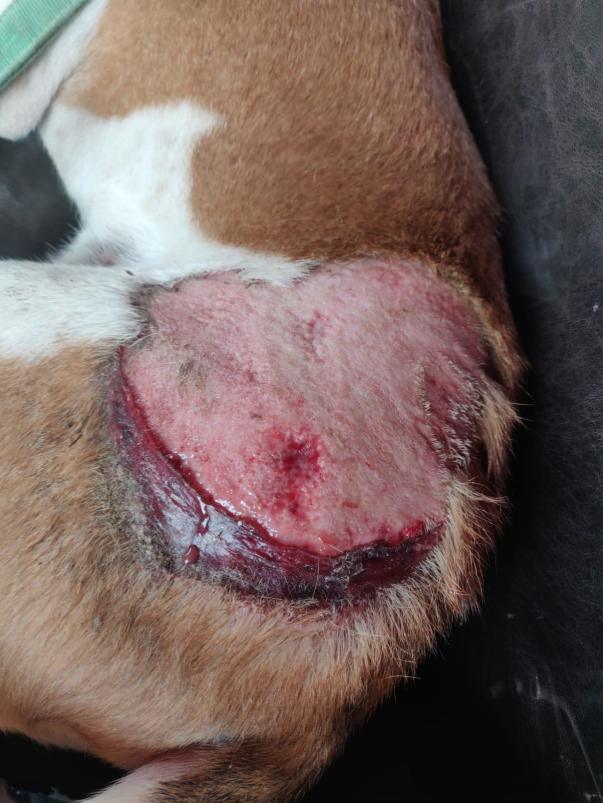 Indra who has a huge tumour on her shoulder and TVT
Our resources are always crunched because vet bills, foster fees take up a huge chunk of our expenses. As much as we try and do all of this ourselves, it's just not possible.
We only need a 2000 people to donate Rs. 100 each and we'll be so much closer to our goal of helping out many animals in need!💕
You can also follow us at @doggsofsnu