"Cricket is Our Religion"
While masses watch Cricket with fervour, most (ballpark more than 20 crore /200 million) vicariously play many variants of tennis/tapeball owing to:
i) Exploding population, annihilation of every open spaces across cities thereby greatly limiting availability of special Cricket playing arenas that Leather cricket needs ii) Lack of resources in vast rural landscape (special pitch & ground, expensive array of protective kit) iii) Steep rise in the costs associated with leather cricket – an array of protective equipment, special infrastructure which also adds to the time factor – a luxury in today's time iii) No frills cricket playable anytime on any surface iv) Injury factor - negligible playing participation from many segments of the society, non-cricketing geographies and v) PETA – drive against use of hide for recreation/sports - some play with supreme skills & grit, with most superstar cricketers coming through solid association with tennis/tapeball cricket.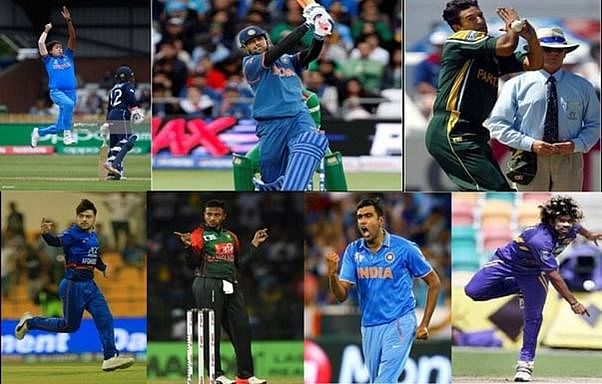 Most Cricket super stars - MS Dhoni, Lasith Malinga, Wasim Akram, Julan Goswami, Shakib Hasan, Sanath Jayasuriya and hundreds others transited to Leather post solid association with tennis/tapeball/softball cricket

Tennis/Tapeball Cricket is NOT JUST AN OPTION but the ONLY WAY for majority of cricket lovers.
TENNISBALL/TAPEBALL CRICKET IS ILLEGITIMATE; NOT A SPORT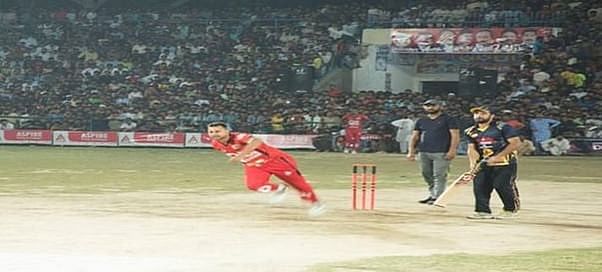 Despite decades of existence, humongous playing participation and massive contribution it has made to the popularity and spread of Leather Cricket - "Tennis ball Cricket is not a sport"
HON. HIGH COURT (2008):

"there is NO SPECIFICATION about tennis ball cricket and hence cannot be given benefit of a sportsperson." "Playing cricket with a tennis ball would not make you a sportsperson."

Devoid of any structure, exceedingly fragmented, lacking specification & standardization, informal nature, the Tennis/Tapeball Cricket is stuck with ZERO Legitimacy, ZERO Opportunity, ZERO Development, Zero Recognition/Honour and ZERO benefits to its ardent followers who play with supreme grit & skills.
Late respected C K Prahalad, World's foremost business thinker (August 8, 1941 – April 16, 2010)"THE FORTUNE AT THE BOTTOM OF THE PYRAMID"
"It is not about serving an existing market more efficiently. New and creative approaches are needed to convert have-nots into an opportunity for all concerned"
ABOUT US
My name is Sohan Singh Negi. I graduated with an MBA degree from one of the big Australian University in the mid 90s and returned to work for large companies having managed large businesses & teams.
My immense passion for Cricket and my own experiences playing Vicky ball with BOP/Have-not players gave me my call of life. Thus, more than 13 years back, I gave up all and bet my life to make meaningful contribution to the game of Cricket; specially have-nots.
After years of research/work, innovations (designed to overcome objections & illegitimacy of tennis & tapeball Cricket), a very detailed plan was put-together - vetted by Cricket greats, one of the top global consulting firm and other eminent personalities
THE GAMECHANGER – NO TENNIS BALL BUT SPECIFICATION SOFTBALL
PROFESSIONAL CRICKET FOR PROFESSIONAL SOFTBALL PLAYERS
New form of Cricket played with SPECIFICATION & CONFORMING BALL WITH ATTRIBUTES & MOVEMENT IN LINE WITH LEATHER BALL (including seam, look & feel and bounce), but non-lethal or near injury and along with other advances is proposed as new Cricket of present & future.
NO ANIMAL HIDE - with the technological advances, alternative material is best suited as has been proven in the case of Football, Basketball, Volleyball and even Baseball.
WHY NEW FORM OF CRICKET
Serve unfulfilled aspirations/dreams of 20 crore plus softball BOP cricketers across World
Legitimate (Specification) Standardize & Professional to overcome recreational tag and illegitimacy associated with tennis/tapeball cricket.
Biggest stage; financial remuneration as professional players, recognition & honour in society as role models.
1. No Frills & non-lethal (array of protective gear shelved, hence low-cost cricket for the masses)
Skills focused, Intense 2-hour format (in line with World's major sports)
Rapid adoption across segments and geographies
Massive Female segment participation as one of focus
Other aggregates, spin offs etc. - Retail of Professional Softball etc, Smash90 fantasy game app and much more!
The detailed Plan encompasses rolling out multi-tier India, multi-nation unprecedented talent hunt, development programs, India League/ Championship, Other Nations Leagues, Bi-Tri Series etc. and World Tourneys/Championship – benefiting predominantly BOP players who for the 1st time ever, will get an opportunity to vie & live their dream to play on big stage as Pro players.

The New Form of Cricket will compliment and not compete with mainstream Cricket.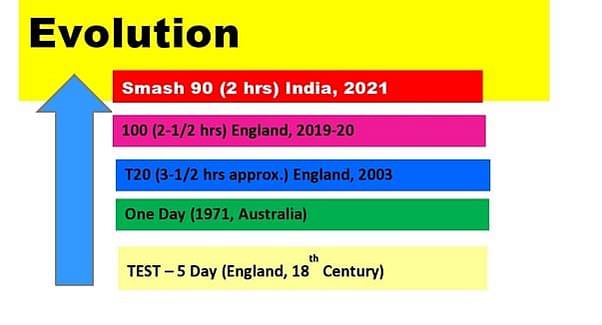 GRASSROOT TO STARDOM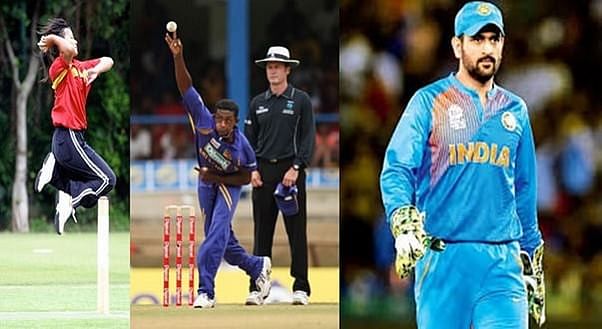 (TIMELINE MAY NEED TWEAKING SUBJECT TO COVID CONTAINMENT)
The Beginning – Biggest ever grassroot Talent hunt across towns, Cities and Nations
Talent Hunt: Early 2022
Development of National Pool: End 2022
India Smash90 League: Oct./Nov. 2022/2023
S.Asian Cup – 2025
World Cup – 2026
Build Community Sport
Semi-Pro Sport
Professional Indian, other Nations' Leagues
Inter-nations tourneys,
Global

VISION

"Basis innovations, legitimacy & humongous following, build New form of Professional Cricket as the preferred form of Cricket for the masses and a place amongst leading Sport"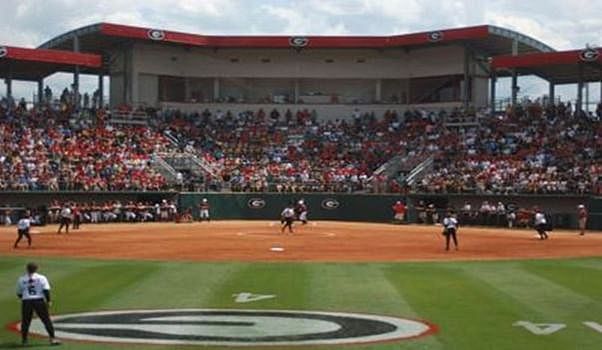 Baseball and Softball TOGETHER at the 1996, 2008 and 2021 Olympics
Softball, offshoot of Baseball is very popular in USA with global reach. Having made an entry into Olympics in 1996, it's fast growing to be a world sport. ISF boasts close to 120 + member countries.

A NUMBER OF NEW AGE FORMATS ACROSS SPORTS, DANCE FORMS, SINGING HAVE TAKEN THE WORLD BY STORM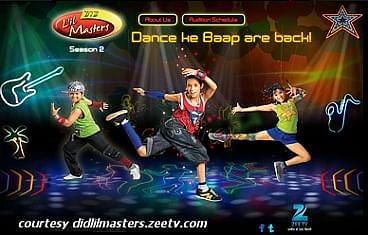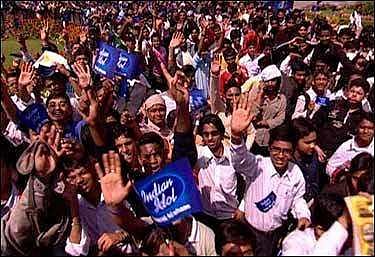 AIR BADMINTON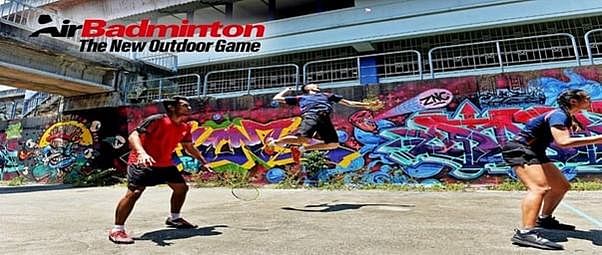 SLAMBALL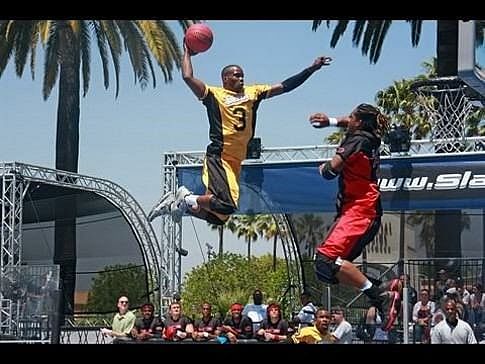 Long Drivers - Golf on the edge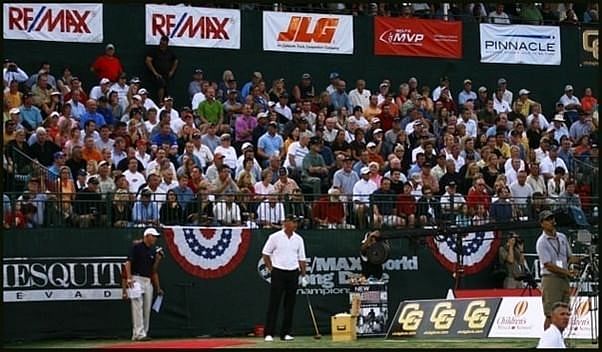 YOU HAVE THE POWER TO HELP SCRIPT A NEW GLOBAL CRICKET!PLEASE HELP US HELP THOUSANDS
GRATITUDE
Reward 1 (Rs 3,000) – Professional Legit Softball x 5 Balls + Gratitude Memento + 2 VIP passes for the Major League match
Reward 1 (Rs 5,000) – Professional Legit Softball x 5 Balls + Gratitude Memento + 5 VIP passes for the Major League match (use all in 1 match or spread across matches)
Reward 2 (Rs 25,000) – Professional Legit Softball x 5 Balls + Gratitude Memento + 10 VIP passes for the Major League Final
Reward 3 (Rs 50,000) – All Above + Major League Team Cricket Kit
Reward 4 (Rs 5,00,000) – All above + Honor to Co-award Man Of Match
Reward 5 (Rs 20,00,000)– All above +VIP box + Co-Chief guest of League match*
Reward 6 (Rs 50,00,000) – All above +VIP box + (Co-Chief guest of Final Match*)
Reward 7 (Rs 1,00,00,000) – All above + Stadium Branding* + (Chief guest of League Match*)
Reward 7 (Rs 2,00,00,000) – All above + (Chief guest of Final*)
Reward 8 (Rs 5.00.00.000) – All above + TBD*
* Subject to condition /approval
APPLICATION

1st Crowdfund - application including : a) Hiring - Core Team, comprising experienced domain professionals to manage Organization & Star Cricketers to lead the Cricket Council b) initial infra etc (e.g. office) c) initial work towards patent & commercial production of new legit ball d) last mile strategies & mapping, forging partnerships, work across aggregates e) 1st POC tourney in a large stadium and more.

2nd Crowdfund - including a) Wherewithal consolidation (e.g. bigger team, hiring core team of coaches & Cricket related staff - rest on contract) b) commercialization of our brand of Cricket's material including Ball c) National talent hunt roll out (massive) d) Signing India Franchisees and Country Partners e) Broadcast, Digital & Mobile partner and much more

TO CO-PARTICIPATE OR SUBSTANTIAL OTHER SUPPORT, PLEASE EMAIL: sohan101@gmail.com OR CALL: +919886527773


RECOGNITION

"You have written a comprehensive plan – it took some time to digest! I can now see that you have a very ambitious vision to reshape cricket in a very big way. You will need to win support from many partners, players, and audiences" Renowned Global Venture Firm

"Your concept is quite radical or "out of the box" - as we like to say in Silicon Valley" Poster boy of Indian technological success

"Very interesting. Pl send me the plan" CK "Late CK Prahalad, Internationally renowned management guru"

"If you have a low cost ball which plays like season ball but doesn't hurt for people who are not padded or gloved then that would be wonderful" Eminent person and Cricket enthusiast