ERADICATE POVERTY AND PLEDGE TO REMOVE 'THE CURSE CALLED ILLITERACY' TO MAKE A DREAM'S HEAVEN
PROJECT GLADIOLUS STARGAZERS
aims to develop all the backward areas of West Bengal specially Tea Garden areas of North Bengal by providing them a self sustaining model. We will be covering all the backward district of India in many phases one by one. In Phase One we "DHFR" pledge to remove Illiteracy and life struggle of Tribes peoples, Tea Garden area of Alipurduar and Jalpaiguri District.
Tea Garden areas of North Bengal:-
The region of North Bengal comprising of eight districts and major Tea producer of three district viz. Alipurduar district have five rural blocks of fifty-five gram panchayat, Jalpaiguri district have fourteen rural gram panchayat , Darjeeling district have three rural blocks and near about fifty gram panchayat, is situated in North-East India.
It is a well known fact that the Tea garden is most backward region and peoples are below poverty level. Hunger deaths are reported massively. They are economically backward.
Peoples of these regions are facing so many problems which are given below:-
Problem: -
Proper educational facilities
Solution: -
Set up modern school in these areas to overcome next generation life struggle and also for Adult education in evening to reach their goals.
Problem: -
Traditional education pattern generate unemployment to next generation
Solution: -
Start Vocational training institute with modern curriculum to get income opportunity for all.
Problem: -
Financial and communication gap
Solution: -
To organize and setup self help group to enrich by food processing, vegetable processing units. We promote and market the entire organic products on behalf of self help group. Provide all modern facilities and training in our school.
Problem: -
Health care facilities
Solution: -
Most of the Tea garden has no medical facilities right now and also some Tea gardens are locked out. So we start Mobile Dispensary at those areas.
Problem: -
Lack of awareness and legal services
Solution: -
We build an information and legal hub to provide information about government schemes, registration, and setup a good communication between local bodies and poor peoples. Organize awareness program to inform people about various social rights.
"Dream's Heaven Foundation and Research"
is a unique organization to provide multiple facilities under one roof for Underprivileged people of rural areas.
So let's start to remove Illiteracy, Human deaths, Unemployment, Hunger, Poverty and build a "Dream's Heaven". Your small contribution will overcome several people's life struggle. Please step forward and join hands together for getting success over
"LIFE TRAGEDY"
.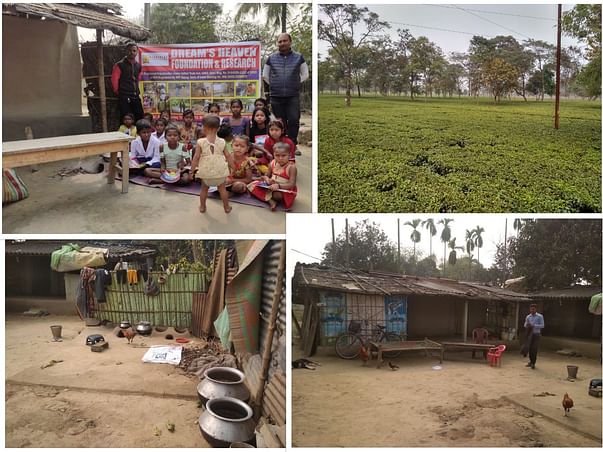 Some Facts About The Socio-Economic Condition of Tea Garden Workers In Darjeeling, Jalpaiguri And Alipurduar District of West Bengal As Per Census 2011

1. West Bengal is the second largest producer of tea in India contributing one fourth of India's tea productions. It has about 450 tea gardens, which employ about 6 lakh workers and it's estimated that more than 2.5 million people are dependent on the tea industry. The socioeconomic condition of tea worker and their dependent is very pathetic; they lag behind the non tea worker on all socioeconomic indicators who are residing in the same district. Though the tea garden workers are permanent worker, but they are daily rated, they get the wages for the actual day that they work. Beside the wages of tea worker is Rs 122.50 which is below the minimum wages of agricultural labour, i.e. Rs 206. As the wages are very low the workers cannot afford even the basic needs of their life which result they are being caught in the vicious circle of poverty, illiteracy hunger, etc. The condition of tea workers become more vulnerable when tea garden is locked out or the work is temporarily suspended. As the worker doesn't have agricultural land and other source of earning. With the closure of tea garden, they are unable to feed themselves and many people die due to starvation. This paper deals with the socioeconomic aspect of the tea gardens of Alipurduar district.

Reference: https://www.researchgate.net/publication/337593132_Socio-economic_Condition_of_Tea_Garden_Worker_in_Alipurduar_District_West_Bengal

2. The tribal population is identified as the aboriginal inhabitants of our country. According to 2011 census, there are 705 tribes as STs and among them 75 tribes are recorded as primitive tribal group. In India Bhil (37.7%) is the largest tribe according to 2011 census. Chhattisgarh is known as the tribal heart of India. There are 38 tribes in West Bengal, together comprise about 2% of entire population. Santal (51.8%, largest), Oraon, Munda, Bhumij, Bhutia, Sherpa,Toto, Rabha, Lodha etc. are some of them. Alipurduar district is the hometown of various ethnic tribes like Rajbanshi, Metch, Madasia, Santhal, Bodo, and Toto which makes the place more labyrinths. Toto is one of the unique tribe of the world live in Toto para of Madarihat block in Alipurduar district of West Bengal. The present article is going to present a clear scenario of present socio-economic condition with impact of modernism on their daily life and focus on recommendation leading to various problems of Toto tribe of Madarihat block of Alipurduar district in the state of West Bengal.

Referance: https://rrjournals.com/past-issue/present-socio-economic-scenario-of-toto-tribe-of-alipurduar/

3. BAROBISHA: Most of the people are farmers and the next generations rely on business like timber, fishing, vegetable, and retail clothing. Assam-Bengal Commercial/Sales Tax office used to provide a large number of jobs. But post GST regime, Jorai and its neighbor Barobisha have witnessed massive unemployment due to the unification in taxes and abolishing of State sales Tax gate, which would otherwise serve many people a source of income. Computer learning centre, state government jobs and agriculture provide other job opportunities.

Reference: https://en.wikipedia.org/wiki/Barobisha

4. TOTOPARA: A small village on a hillock located 89° 20'E and 26° 50'N in the Alipurduar district of West Bengal. This village is home to the unique Toto tribe that is one of a kind in the world. The village is about 22 km from Madarihat, which is the entry point of the famous Jaldapara National Park.
Reference:
https://en.wikipedia.org/wiki/Totopara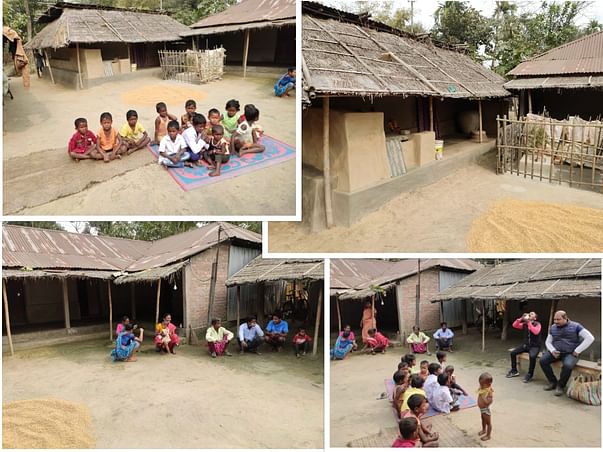 About Organization: Three pioneer educationists from different corporate organizations and also with different specialization met together to give an extra millage in the education system. Apart from this they tried to overcome the basic need of underprivileged people of West Bengal and engage in different charitable work like health care, protection of environment by planting more and more trees and formed an organization in the name of "DREAM'S HEAVEN FOUNDATION AND RESEARCH", popularly known as "DHFR" with its sister concern Swastik Educational Trust and Academy of Global Education.
"DHFR" is a nongovernmental, non profitable, non proprietary social and charitable organization with its transcontinental identity is not merely a list of instructions, persons or facts, it is a network of values, systems and relationship to promote quality education in Urban as well as Rural areas. It has taken a pledge to remove 'THE CURSE CALLED ILLITERACY' from our society. So they started activity based learning, Vedic philosophy and mental math. "DHFR" joined hands together with other charitable, pioneer, and governmental organization to fulfill the goals of Human Being.
The organizations are:
ACADEMY OF GLOBAL EDUCATION
SWASTIK EDUCATIONAL TRUST
HANDICAPPED ORIENTATION PROGRAMME AND EDUCATION (HOPE)
DURGAPUR POLYTECHNIC COLLEGE
BARJORA HIGH SCHOOL
BIDHANNAGAR GOVT. SPONSORED BOY'S HIGH SCHOOL
FOREST DEPARTMENT, GOVT. OF WEST BENGAL & MANY MORE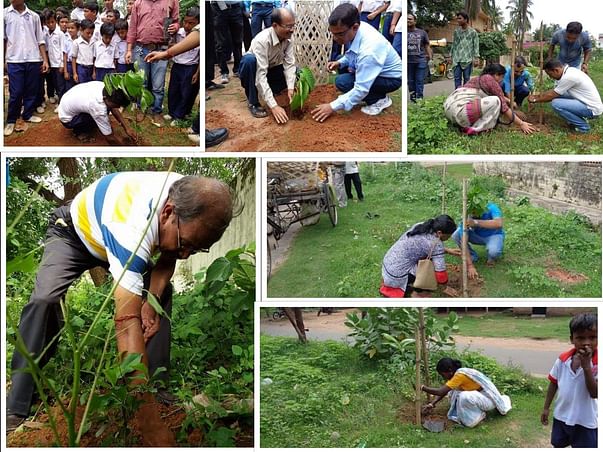 From the Desk of Advisor :-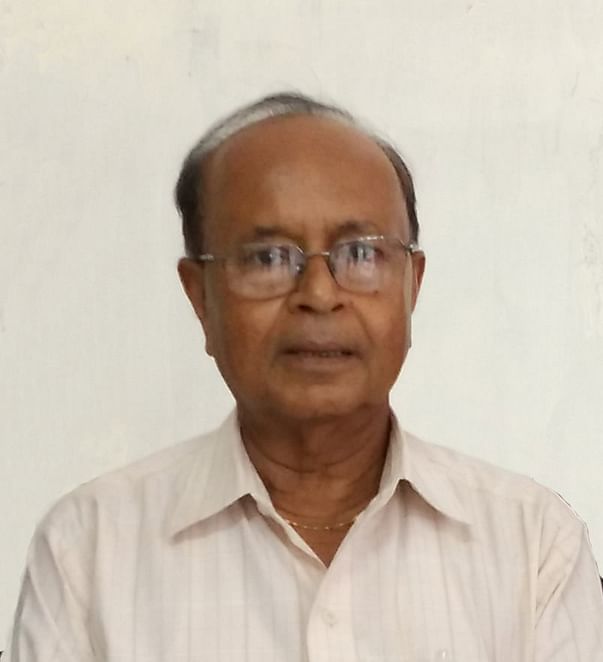 The "Dream's Heaven Foundation and Research" has been started by three enthusiastic educationists who are well known to me. They have been
inspired by those needy students who wish to study but they need not be completed due to financial problem.This organization not only tries to impart formal education to the students but also guides them to adapt to the technology of well in nearby future to get success in their life.
Further this organization conducts Seminar, Workshop, Awareness Camp and Social Activities in different areas of West Bengal by which the peoples are being enormously benefited. Organizing varies Social Activities is also an objectives of this organization for the benefit of the society as a whole.
In a short span of time, this organization is doing well in the various programs and wants to expand its activities more. I wish a great success for this organization in near future.

Prof. Tusharmay Bandyopadhyay
Former Chief Engineer, Hindustan Fertilizer Corporation Ltd, Durgapur
Former Principal Swami Vivekananda School of Diploma
Former HOD (Electrical) in different Degree Engineering Colleges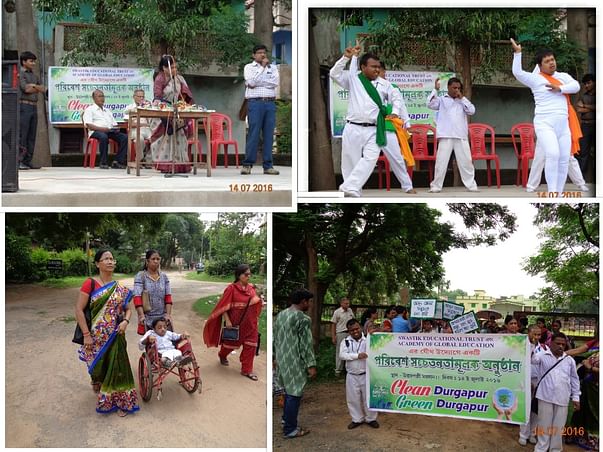 About our Project:- "Project Gladiolus Stargazers"
in a social initiative of
"Dream's Heaven Foundation and Research"
A registered organization under Indian trust act, 1882 bearing
Reg. No. IV-04030-1102 of 2019.
"DHFR"
is a registered
NGO
under
NITI Aayog, Government of India
bearing
registration no. WB/2020/0250629.
We will receive
MSME, Govt. of India
certification with
registration no. WB06E0002951.
Also we take a pledge to
'Corruption free India'
and that's why we got certification from
"Central Vigilance Commission", Government of India.
It is a Social, Charitable organization under one umbrella, working in backward and underdeveloped areas, to provide social support for the overall development of those areas to make their life easier. Our
"DHFR"
family is under continuous research of such areas and point out the basic requirement, without which they cannot survive. So we have chosen
"North East India"
as our
'First Fight Zone'
and there after we fight for other parts of our Nation.
Why Us?
You might ask yourself "why them and not any others?" We ask ourselves this as well and quite frequently…
"Why us?" May be, this is the question that gives ourselves the zest to move towards perfection. We know people are different and each of them has different needs and motives.
Choose us because we will understand your preferred zone and devote our time to resolve the necessary need of each individual. We will evolve with you… as your dreams grow, we will grow with you. Choose us not for we tell you so… choose us because we have walked the path and sure enough, we can guide you along the path to reach your destination and fulfill your dreams with us.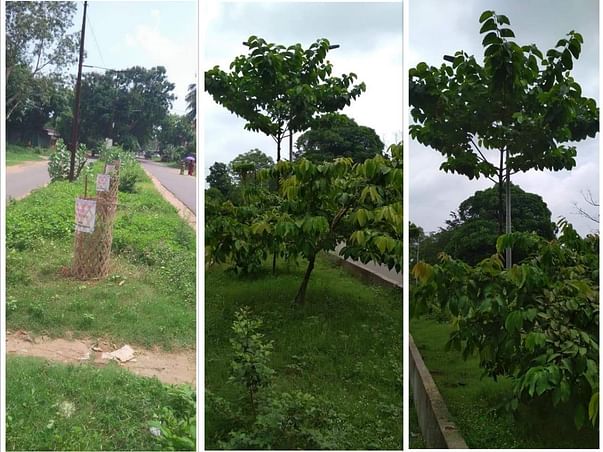 About Founder Secretary:- Mr. Arunava Choudhury a well knew young social worker of West Bengal. He went through many hardships in early life for prosecuting his studies. He started his career as a construction supervisor then he accumulated money to reach his destination and completed his education and further he was awarded M-Tech Degree from National Institute of Technical Teacher's Training and Research. He joined as an Assistant Professor and worked in different Engineering Colleges. His pioneering nature and his great love for Animal, Nature, and Cultural Activities made him tread many new paths, in each of which he made a mark and contributed to the society. He encouraged many cultural societies and innumerable artists with financial and moral support.
He started "Akshar", "Swastik Educational Trust", "Academy of Global Education" in different places of West Bengal for backward class people from urban and rural area's to ensure their Minimum Income Opportunity, Vocational Education and other basic needs. He started "DHFR" along with some others Social Worker to create awareness about Basic Education, Pollution Free Society, Health Care, Water Conservation, and Plantation, Swatch Bharat etc in urban and rural areas.
"DHFR" already started plantation in nearby areas of West Bengal and Plant more than 5000 Trees in each year Globally with the help of Forest Department, Government of West Bengal.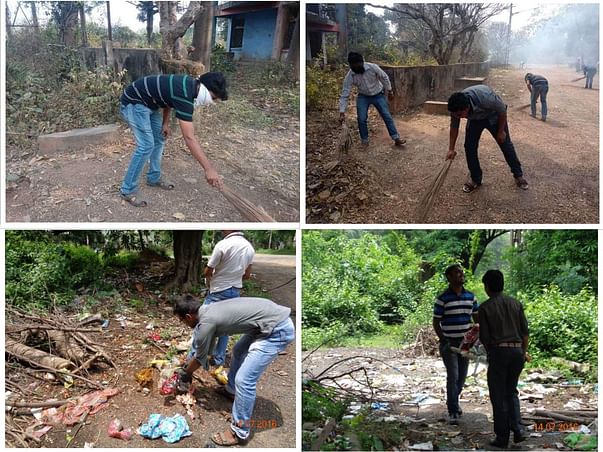 Our Motto:-
Now we wish to start a world class Inclusive English Medium School at Rural area of North Bengal for lower and medium income group people. Our main motto is to change lifestyle of villagers by setting up a green pollution free environment with digital platform for special child and normal students and also providing facilities of self employment. Vocational training for backward class women will be available which will make them self dependent. Start Health care units for Tea Garden areas of Darjeeling, Jalpaiguri and Alipurduar district. Generate income sources for Tribe people to overcome their life struggle. This noble project requires financial support to see the daylight as early as possible.
Followings are the breakup of approximate setup estimate:
Estimated Cost of the Project
Cost, as estimated by our management, will be around Rs. 2.21 Crore which will be covered in 3 phases.
i. In phase 1 we will acquire 3 acre of land and thereafter construct building for Inclusive Education Centre and Vocational Training Institute for underprivileged Women and also for Inclusive People. Full Campus will be surrounded by lush green Trees in totally Eco-Friendly Environment.
ii. In phase 2 we will buy Equipments, Computer, Stationary Items, and Eco-Friendly Solar Systems and Rain Water Harvesting system. We will start recruiting staff for running the Nobel Project.
iii. In phase 3 we will start Employment generation program with the help of Government of India and State Government and support local Self Help Group to create awareness and generation of work. Also provide support to form new Self Help Group, Societies and Cooperatives, start Dispensary for poor people and buy Ambulances for Mobile Dispensary. Hire School Buses to provide Mobile School facilities for Street Children.

Plant and Machinery Require-
•Computer- 30
•Printer & Photocopier- 3
•Chair- 40
•Table- 10
•High and Low Bench- 100
•Office Almira-10
•Digital Interactive Board- 5 set
•School equipments- As per requirements
•Kitchen equipments with Utensils for Med Day Meal of all poor Peoples
•Solar Equipments- Total setup
•Mobile School Bus- 1
•School Bus-1
•Medical Equipments and Medicines- As per requirements
•Ambulance- 2
Manpower Require-
•Principal & Teacher-10
•Attendant- 5
•Peon-2
•Housekeeper-4
•Manager-1
•Office Staff-3
•Supervisor-2
•Doctor -3
•Nursing Staff- 5
•Driver- 4
•Cook and Helper- 5

Proposed Estimate of Project Gladiolus Stargazers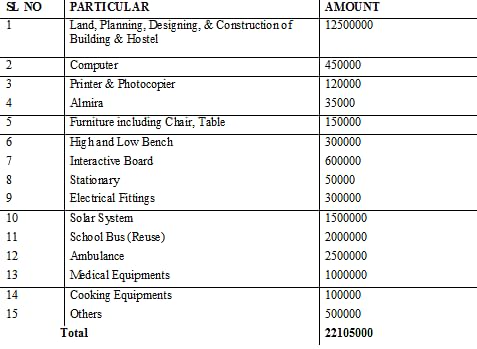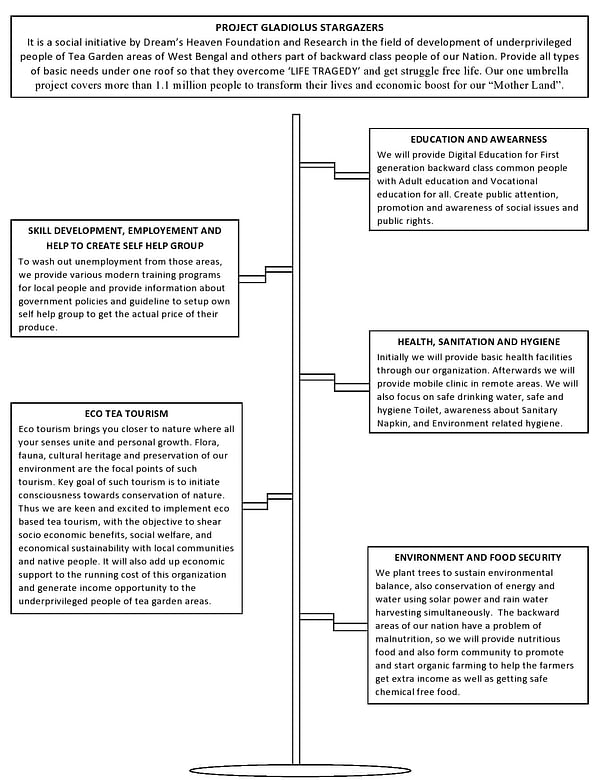 GLORIOUS 5 YEAR'S OF SOCIAL SERVICES: PICTURES GALLERY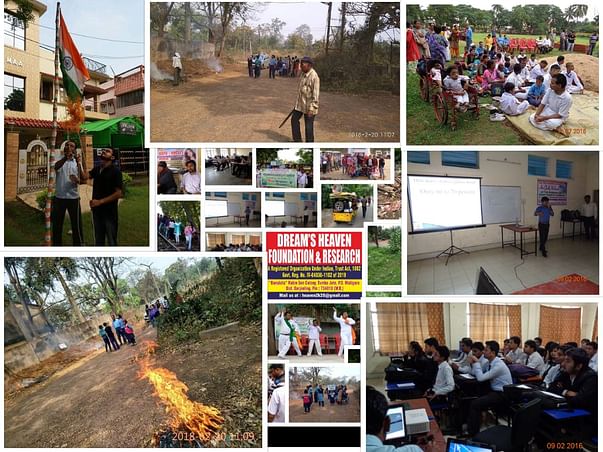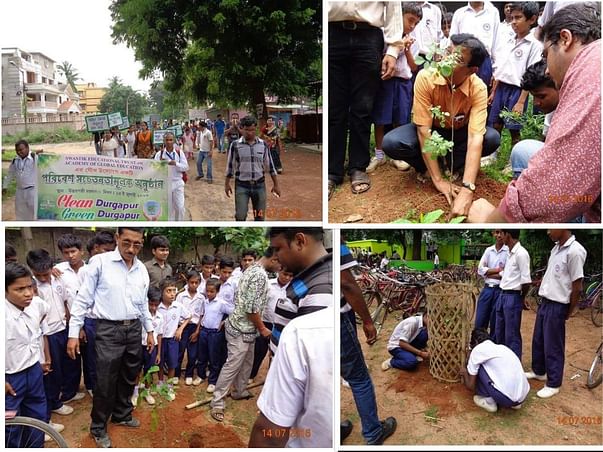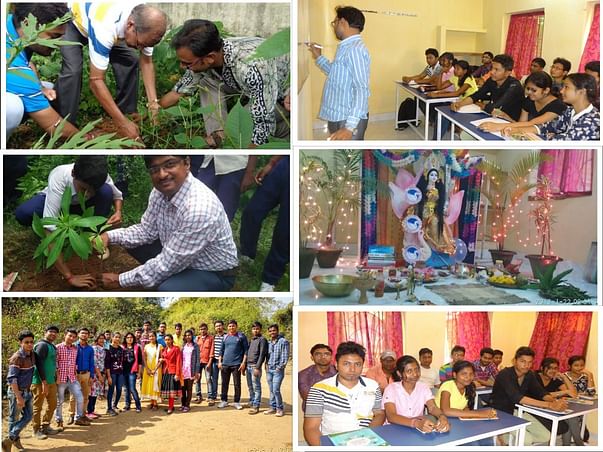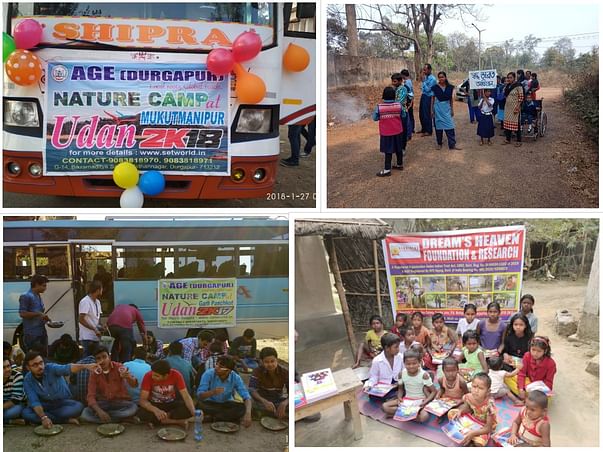 Getting more information from us please visit on our Face Book Page: https://www.facebook.com/DHFRWORLD/