Sahajpath is a school for children who are school dropouts and are deprived of formal education specifically residing in slum area. Present location of the Sahajpath centre is near Garia metro station , Kolkata. Sharadi foundation brings those children together under one umbrella to provide the learning opportunity as education is the basic right of every child.
Due to several social malaise, deprivation and discrimination, these children do not get the opportunity to study. Their poverty stricken parents also reluctant to send them school. Moreover, covid 19 pandemic has aggravated the situation and bereaved the children from opportunity of learning. They do not have resources for online classes. In this circumstance, Sharadi Foundation is committed to run a school to bring the opportunity of education to the deprived children in every possible way.
We have 40 children currently of different age. There is no permanent school building yet. We are planning to rent a room to give a form of proper schooling. Currently the Sahajpath school is run under open sky for past 8 months since the start of the foundation.
Here is a list of
planned expenses for next 3 months
are given below.
In Sahajpath school, foundation provides
Free education
Books
Copies and writing materials
Drawing kits
Crafts materials
Dry Food during lockdown period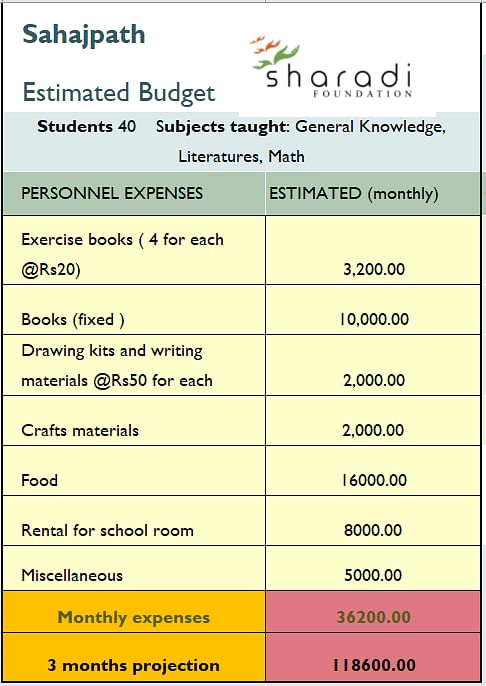 During Covid pandemic, Foundation keeps their eye on maintaining health and hygiene of children adhering covid protocol.This is a request to all to help the children by contributing funds generously. Sharadi Foundation is grateful to all the contributors.