Our Vision:
'A nation cannot develop without strong foundational education' is our
philosophy.
We believe quality education for everyone is the game changer of social
transformation to achieve social equality. This has been the rationale behind setting oure Sneha Shikshana Samsthe, Sullia.

About the school:
Established in 1996 at Sullia, a small-town in costal Karnataka, our institution has
been recognized as a model institution. The school campus is on a hillock covered
with trees and plants of medicinal value. In the lush green campus, we have set-up
sufficient infrastructure along with facilities like laboratory, library, audio-visual
hall, garden of medicinal plants, Art home, Amphitheater, Open science Park,
Multiple hall etc.
We also have well qualified teachers who are given training under our own 'teach
the teacher' program for updating their approach to their subjects. Our old students
have been making good progress in their life and career in various fields varying
from technology, finance, economics, education, defense, medicine etc.
Apart from several prizes and championships in inter-school competitions, we have
been honored with Green School award at Dskshina Kannada District level, First
prize as Clean School, State level 'Sandesha Prashati' for promoting
extracurricular and cocurricular activities in the school, Kambaara Prashasti for
Kannada Education, 'Aranya-Mitra' (award for environment conservation in
campus) award from State Forest Department, and 'Jala-Mitra' award from Jilla
Panchayath for water harvesting project in the school campus.
For more information visit: https://www.snehaschool.in/
Our appeal:

We have been providing quality education at affordable fees and majority of our
children come from lower middle-class families. Due to the COVID19 pandemic
many parents have had huge financial impact in terms of loss of business, loss of
jobs, reduction in salary etc. Consequently, we had only about 20% of the fees
collected during the academic year starting June 2020. However, we ensured salary
payments to all our teachers and continued to conduct classes to all children
through WhatsApp and Google Meet. We utilized our reserve funds for salary
payment and managing the regular expenses of maintaining the school campus.
Our reserve funds have reached rock bottom and are seeking financial support
from donors to continue providing education. This appeal is to raise school fees for
150 children at Rs. 20,000 per year amounting to a total of Rs. 30,00,000/-. We
request you to join hands with us in our journey of imparting quality education to
the rural children.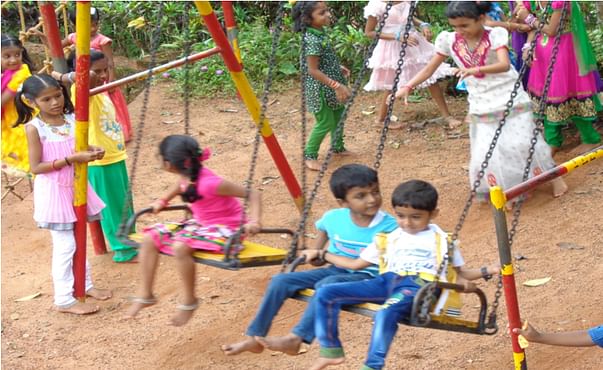 'Art-Home' for inspiring the heart and intellect of young children
'Barahada Mane' – a sand filled playroom where children express tremendous creativity.