Hi Thanks for Spending Little Time.
Who am i?

I'm Sivanaadh baazi Karampudi, software developer based on Hyderabad. Here i want to share with you my desire and it will be help full to so many cancer survivals.
My idea is to develop Web Portal on Cancer which provides END to END both information and solution.
Portal consists of (All World wide information for):
Hospital information & communication details

Doctors information & communication details & interaction platform

Treatment Procedure

Treatment cost

Free treatments

Donors information

Donors interaction platform

All communications like chat, whatsApp, email will be integrated to portal
Below is the top level overall system architecture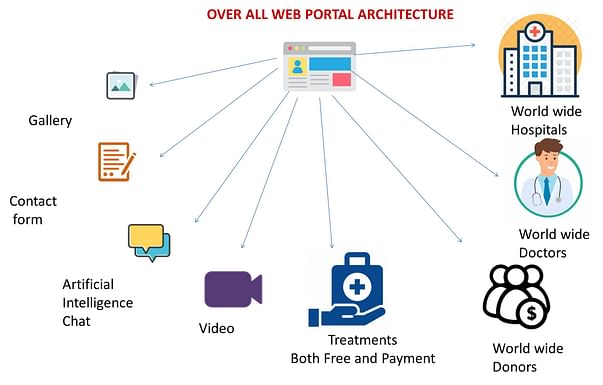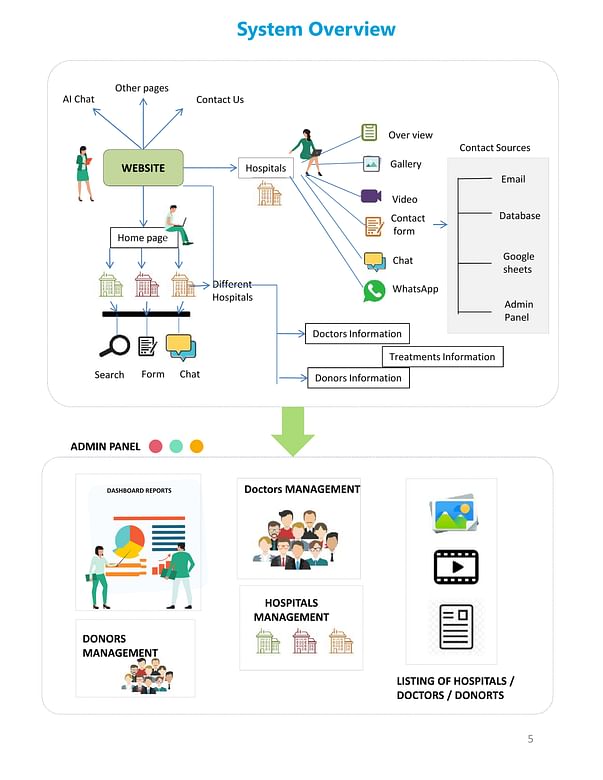 Why i have a desire to build this portal?

My father Satyanarayana, He is a Super Hero for me he did so many things to us.
We are belongs to not say middle class family but middle class. even though my father studied us well.

But I'm a son not able to did anything to my father, i didn't given a any happy moments to him.

He effected with Abdomen Cancer, due to lack of information and due to lack of Money, we finally lost him. We shown him at Basava Tarakam Cancer Research Institute in Hyderabad and Apollo.

He & along with him entire family struggled almost 2 years at hospital. my father has a wish to survive he fought with cancer at his last second. He has a trust he will recover. But he is no more.

If we have money we will be given better treatment and as well as we don't have information about cancer institutes all over the world

In the process we some time sleeps at hospital gates, we don't even had proper food in those 2 years.
i have a thought not thought its a strong desire, No one surfers because of money or information . it can be achieved by providing

information and solution

at one place this is can be done only through gathering all the info and providing communication line between them
Why i need your support?
After my father death we are literally Nothing financially, just leaving we don't have any hopes.
I thought to do from past 2 years on wards but as my monthly salary is not supporting me to are of my mother and brother and debts taken from banks. So no savings, finally i thought to take as support from you guys to start this project.
What is the project budget and timelines?
As a start of to develop entire system needs 10 lakhs, complted in 6 months and later on maintenance
For which purposes will utilize budget
Require at least 4 member team
Google Maps Data for information
3rd party tools like AI Chats
Various platforms data extraction
Communication to hospital and doctors to participate in out portal
Web server hosting and maintenance
Tools and software purchase ..

Hope all will be supported for this Good Cause.

Attached document please check

If anything information required you can contact me on +917416396937