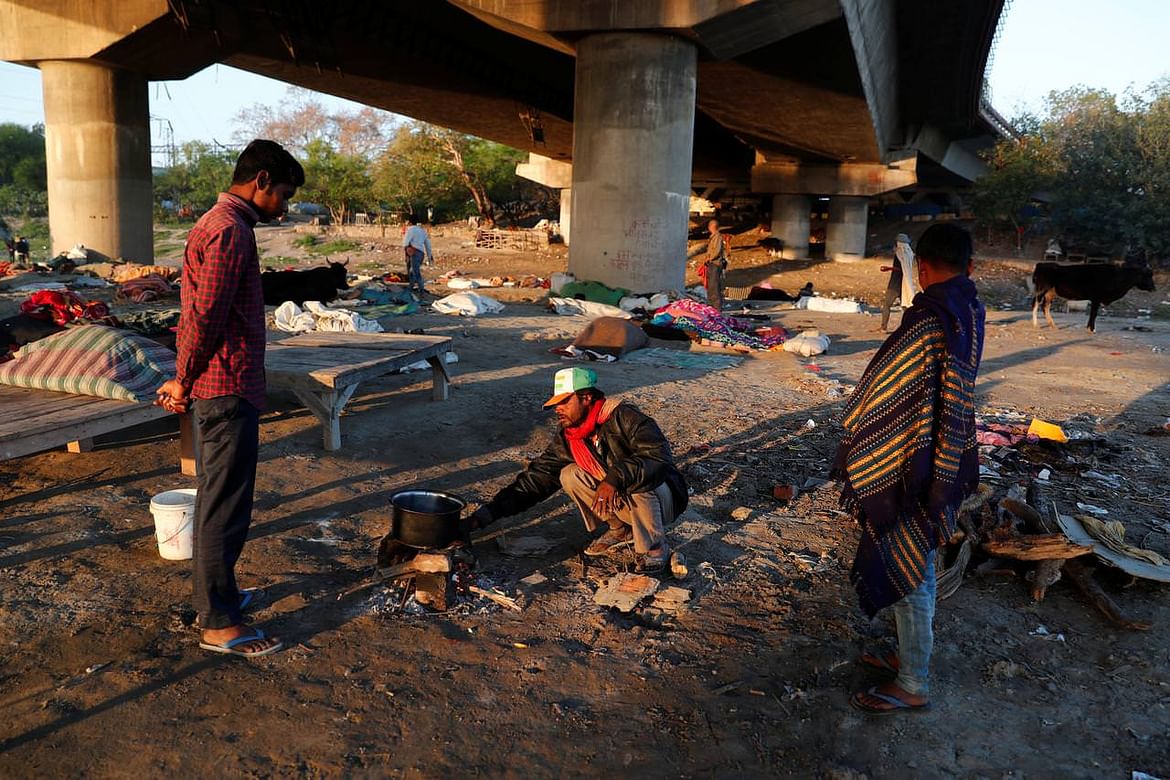 We are tired and emotionally drained. If we are to stay hungry, we prefer to do so at home, with our family and children, said Vijendra Mandal, a migrant worker from the Giridih district of Jharkhand who is stuck here in Chennai. Mandal is one of the lakhs of migrant workers stuck in Tamil Nadu because of the lockdown and one of the 14,000 workers that the Chennai Citizens COVID Fund for Migrant Labour volunteers have been interacting with over the last one month.
Mere hours before the Ministry of Home Affairs agreed to begin operating trains to return migrant laborers to their hometowns in a cautious manner, many of their stories were rife with agony. The fund has been working to ensure basic food and shelter for the workers and is also helping present the issues faced by them to the Tamil Nadu government.
From the survey that the Fund has conducted, it has been found that at least 63 percent of the workers had not received their wages for the work they did before the lockdown began. "A survey of 79 workers drawn from the fund's database of more than 800 cases representing 14,000 workers found that 38 percent of the workers were concerned as they had unsettled dues for room rent and had no money to pay their landlords," the members of the Fund said.
The survey also found that 95 per cent of migrant workers said that they want to return to their homes at the earliest. Only about 25 per cent said they could consider staying back if jobs are available in the city but the rest want to go home even if jobs are made available to them. "When asked if they would like to return to Tamil Nadu after the crisis blows over, 86 per cent said they would because opportunities are not available in their home states. 'Why would we come so far leaving our children if our state government made opportunities available at home?' Mandal said to us," the volunteers said.
While appreciating the Tamil Nadu government for appointing a nodal officer to coordinate inter-state travel for migrant workers they pointed out that the government must also resolve critical pending issues of unpaid wages and overdue rent for workers' accommodations.
A worker from Jharkhand working in a property development firm said that he had not received his salary for two months, "I don't even have a single paisa to go back home. I'm struggling for food and water, and I am going around asking people for help and money. And the manager has not even called once to ask how we are managing or where we even are. Even if the lockdown ends, I don't have a single rupee to find a way home," he said.
Another worker, Lalu Choudhary also said his parents back home were worried and wanted him to come back but he has not received his salary and has no way to pay for anything. "The government can at least give us Rs 1,000, so that we can somehow go home. We will maintain social distancing and adjust. But staying here is affecting our mental health," he explained.
A native of Vellore, Manikandan has had his fair share of horror during the lockdown too. A driver by profession, he ventured out to help the thousands of families stranded in Vellore who had come to the city to seek medical treatment at the Christian Medical College. Despite seeking permission from the collector to take the stranded patients home, Manikandan faced challenges throughout the route. "It was hell. We got pulled over and we're asked to return at several places. The cops would say it didn't matter that I had the Collector's permission. Some would just harass us. After a point the customers themselves started to blackmail me and threaten not to pay me. We had no way to buy food or water, no hotels and no money," he narrated.
Shreedhar, a social worker who runs an NGO for Tamil migrant workers in Mumbai also said that several workers from TN are wanting to return home. "Somewhere we heard that the government is giving them permission to go but are asking them to find their own way. Most don't have any money, how would they return?" he questioned.
Another volunteer with the fund also raised a concern of many migrant workers who are worried they might be required to submit a certificate stating that they don't have disease when they cross borders. "They want to know if there are any test centres close by and how they can avail the test. They don't want to crowd at their destination too and want to know how they can all find their way home in a phased out manner. With employers and contractors missing, the workers have no way of getting any information," he said. The workers who are working in rural areas are also asking if they have to move to the cities to avail the transportation arrangements and if there are relief centres set up so they can reside there for now.
Pay Attention - This campaign is running to support the initiatives against the COVID-19 and to cope with the evolving economic crisis. The treatment of Coronavirus patients is going on free of cost by the government and there should be no funds raised for the treatment of the patients. Please, don't fall prey to such scams and please check all the details before contributing to any campaign.Challenge -It is critical to stop the spread of the virus and provide medical care to those who need it. Patients and front-line medical responders are in high-risk and quarantined areas need supplies and continuous support as the crisis evolves.
The COVID -19 is causing global economic slowdown and Public health crisis. In India, people are having a common fear that the COVID-19 outbreak will take hold and will overpower the poor public health system. There is panic among common people which is affecting production and productivity resulting in an economic slowdown.
The COVID-19 pandemic if not taken seriously will cause a heavy loss in India due to the following reasons - 1. The informal and unorganized work sector.2. The nation is not prepared.3. Lack of awareness and uncooperative nature of people. 4. We are a highly populated country and we are still in the developing phase.5. Developing a vaccine requires a good amount of time and COVID-19 is highly contagious.Solution -
The Indian government is trying its best to control this outbreak and we as a responsible citizen should unite and contribute our efforts to help the government and stop this outbreak.
Funds will be utilised for the following objectives on an immediate basis -
1. Creating Awareness both online and offline.
There is no cure for COVID-19 pandemic till now and the only possible step to stop this crisis is to stop the spread. The best weapon we have is social media and as digital India drives are going on so the online platform will help us a lot in creating awareness. After closely monitoring the affected countries strategy, we can easily forecast that India will have to undergo a nationwide lockdown and it could last from 21 days - 45 days.
2. Distribution of N-95 Masks, Hand Sanitizers and Soaps
As we have said above that the only possible way to stop this crisis is to stop the spread. We have to provide a large quantity of N-95 masks, hand sanitizers and soaps to the people.
3. ECONOMIC CRISIS - It will happen and we have to cope with it.
The COVID-19 pandemic has already pushed the world into a serious economic crisis and India will be affected badly. Due to the unorganised and informal work sector, WORK FROM HOME will not be very successful, every sector has its own challenges. Due to the uncooperative nature and lack of awareness, there will no option left with the government then to go for a nationwide lockdown. In such condition, the worst hit will be the daily wagers, Although there will be relief packages from the government, that will be not enough.
To stop the economic crisis from getting worse we have to extend support for the daily wagers and support them with daily need supplies such as food, medicine and other essential supplies.
The funds will be utilized to meet the above objectives keeping the priorities, the situation is very critical and there will be challenges on a daily basis.
We will keep you updated on a regular basis and will also request you to be a part of our online awareness drives so that we can reach out to as many people as we can and help our governments in all possible ways to stop this crisis.