Compassion Contagion is a collective of artists and activists that has been recording acts of compassion during the pandemic through art, graphic narratives and collages.

The onset of the COVID-19 in India accompanied by the nationwide lockdown has disproportionately affected the people of India. The Mayurbhanj district of Odisha is home to a predominantly tribal population. Heavy dependence on agriculture and inconsistent channels of income adds to the existing socio-economic disparities of a highly vulnerable population.

Sikshasandhan, an organisation in Odisha, whose work primarily revolves around innovation, training, research, and advocacy, is extending a helping hand to the tribal households with food and essentials. Families have run out of money with their sources of income drying up owing to the closure of the weekly haats and restrictions imposed on daily markets. With no customers around, farm and forest produce lie unsold and on the verge of decay.

Sikshasandhan aims to reach out to 5300 households in 5 remote Gram Panchayats of the Kaptipada block of Mayurbhanj district, namely Ranipokhari, Kalamgadia, Notto, Saradiha and Ramchandpur with food and other essentials. They are also conducting regular orientation and awareness drives in the villages to relay accurate information and advisories from the government and primary health centres.

To raise money for Sikshasandhan's COVID-19 relief work in Mayurbhanj, Odisha, we are selling the poster - 'A to Z of Practicing Compassion in your daily life'

The poster has been conceptualized by Compassion Contagion and illustrated by Annie Hazarika, an artist, illustrator, animator and an actor from Guwahati, Assam. It gives 26 simple steps to lead a more compassionate life.
100% of the profits will be donated to Sikshasandhan.

Your contribution will be directed towards providing a kit consisting of food items and other essential goods like flattened rice, sugar, cooking oil, pulses, biscuits, potato, infant milk powder, soap, and face masks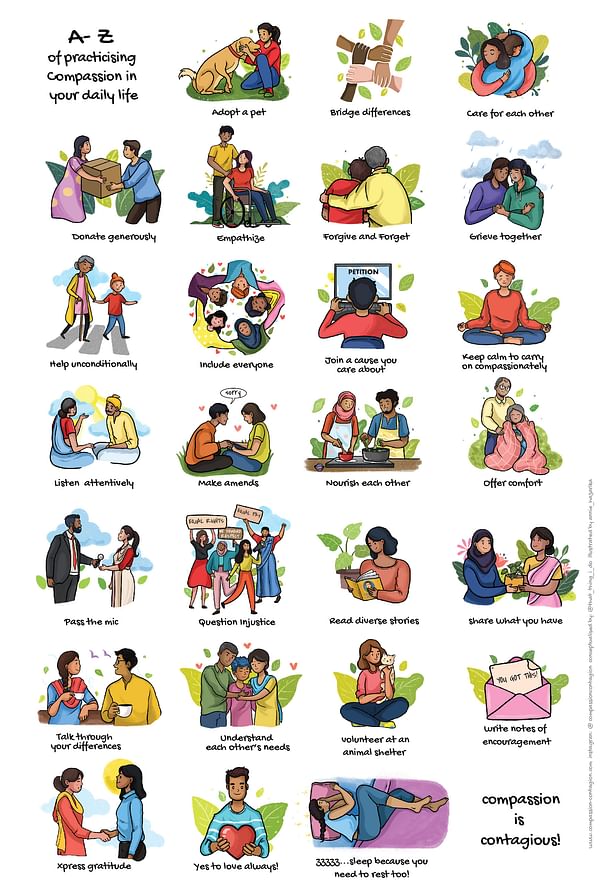 Support a vulnerable tribal family in Odisha!