In the current Pandemic, the poorest people are in dire need of our help to have basic food and medical needs.
Considering the lockdown, where factories are closed and daily wage workers, maids, house helps, plumbers, electricians, workers in small units, delivery boys, etc below the poverty line people are not able to earn their livelihood. Additionally, given the current infrastructure relative to the huge population, it's becoming extremely challenging to serve the last line of the society by ensuring they get proper medical treatment and are able to get food so that they don't die starving. Hence, our volunteers are working tirelessly along with government administration and government hospitals in Jaipur and Raipur in their personal capacities to help this section of lesser privileged people. To support the larger cause, we seek your generous contributions, which can help provide food or medical help to our own people in this time of need, when they sincerely need us.
The Immediate Requirements -
(a) Food – This section of daily wage workers / below poverty line people don't have any source of income and neither have any money to get food for themselves and their families. We seek your generous help, which will directly be used to serve the basic food requirements of these individuals.

(b) Medical – This section of very low-income people are not able to afford any medicine, so we are working along with the government hospitals to provide medical needs to this section. It is critical to control the pandemic. However, many of these hospitals don't have face masks, sanitizers, disposable gowns, and other medical facilities needed for supporting the masses.

Considering the fact that, this society has made us capable to have a decent life. This is the time when our own society is suffering and is looking at us if we will be able to give back our bit to help fight Covid19 unitedly.
Each and every penny donated will be utilized for the noble cause to serve the victims of Covid 19.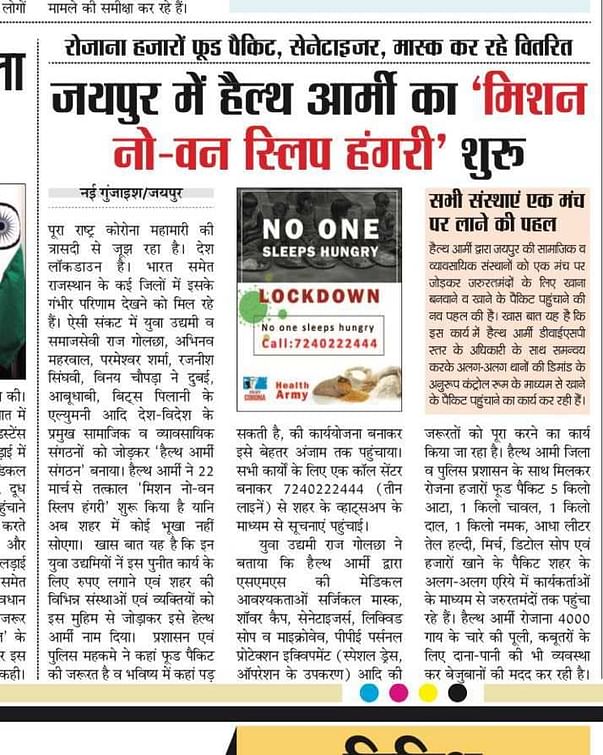 Regarding us:
We are a group of IIM alums, who are working tirelessly along with passionate volunteers on the ground and the government hospitals, government administration to help out our society to fight Coronavirus.

Below is brief about me -