Shri Jagruti Bahuudeshiya Vikash Shikshan Sanstha is working a lot of problems like economic, soci0-economic, social, family breaking, women health, literacy, suicides due to debt, consumption of alcoholic drugs, non-education, and health wich ends into criminal attitude or frustration Shri Jagruti Bahuudeshiya Vikash Shikshan Sanstha is a secular, non –political non –governmental and non- profit making organization formed a group of professionally qualified workers of different reputed instructions educated locals, having real interested and the commitment to serve the people of different religions, languages and especially the locals who are in need. The vision is the good of all making irrespective of caste, creed, or religion for just human society. Literacy and social awareness, self – realization and self-support, community health, wealth libration and leadership, relief and rehabilitation empowerment, and increasing the people are the mission of this organization.
Shri Jagruti Bahuudeshiya Vikash Shikshan Sanstha. Has a plan to rock for the development of our marginalized groups of society like poor, street and working children, Dalits women and child development issues, and was charity to the neglected senior citizen, during destitute and victims of various common diseases like leprosy tuberculosis and aids.
Shri Jagruti Bahuudeshiya Vikash Shikshan Sanstha. Was Established by a youth group in 1933 with the propose of social accountability. Then efforts were made to clarify scientific region beliefs which ware super stations is nature and to developed skilled adolescent girls & boys through various competitions like an essay, drawing, and sports our organization is work for disabling through children and angulated child in our society we also work for working children.
Due to work with the community organizations developed skill and knowledge regarding a different aspect of social issues expanded its area of work in society. in the last five years with the professional and experienced staff, resource full training center organization has framed its vision and mission to work for the upliftment of women child, youth, and farmers. Major areas of work are natural's resources as like water, land, education, training and health's
ABSTRACT
CORONA Virus Diseases (COVID-19) is an infectious disease by a newly discovered coronavirus.
Most people infected with me (Covid-19) virus will experience mild to moderate respiratory illness and recovered without requiring special treatment. Other people and those with underline medical problems like cardiovascular diseases, diabetes, chronic respiratory disease, and cancer are more likely to develop serious illnesses.
The best way to prevent and slow down transmission is to be well informed about the COVID -19 virus, the diseases it causes, and how it spreads. Protect yourself and others from infection by washing your hands using alcohol-based rube frequently and not touching your face.
The COVID -19 virus spread primarily through droplets of saliva is discharged from the nose when an infected person coughs or sneezes, so it's important that you also practice respiratory etiquette (for example, by coughing into a flexed elbow).
SYMPTOMS
The COVID-19 virus affects different people in different ways COVID-19 is a respiratory disease and most infected people will develop mild to moderate symptoms and recovered without requiring special treatment people who have underline medical conditions and those over 60 years old have a higher risk of developing severe disease and death.
Common Symptoms include:
•Fever
•Tiredness
•dry cough
Other Symptoms include
•Shortness of breath
•aches and pains
•sore throat
•And very few people will report diarrhea, nausea, or a runny nose.
People with mild symptoms who are otherwise healthy should self-isolated and contact their medical provider or a COVID-19 information line for advice on testing and referral.
People with fever, cough, or difficulty breathing should call their doctor and seek medical attention.
PREVENTION:-
To prevent infection and to slow transmission of COVID-19, do the following
•Wash your hands regularly with soap and water, or clean them with alcohol-based hand rub.
•Maintain at least 1-meter distance between you and people coughing or sneezing
•Avoid touching your face
•cover your mouth and nose when coughing or sneezing
•Stay home if you feel unwell.
•Refrain from smoking and other activities that weaken the lungs.
•Practice physical distancing by avoiding unnecessary travel and staying away from large groups of people.
OUR AIM:-
•To stop speeding this virus in the state
•focus on sanitizer spraying in a public place
•Residential camp & food supply for Needy people
•Migratory people camp
•We planned for multi-specialty Hospitals to fight with this coronavirus.
•we not only planned for this virus but in the future, we are willing to prepare to fight with any types of viruses
•This project is designed for long terms planning in the field of the medical department.
•By this Hospital we are focuses on super Multispecialty Hospital will cure Human life of any type of viruses.
•Our first priority base is to stop Corona Virus Speeding that is the main issue of Today Part.
•Distribution of Face Mask, Sanitizer, hand glows (PPE KIT)
•Distribution of food in all needed community
BUDGET ESTIMATED PROJECTED COST OF CORONA VIRUS PROTECTION & AWARENESS WITH QUARANTINE CENTER ALL MAHARASHTRA
&
Hospital Establishment Gondia-Bhandara District of Maharashtra
(Covid-19)
BUDGET (AVG 4 MEMBERS PER FAMILY FOR 6 MONTHS FOR FOOD SUPPLY & CAMP)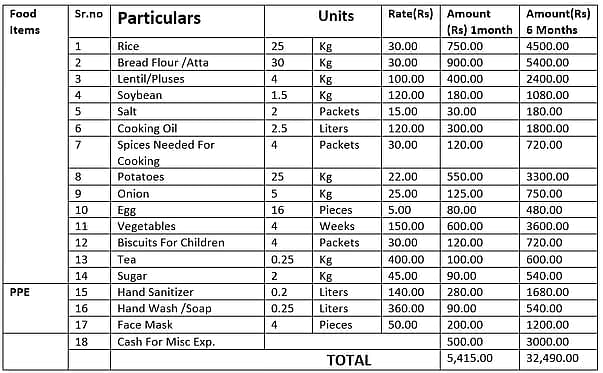 For Bhandara District ( Tumsar – Sakoli –Lakhanni-Pawani-Mohadi-Lakhandur) & Gondia District(Amgaon-Sadak Arjuni-Goregaon-Gondia-Salekasha-Arjuni/mor-Deori-Tiroda-Chichgad)Total Number of Families = 3,50,000/-
Amount in 6 Months = 32,490.00
X Total Number of Families = 3, 50,000.00
Total Amount = 1131, 15, 00, 000.00
Transportation Cost = 35, 000, 00.00
Total Project Cost = 1131, 50, 00,000.00
Amount in Figure
One Thousand one Hundred Thirty-one Carores Fifty Lacks Rs Only