Contribute to Protect the Artists, to Protect the Heritage of India.

The Kolhapuri Chappals are an age-old and popular craft that is the epitome of creativity and heritage of Kolhapur, Maharashtra. Recognized globally for its intricate, unique designs and authenticity, Kolhapuri Chappals are the legacy of this district.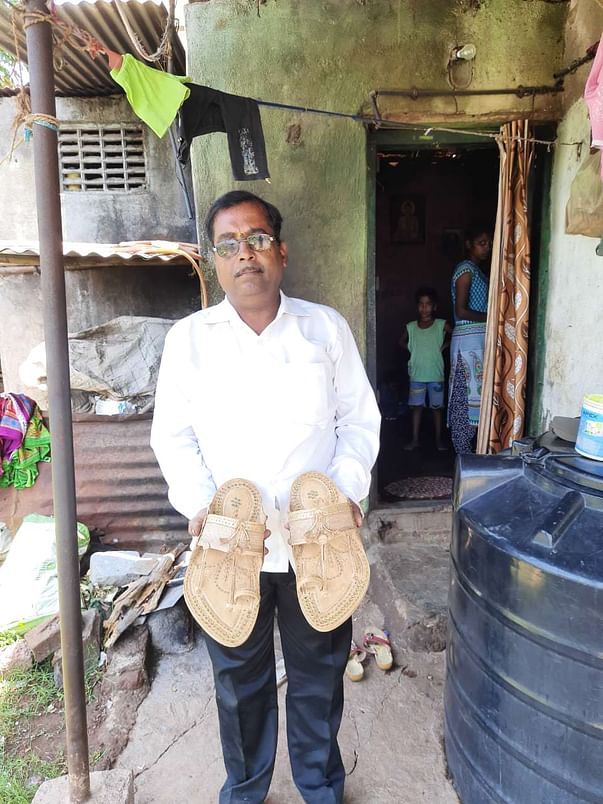 Central to both the living and livelihood of Kolhapur, the sector is facing several external challenges like a disrupted ecosystem, migration of leather artisans, and now the global COVID-19 pandemic. With the lockdown landing a blow to the peak season and the rainy season being a time of off-demand, these artisans are probably one of the hardest hit, economically, by the global pandemic. With the prospect of work a far cry and dwindling economic resources, these 3000+ artisan families cannot even afford to have two square meals a day.
My name is Dr. Dileep More from Kolhapur and the Founder of Divyam Leather Crafts. Since the national lockdown had begun, we have pooled together our resources to provide food grains, rations, and other essentials to families who need help. However we are a small start up firm.
Help the Artists to Protect an Age-Old Craft of our Country.
At Divyam Leather Crafts, we are taking some initiatives to revive the industry and preserve the heritage of Kolhapur and the artisans' livelihood. However, the artisans should at least have the requirements to cope with this situation. They have truly been hit the hardest, and with the uncertainty looming over when things will return to normal, it can be perceived that their economic gloom will only go on.
If such a thing continues and if we fail to protect these artisans, the craft that had once embraced us with royalty and dignity will become extinct. They are the only torch-bearer of this age-old craft. So, by donating, you will not do any charity. Instead, you, like many other duty-bound citizens of the country, will protect our country's heritage. Protecting these artisans is our duty, and we should do this properly.
We plan to provide the following essentials to the needy craftsmen families (tentative 500 families) for the next three months.
Wheat – 5 kgs
Jawar – 5 Kgs
Cooking Oil – 3 Liters
Rise- 5 Kgs
Sugar- 2 Kgs
Potato – 4 Kgs
Onion- 5 Kgs
Dal – 3 kgs
Washing Soaps – 5 Nos.
Bathing Soaps – 5 Nos.
The bill of purchase for one person can be found attached.
While these artisans fight the battle of hunger and economic crisis, we have to come forward to raise money to help them and support daily wage artisans, and smaller establishments, and build solidarity with other groups doing similar work. We're trying to help these vulnerable people during hard times to at least cope during the pandemic.
This campaign hopes to be a space where we can raise money for these artisans' families and hoping for the community where no one goes hungry!
Every penny counts in this dismal situation and will be used to donate food, rations and other bare essentials to the artisan's families. It is our earnest request that you contribute to our fund and shares this campaign link with your friends and family to build a better society.