Meet Shakti..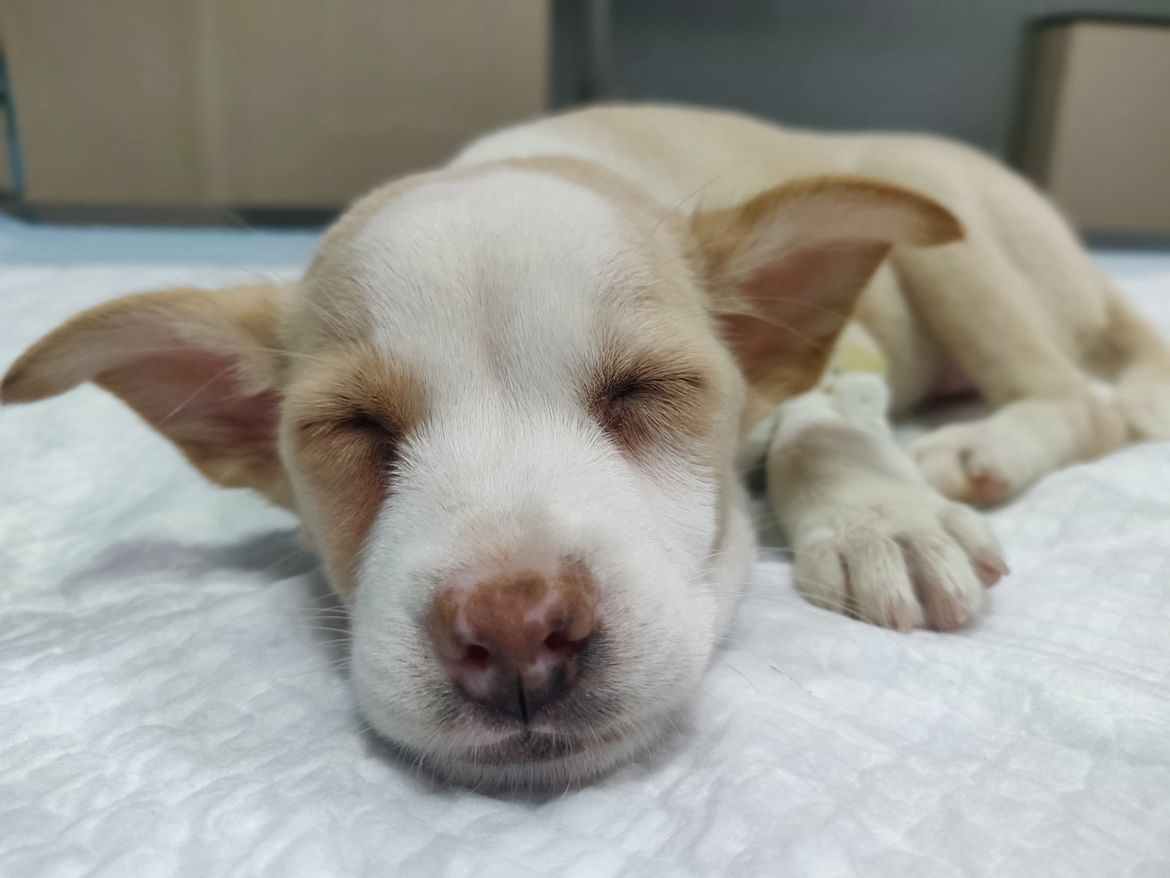 Shakti's story:
Shakti is a 2 month old Indie street male puppy who is at the moment, fighting for a chance to live against two most deadly canine viruses (Canine parvovirus enteritis and Canine Coronavirus). Shakti was abandoned outside our apartment in Ramamurthy Nagar, Bangalore in the early morning hours on 27th August, Friday 6.30 am by a young heartless teenager in a bicycle who did not turn back. A resident picked up the trembling pup and brought it immediately to our house at 7.30AM. Shakti was dull, lethargic and could not support his body weight and often plopped into brief naps. Must be tired and scared, would get better with food and shelter we thought....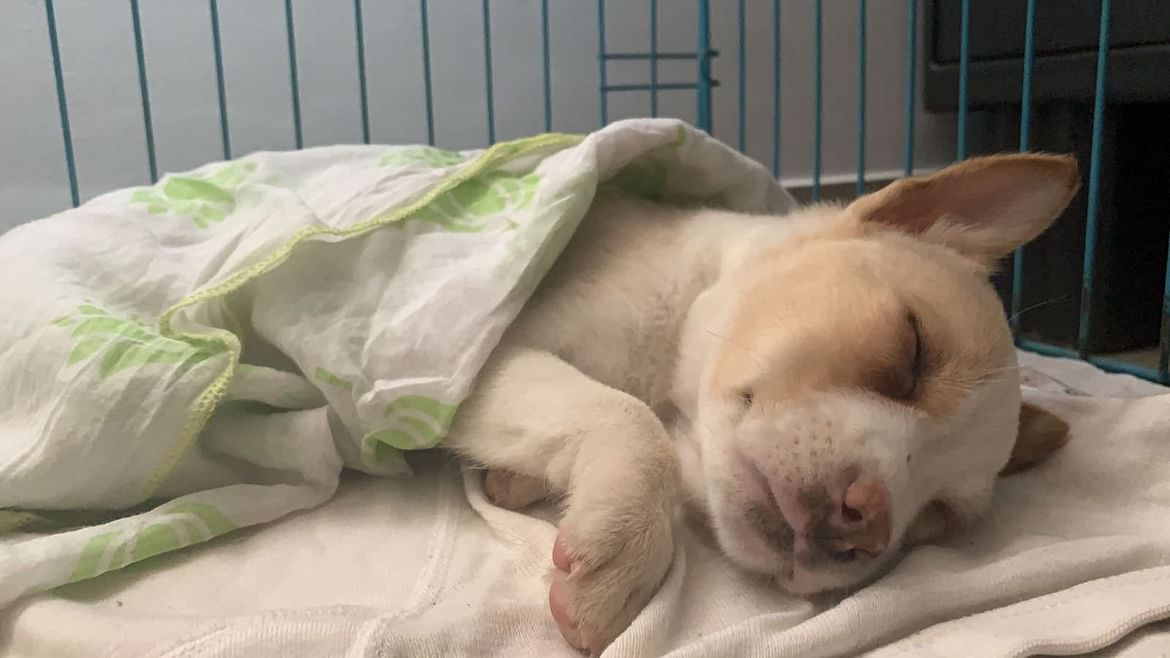 Our initial efforts:
In the 24 hours that we fostered the pup, he did not eat or drink water, was extremely dull, depressed and started having gag reflexes, loose mucosal vomiting and diarrhea. We took the pup to a nearby vet where we initially suspected potential gastric issues and put the pup on IV and pumped in probiotics and medicines to relieve gastritis. Further on 27th evening, we tried to feed the pup oral rehydration solution and resulted in intense vomiting. From there-on , all night the puppy started gagging white frothy vomits, watery metallic smelling diarrhea (signs that his intestines have started getting eroded and expelled). It was a distress call and immediately we prepared for an emergency rush to the hospital at 4am!
"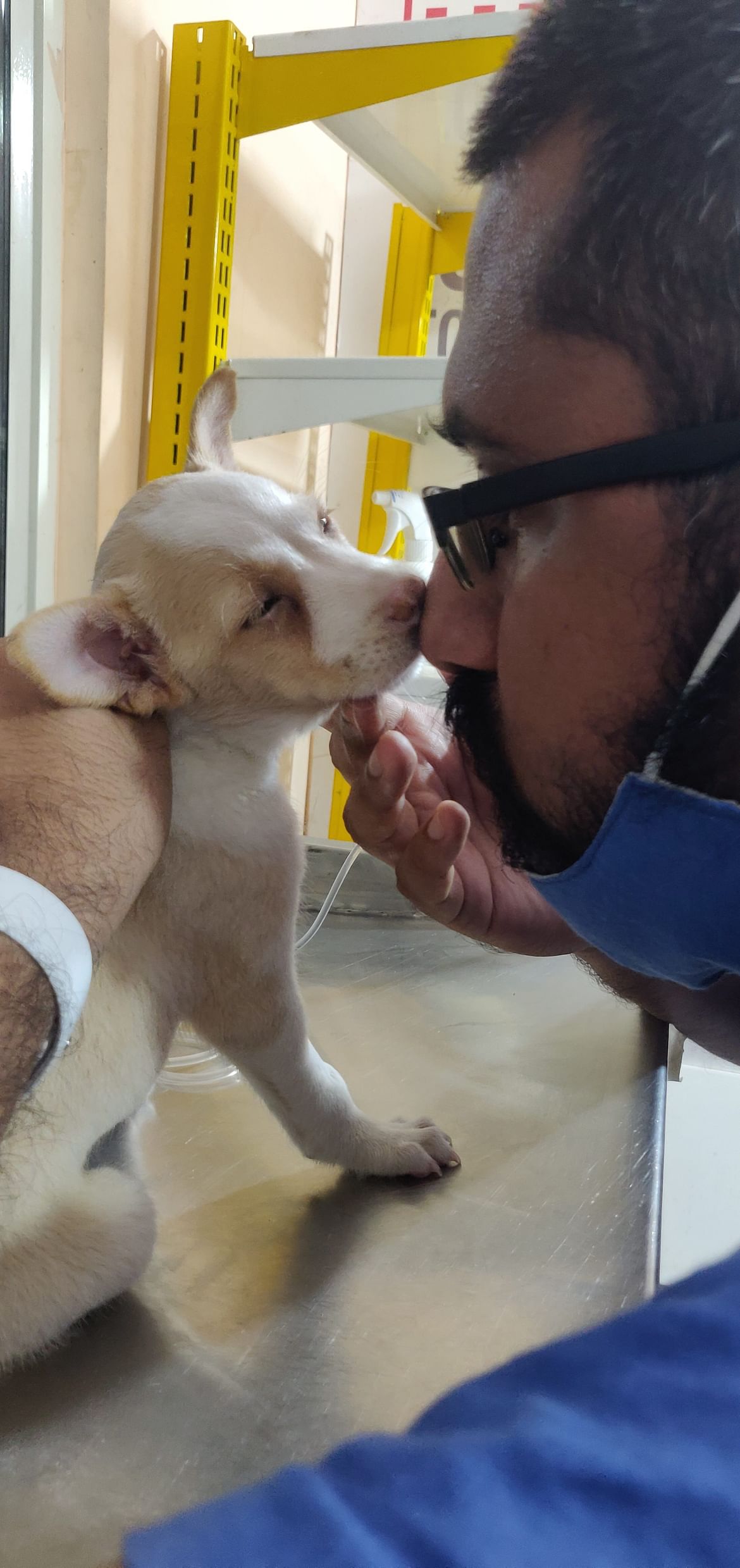 "

I am in a lot of pain but loss of words, can you understand my language? "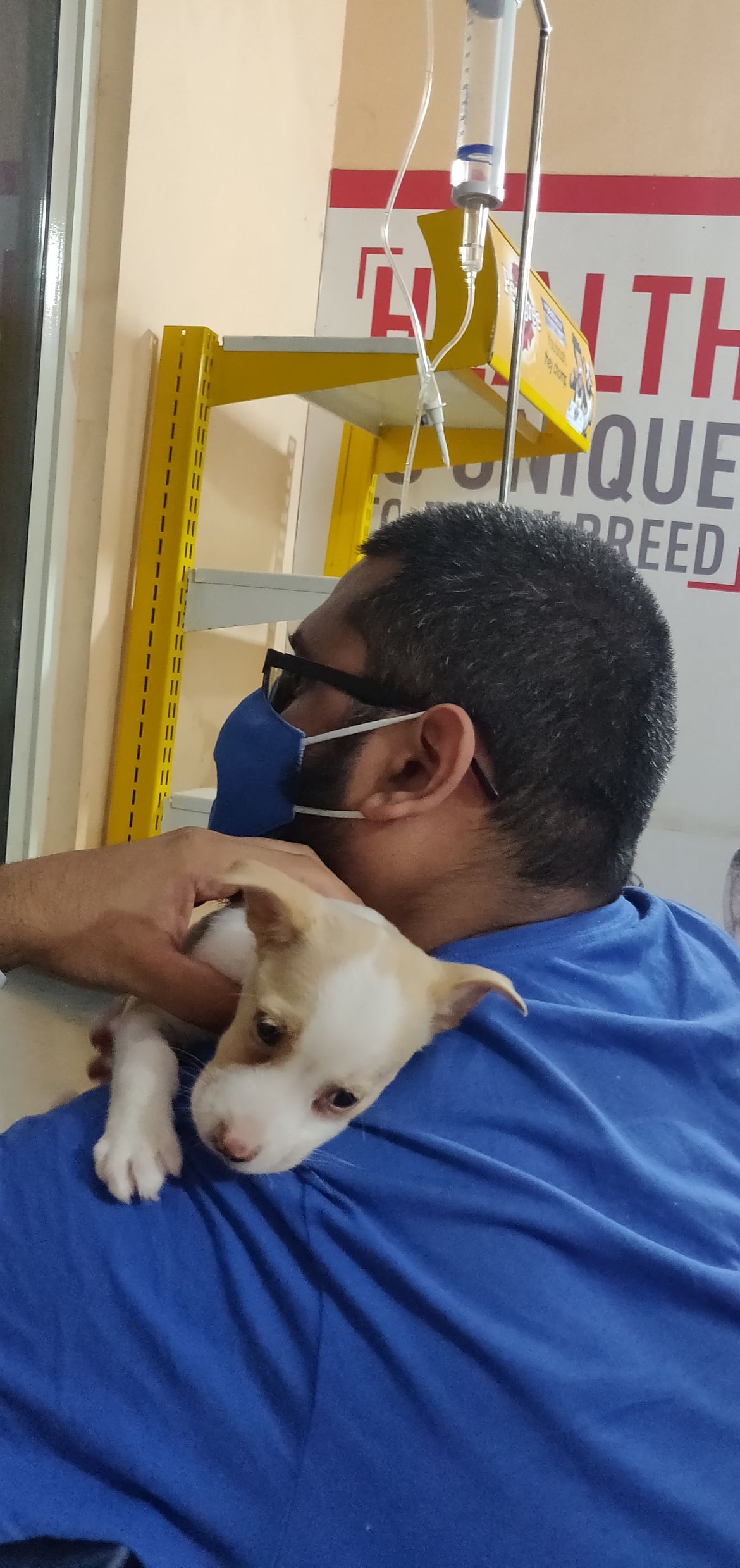 "Please don't leave me down. You are my only hope"
Further developments :
We rushed the pup to the hospital as early morning rays flooded into the day and empty roads guided way. Upon testing, we discovered that the pup was under attack by not one but TWO DEADLY VIRUSES –
Canine Parvo Virus and Canine Corona Virus
, both of which have no cure once infected. Without any second thought we admitted the pup as an inpatient and signed up for intensive care over the next 10 days for all possibilities of recovery. The pup is equally determined to fight this. We gave him a new name –
"Shakti"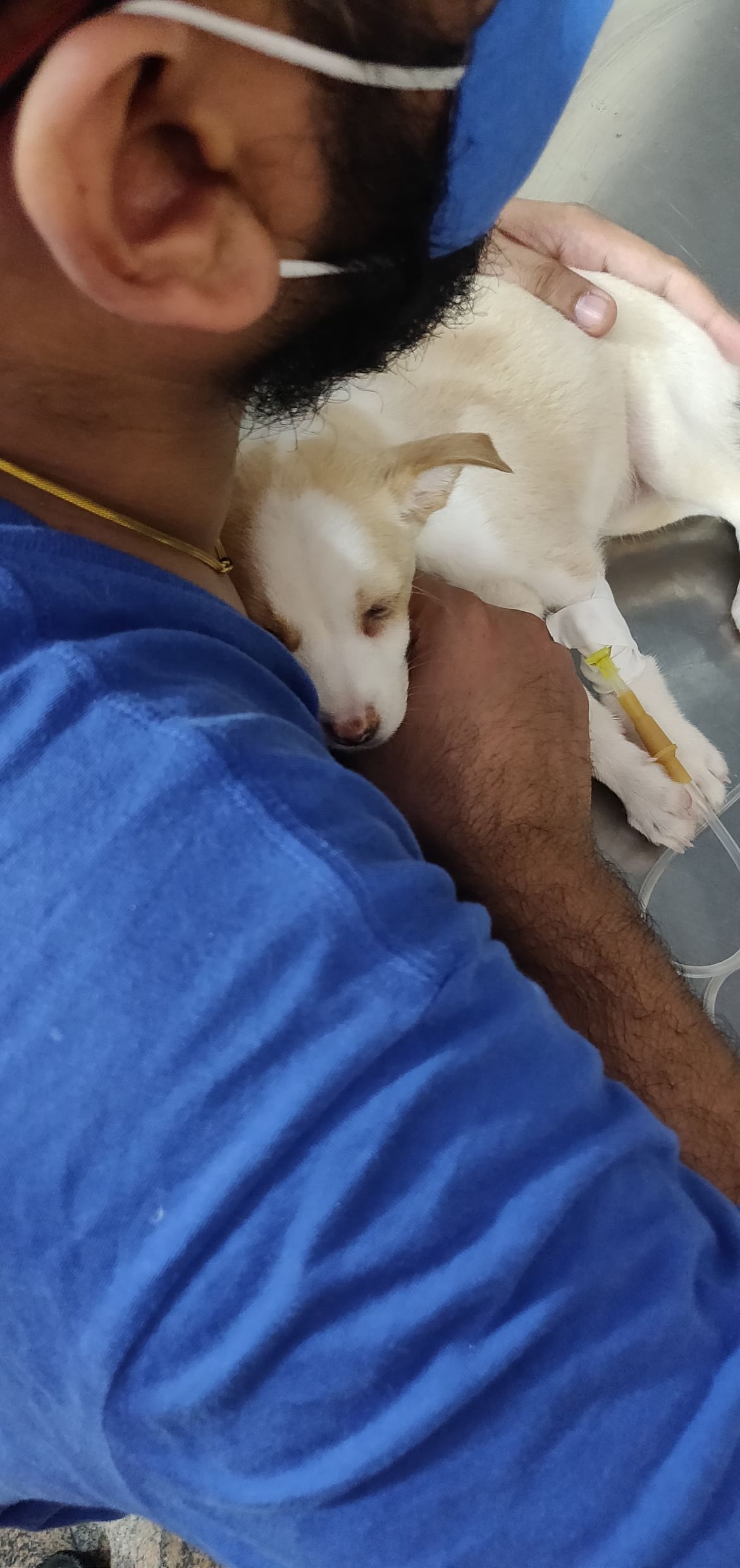 "I am scared..the needle hurts, my tummy hurts"
A bit about Parvo Virus:
Parvovirus is a highly infectious disease that can be fatal and most often affects puppies that are not vaccinated, upon exposure to faecal matter/bodily fluids of carriers. The virus attacks cells in a dog's intestines and stops them from being able to absorb vital nutrients. This means that a dog or puppy will become very weak and dehydrated. Puppies go downhill very quickly because the symptoms caused by parvovirus make them very weak, and making it extremely hard for their immune systems to fight the disease. It with lowers their white blood cell count, damage their intestinal wall, reducing their ability to fight off secondary bacterial infections. Most dogs who are diagnosed with parvo will die .The survival rate of dogs treated by a veterinarian is 68 to 92 percent, and most puppies that survive the first three-to-four days make a complete recovery. Recovery times vary depending on the severity of the case.
A bit about us and How you can help?
We are Aishwarya and Vikram ,a couple from Bangalore, working full time jobs with hectic schedules but with a deep love and a sense of responsibility towards protecting animals. We believe in being the voice for the voiceless. We have a pet cat that survived parvo virus and went through these exact stages in her babyhood, now at the pink of her health.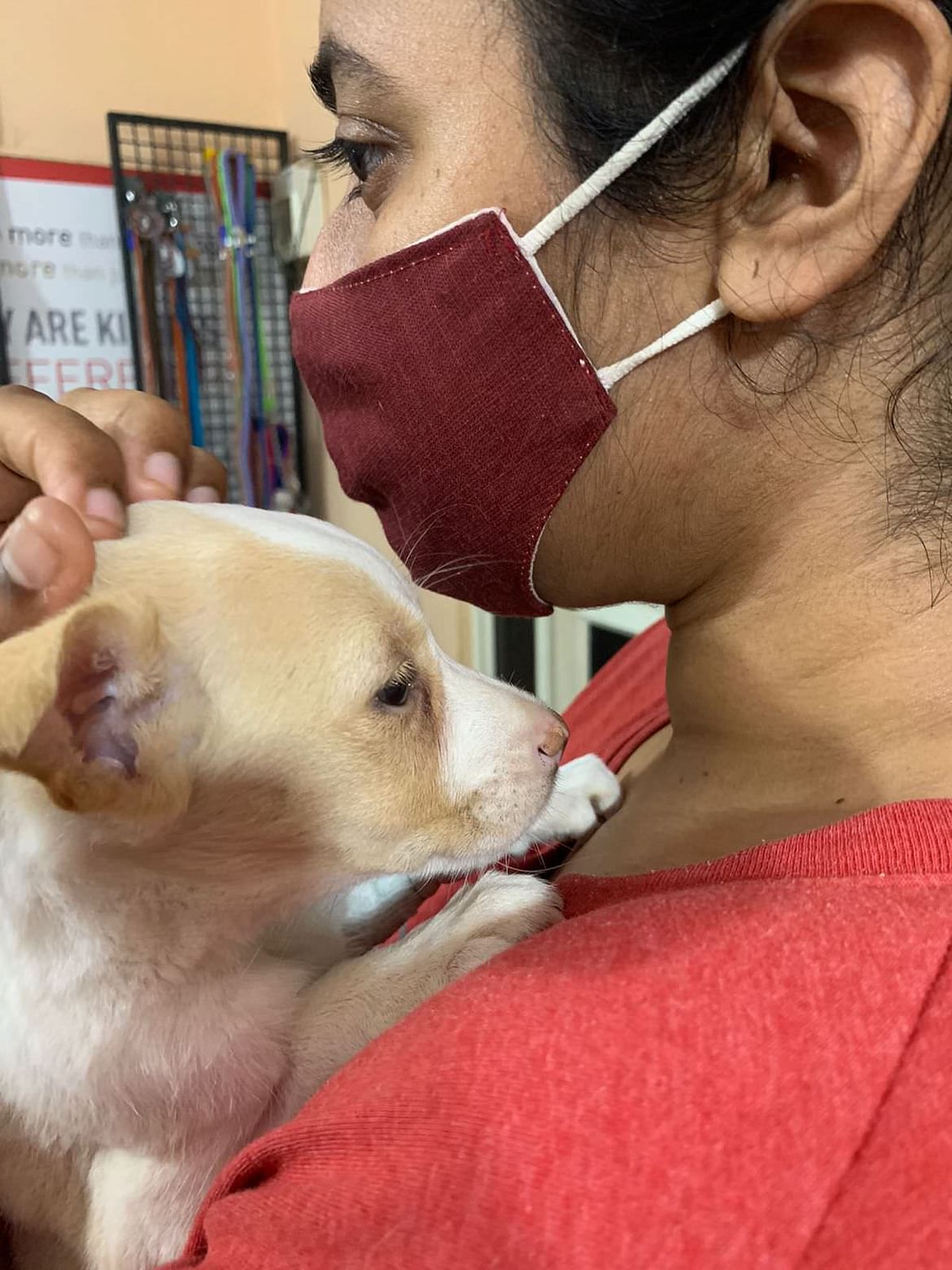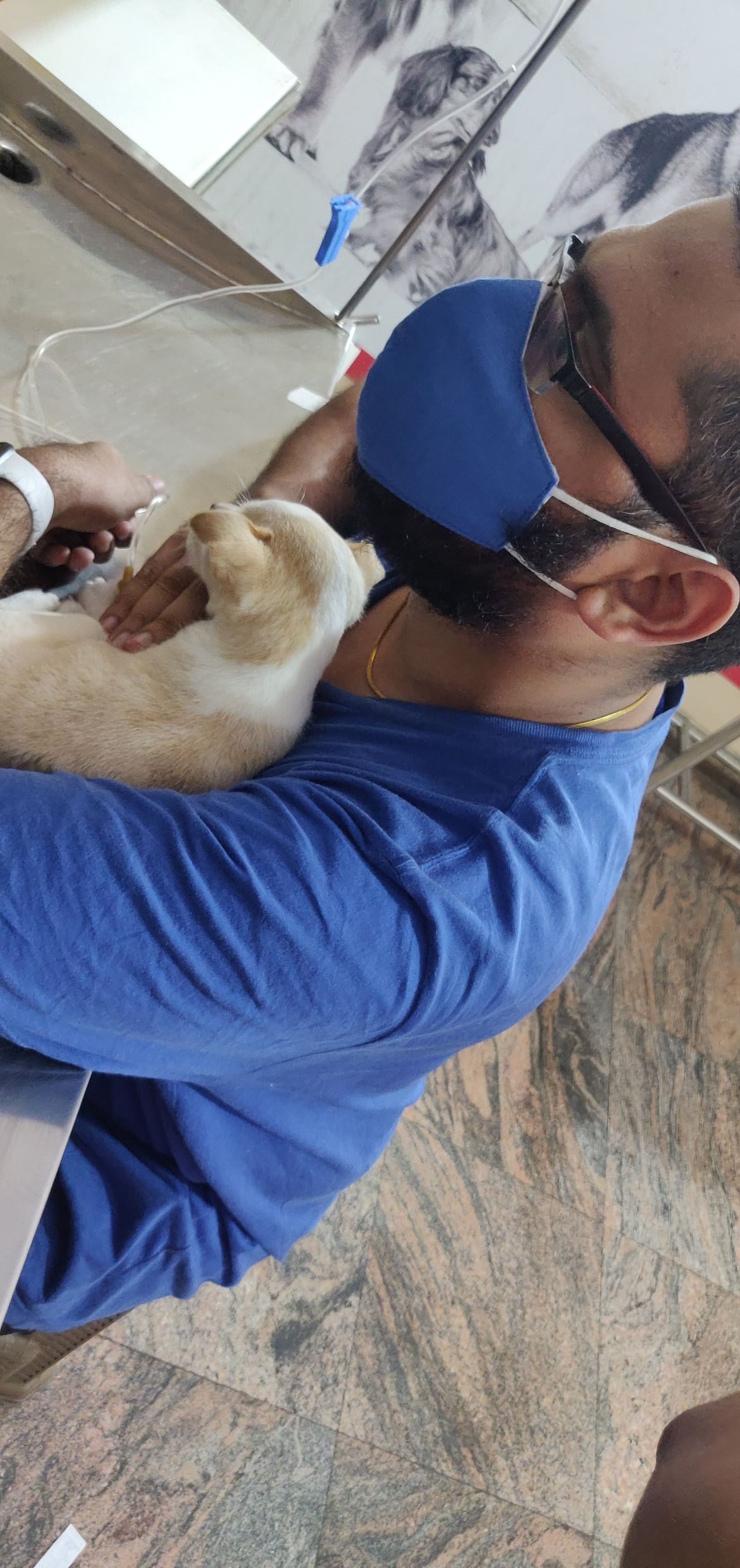 Our experience tells us that this will not only be an emotionally and physically draining experience to pump life back into Shakti for next 4 months if he survives, but also burn a huge hole in our pocket. The cost estimate currently is about 5k/day up to the next 10 days (Apprx INR 50K totally) with tapering expenses as the dog's health picks up. Often we rescue, foster and rehome abandoned, distressed kittens out of our own time, money and resources and volunteer at Charlie's Animal Rescue Center (CARE) during our free time. This time, we are looking for your support in contributing financially to our cause in the smallest way possible to make a huge difference to the life of this little helpless animal. After all, little drops make a mighty ocean.
What is in it for you?
Satisfaction that you are directly responsible for saving an animal. A huge gratitude from us. You will receive periodical updates on the pup's progress towards recovery. You will receive an invoice for your contribution, which can be used for claiming tax benefits under section 80G if you are a resident of India.
A Huge Thank You from Us and a Pawfully cute Shakti!