Medical & Ration Aid to underprivileged families of Rural Rajasthan

BACKGROUND
KOTA COVID AID
is a youth collective started in April'21 with an aim to verify the availability of necessary medical aid for treating COVID and share that information with the beneficiaries. Over time we identified that the second wave has severely started to impact underprivileged communities in and around the city. On a daily basis cases in rural areas are going unidentified and untreated due to lack of awareness and required health infrastructure. Seeing this, we started a fundraising campaign on Milaap to support unprivileged families with medical and ration aid.
PHASE 1 UPDATE:
We successfully completed the first phase of this campaign by collecting Rs 80,000 and providing the resources to
50 families & 6 Anganwadis in Sarola, Dabar & Moti Kuan villages of Sarola Gram Panchayat, Rajasthan
in collaboration with Preeti Singh Jhala (Sarpanch of Gram Panchayat Sarola),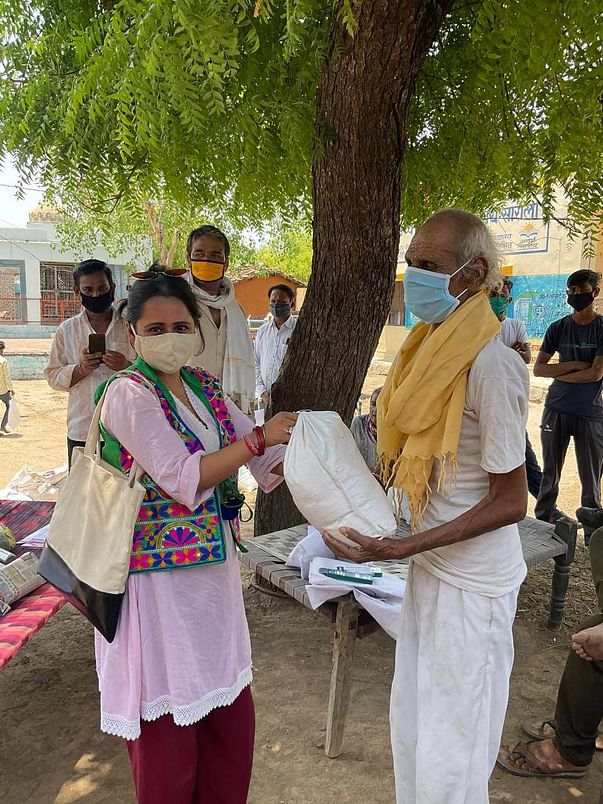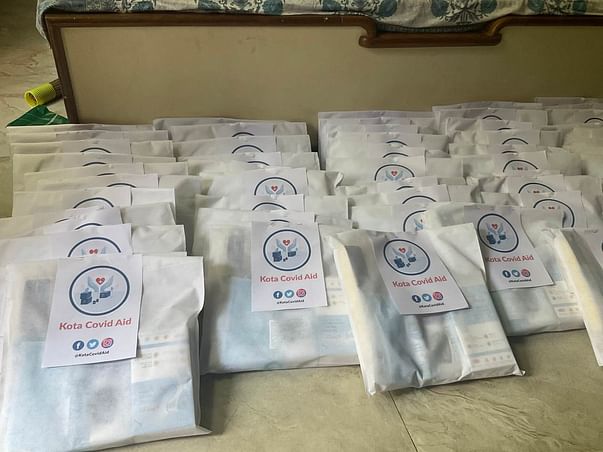 PHASE 2 UPDATE: We successfully completed the second phase of this campaign by providing the resources to 72 families & 10 ASHA workers in 5 villages Dungarja, Nimoda, Kanwarpura, Ummedpura & Kacholiya in Kota District in collaboration with Sarpanch & Anganwadis.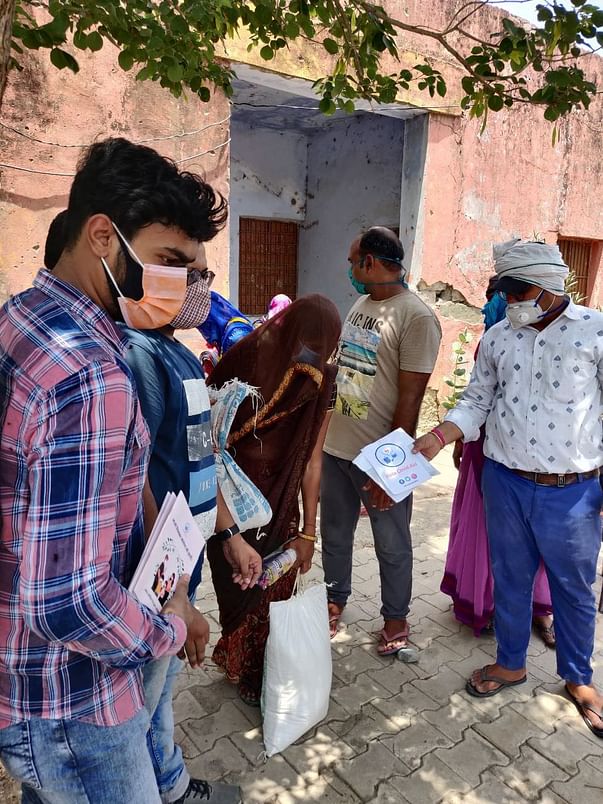 PHASE 3 UPDATE:
With your support aid has been provided to 108 families & 4 ASHA workers in Jagpura, Kasar, Alaniya & Kishanpura Takiya villages. Our heartfelt gratitude to all the donors & supporters.
What are we doing?
After speaking to the local officials and medical professionals we decided to help the underprivileged families by providing them with basic medical aid kit, dry ration and additionally handing them a booklet (in native language) which consists of the necessary precautions, list of emergency numbers & home remedies suggested by Ministry of Ayush, Government of India.

Each Medicine Kit include:
1. N95 Masks (4 masks each family)
2. 60ml bottle of Sanitizer (Qty- 1)
3. 10 tablets of each medicine:
Paracetamol (500mg), Vitamin C (500mg), Vitamin B complex with B12, Zinc (50mg) - as per the home isolation guidelines released by the central government.
4. Booklet in native language with instructions & basic information on covid in order to create awareness.
5. One Thermometer for each family.
6. 15 Sanitary Napkins for each family. (Courtesy: Safe N' Happy periods team)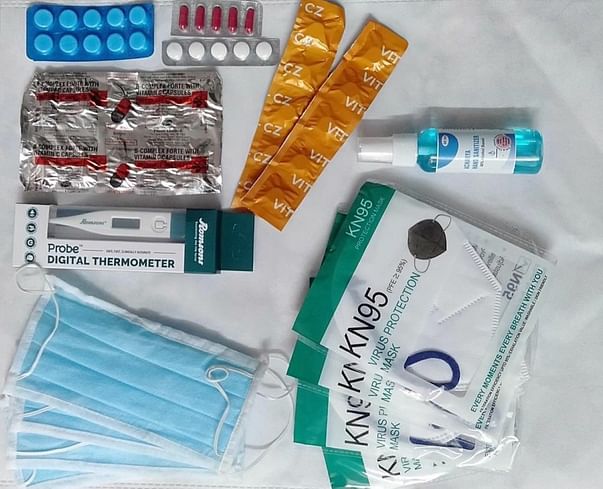 Each Ration Kit includes:
1. Aata 10 kg
2. Dal 1 kg
3. Rice 2 kg
4. Oil 1 lt
5. Salt 1 kg
6. Daliya 1 kg
7. Haldi powder 100 gm
8. Dhaniya powder 100 gm
9. Mirchi powder 100 gm
We are also giving
medical aid kits to Anganwadi & ASHA workers
to ensure door to door scanning. In the first phase, we covered
6 Anganwadi & ASHA workers.
5. Face Shield - 1
Our Process
With the help of local officials and Anganwadi workers, we identify the families who are in need of immediate medical and ration assistance. Our volunteers find out and source the materials for the medical and ration kits at the best possible rates. We then distribute these kits to the families in rural areas around the Kota district.
PHASE 2 ONGOING
: In the next phase, we are targeting 200 families in 10+ Villages of the Kota district.
How can you avail 80G deduction?
Our NGO partner 'Sachetan Society' is registered for tax exemption under section 80G (5) and section 12A under The Income Tax Act 1961.
The donors are eligible to claim 50% deduction under section 80G while filing their Income Tax Returns.
Please donate directly to Sachetan Society to claim 80G deduction. Kindly note 'Donation For Kota Covid Aid' is required to be mentioned in remarks.
Bank Transfer Details:
Sachetan Society For Research And Education
State Bank of India- ADB Kota Branch
A/C No.: 32852896009
IFSC Code: SBIN0001838
For Donation Acknowledgment Receipt, mail us at kotacovidaid@gmail.com

About Our Team
Our team consists of people from varied backgrounds: Medicine, Social work, Technology, Art, Marketing, Finance & more. Know more about our team,
Click Here
Some of our team members include -
1. Drishti Ahuja - Worked as manager at Sun Pharma; Audit Consultant at Grant Thornton; CA; B.Com (Hons.) from Venkateshwara College, DU
2. Palak Sharma - Co-founder, Green Governance Initiative; Managing Director, Centre for Advanced Studies in Policy Research; UK Civil Services Fast Streamer 2020; Alumni, London School of Economics
3. Aarav - Entrepreneur & founder of Kota City Blog.
4. Sarika Gupta - Founder & Facilitator at Safe N' Happy Periods, a Non-Profit; Founder Trustee AMODINI Foundation, a charitable trust working on women health, empowerment, livelihoods & Environment.
5. Abhishek Anil Sharma - Singer, Songwriter, Composer & Live Performer; Finalist of MTV Project Aloft Star, GUINNESS World Record holder for being one of the Core Vocalists of World's Largest Cinematic Band, Performed in over 600 live shows across the nation.
8. Divya Pariyani -Worked as Media Manager at Yotribe; Teaching Fellow at KARMYO Foundation; B.B.A from Banasthali Vidyapith, Rajasthan.
9. Shivani Jain - Senior Audit Manager at Virtuoso Business Consulting; Finance Head at Weconnect Soft Solutions; B.com from Kota Commerce College.
NGO Partners:
Sachetan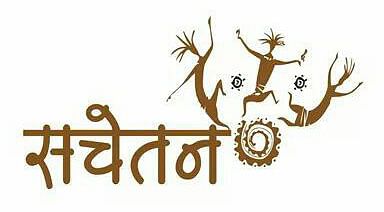 A Non-Profit based in Kota is consulting us with the implementation of the project and better management of resources and funds. Know more about the Sachetan,
click here
Safe N' Happy Periods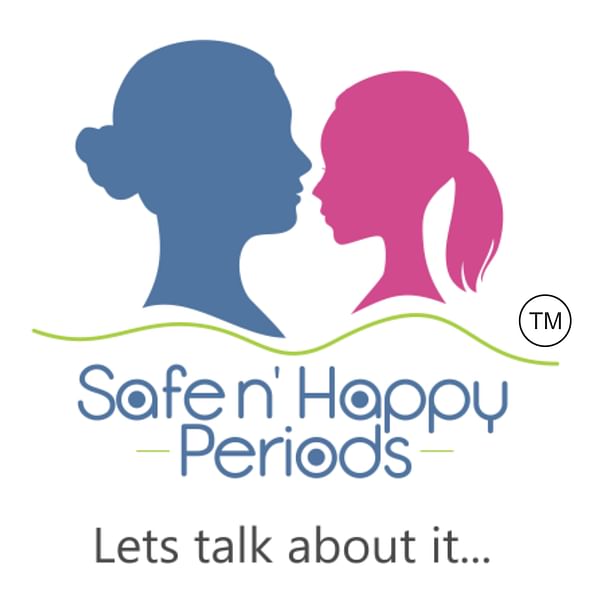 A non-profit organization supporting us by donating sanitary pads for girls of families we are reaching out to. Know more about the organization,
click here