Hello! We are CovidWire, a
non-profit initiative
that aggregates and summarizes quality COVID-related news from reputed media outlets. Built as a mobile-friendly website, we cover global, national, and state news in multiple Indian languages. The states covered are Andhra Pradesh, Delhi, Kerala, Maharashtra, Tamil Nadu, and Telangana.
covidwire.in now has 2000+ daily users and has covered 5000+ pieces since its launch on 10.05.2020. It has also tied up with some news media to publish essays written by CovidWire analysing trends in the news. It runs on the volunteer efforts of 100+ individuals – students, doctors, lawyers, engineers, researcher analysts, homemakers, designers, etc working in their free time.
Check out our platform here: https://covidwire.in
Our efforts have been recognised and we got featured
here
,
here
and
here (38:14 - 38:58).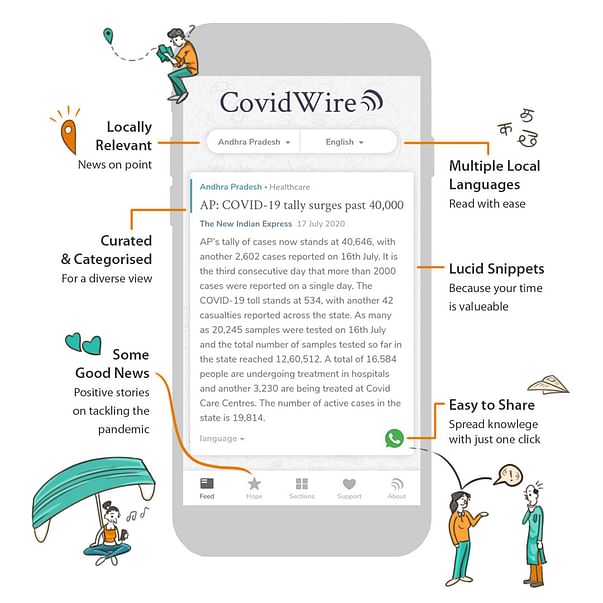 Why CovidWire

With human societies going through a profound transformation, this is a unique moment in global history, one that will possibly be remembered as pre and post-covid times. In such a scenario, data and information become extremely powerful. The driving force behind CovidWire is to bridge India's information gap and fight the misinformation epidemic on social media platforms surrounding COVID-19. To this end, we source, summarize and translate news from reputed media outlets in 6 languages - English, Telugu, Tamil, Hindi, Malayalam & Marathi.
Can the tech-savvy commoner in a remote village, newly entering the internet space, access what's happening outside his village, district or state? Can the educated housewife, receiving streams of fake news on her smartphone, access authentic news related to COVID-19? Many media platforms cover the pandemic but data and information remain in complex or inaccessible formats for a large section of Indian public - for that villager, that housewife, and many others. What makes CovidWire unique is its ability to bridge these huge information gaps, bringing wide-ranging news to your smartphone in your language.

What We Do
At CovidWire, news gathered from 85+ global, national and local media platforms are curated into various domains like Society, Politics, Administration, Sports, Environment, Legal, etc. A pandemic is more than just the virus; we ensure our curation captures the impact of Covid-19 holistically, with a special focus on positive and hopeful news amid world-wide gloom. We believe there are pockets of hope - in individual stories of survival or in institutional/national stories of fighting back without losing a single life. It is important these are highlighted.
Once curated, each news article is then digested into short, easy-to-read and shareable snippets. This makes it easier for those who do no have the time or inclination to scour through lengthy articles on a daily basis. Each digest is then translated into various languages, making CovidWire inclusive of millions of non-English speaking Indian populations.

Why We Need Your Support
Currently, we are working on expanding outreach by increasing teams covering other states and countries. As covidwire.in grows, it would require more and more resources to the website and accommodate more volunteers and regions. It has already evolved through multiple updates and improvements over its original form and we have a bigger and more ambitious plan. We request your support to keep the servers running as CovidWire continues to grow and reach millions more. We plan to promote covidwire.in on Facebook, Instagram, Twitter and other important platforms, which come with a considerable cost. All our expenses will be continuously updated on the website.

Your monetary support will help us keep the platform up and running, evolving and growing to reach many more in India. Any bit of help is welcome!