Sapphire Hospital multi-specialty hospital serving the poor and needy patients of surrounding districts. The present COVID – 19 pandemics has created the scare among the doctors of surrounding places and most of the patients are referred to the Sapphire hospital. The safety of the hospital staff is also our primary concern, in this regard, our medical staff has to wear personal protective equipment to safeguard themselves. The PPE cost is burdening the patients and as well as the hospital.

The world today is facing an unparalleled challenge with the growing numbers of COVID 19 cases each day. This global pandemic will be remembered as one of the most difficult periods in the history of modern times. While the world stands locked and distraught; doctors, nurses and paramedical workers have been saving lives by providing round the clock impartial medical care to those in need. It is precisely at this time that the world needs to show their solidarity and support towards the wellbeing of doctors and healthcare professionals. Our organization, Sapphire Hospitals, is working tirelessly to provide the best patient care. The money you donate will help us in the purchase of hospital supplies, PPE Kits, N 95 masks, medical gloves for clinical staff, sanitizers and other essential medical gears.
The list is given below:-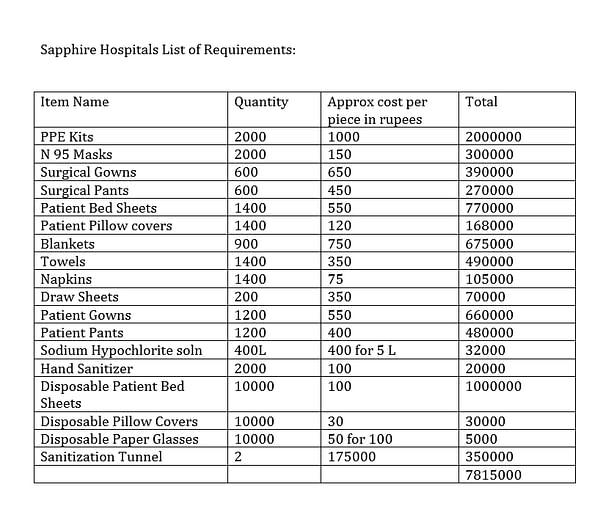 The requirement listed is based on materials required for treating COVID 19 patients for the next three months.
As we all struggle with a global pandemic and its disastrous effect on our local economies, it is important for us to immediately pivot our philanthropic energies to the most vulnerable among us.

Kindly join our hands in serving the poor patients.


Disclaimer:
Sapphire Hospitals is a private multispecialty hospital. We are charging patients for the services rendered to them. But the charges do not help cover the hospital expenses incurred in times of this pandemic. Your support will not only help us to give discounted services to needy patients but will also enable us to serve more patients effectively.