Santhosh's father Elumalai had an emergency admission to Apollo Vanagaram in Jan 2021 due to severe lung infection and also stroke. He was put on Ventilator support for about 45 days, eventually resulting in medical expense of about Rs-23 Lakhs.

As Santhosh and family struggled to mobilize further funds, he was shifted to STN family healthcare Nanganallur, where per day expenses were comparatively lower. He was still put on ventilator support for about 2.5 more months, showing some signs of recovery regaining consciousness.
But his health quickly declined again due to unexpected neurological problem causing fits, eventually leading to his sad demise on 25 May 2021.

By the time Santhosh's father passed away, he had already spent a whopping amount of Rs-55 Lakhs in the last 6 months, and still has an outstanding balance of Rs-5 Lakhs yet to be settled.
Santhosh is unemployed for over 1.5 years since the start of pandemic and also because of the need to take care of his bed-ridden father.

Santhosh and family could mobilize this huge sum through hand loans and Mortgaging their only ancestral 100 years old home where his joint family has been living till now. This ancestral home is the family's only property.
Santhosh took this huge financial burden and risk with the only hope that he would see his father come back home, but sadly his father never returned home alive.
To make things worse, Today, Santhosh and family have lost all their savings, are in the verge of losing their only home and livelihood due to problems from lenders.
Even a small contribution will go a long way in providing Santhosh & family a new lease of life, relieving them of their loans and also an opportunity to retain their only home of the last 100 years.
- From Santhosh's College and School Friends
Bill from Apollo: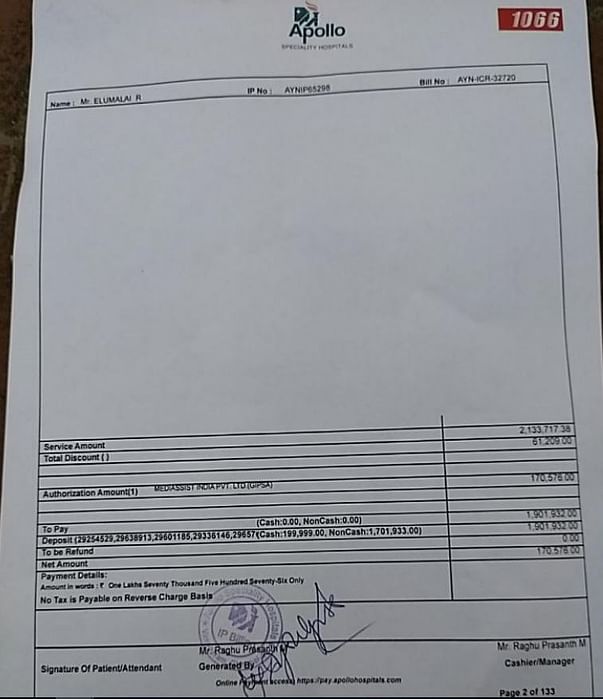 Part-bill from STN excluding pharmacy bills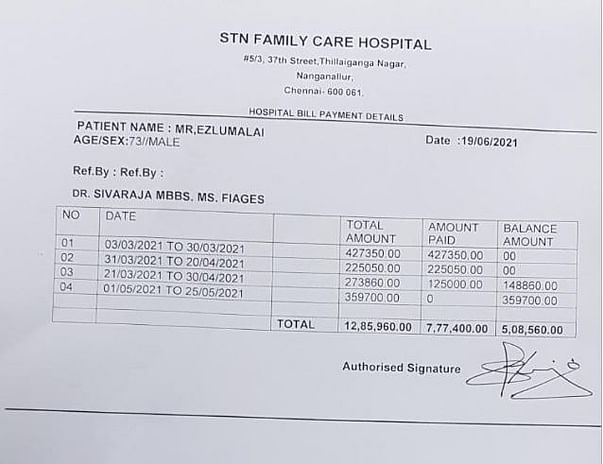 I have enclosed the STN pharmacy bills as pdf.