Fight with Corona [FWC]: Help us to feed the poor people & homeless people in Bihar
Bihar is so poor compared to other state ,Even there are more IPS and IAS officers from Bihar than any other states but most of them come from very humble family background. Most of their parents are not educated , which leads them to an backward upbringing. They mostly tends to believe the higher the education level is higher the dowry amount.
there are 33.74% population is below poverty line .
At this time of Covid-19 crisis, many people are doing great work for the poor populace in the metros and various other parts of the country but the poor in a state like bihar don't have much backing and has left everything to his/her fate.
Daily wage workers, ragpickers and other poor people are the hardest hit from this Covid-19 pandemic as they are left jobless, and as the crisis deepens, it will be difficult for them to arrange for even a one-course meal, and basic sanitation & hygiene could only be a distant dream.
So, what can we do?
We, the people of the Infochord Foundation (a not-for-profit run by the youth), along with some dedicated individuals, are spearheading the project Fight with corona to feed the most affected poor families in Bihar's World wide highlighted and famous city - Rajgir. Our aim is to provide them with food supplies in the absence of a constant supply of income.
Here's how we plan to achieve this:
For the initial phase, we have mapped close to 200 such marginalised families across Rajgir who need urgent support. Our plan is to provide each family with one ration kit which we call the Fight with Corona kit [FWC kit]. Each FWC kit will cater to a family of 5 people for one month straight and will contain the following: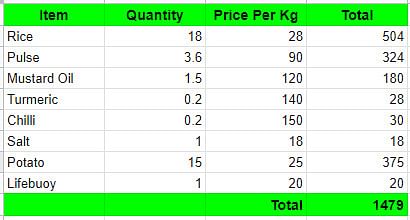 For 200 families the cost turns out to be: 200 × 1500= 3,00,000 Rs. approx
Humanity is knocking at our doors, crying for help. Let us all do our bit and contribute wholeheartedly for the underprivileged citizens of this country and most importantly, our fellow human beings!
You can Directly transfer to the INFOCHORD:
Infochord Technologies Private Limited
Name of bank: HDFC
Account no: 50200004026305
IFSC Code: HDFC0000621
Details for direct bank transfer / UPI
UPI: ravirajgir78@hdfcbank