COVID-19 is a pandemic declared by the World Health Organisation.
We are requesting you to come forward and support our sewa work to cope with the inevitable national crisis.
We will reach out to the beneficiaries directly, through SEWA BHARTI and associated organisations.
The funds will be raised in the following phases -

Phase 1 - Rs 11,00,000/-
Phase 2 - Rs 21,00,000/-
Phase 3 - Rs 51,00,000/-
100% of your donation goes towards the cause.
Who are we?
We are a group of young individuals form Lucknow, Bharat who have come together with a simple motto in our hearts: "Be Good - Do Good" which we call Mangalman (मंगलमान). We assembled last year under the patronage of Mayor Srimati Sanyukta Bhatia with the motto to globalize tradition of Bada magal which is known for Grand Bhandaras during the month of Jyeshth (may-June).
During the ongoing COVID-19 pandemic our Aim is to aid communities who are, unfortunately, seeing their lives crash in front of their eyes.
We are doing it, because we care and we know you do too. Our hearts go out to those running the risk of starvation, but the lock-down precludes us from feeding them first-hand. We have thus, kick-started this initiative. The world needs your love and support more than ever before. Let it flow!
What are we doing?
We are collecting funds that are being used for following items on an urgent basis -
Distribution of N-95 Masks, Hand Sanitizers and Soaps
Providing support to the daily workers with daily need supplies such as food, medicine and funds to sustain.
Creating Awareness about corona virus.
Distribution of Tea & Snacks to Police, Medical and paramedical staff on duty.
Supporting families of the Corona worriers.
Our target is to assist as many as families we can. Battles are to be fought on every front in this difficult time and while we cannot fight them all, we are determined to do whatever we can. We will expand as and when we get to know more communities in need and extension of lock-down period. With this aim we have decided to collect funds in three phases.
We cannot withdraw money for our own benefit. Money will be directly credited to the Sewa Bharti or the affected person's account.
We will post the details of such people on this campaign page. If we are purchasing some commodities, the fund will be transferred directly to the merchant's account.
भोजन पैकेट
पूड़ी 5 एवं सब्जी @ 20
अन्य @ 5
-----------------------------
कुल- 25
राशन पैकेट
चावल 5kg @ 200
aata 4kg @100
दाल 1kg@ 100
आलू 2kg@ 40
तेल, नमक, मसाला - 40
अन्य- 21
---------------------------
कुल - 501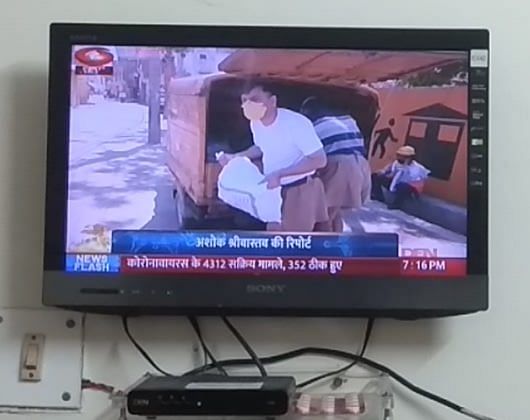 All of us have the passion to do our bit in these tough times and most of us have the experience of working with the communities of migrants and daily wage earners who struggle to put food on the table when we continue to lead normal lives. This situation has reduced their resources to naught. Since many of them are deprived of documents essential to get government aid, there is little hope on that front. There are about a thousand such families that we know of and we are determined to help them survive and emerge from this dark phase.
How are we doing it?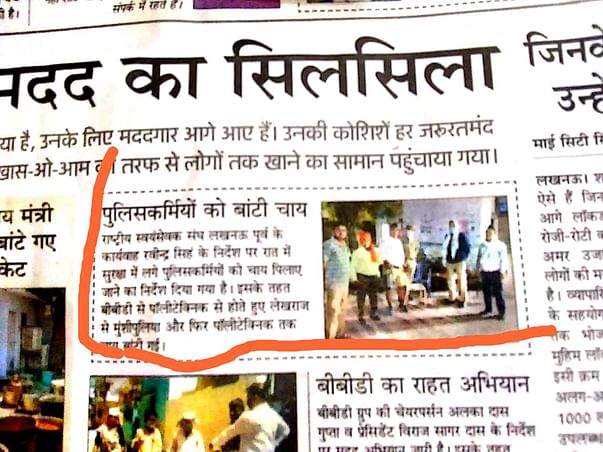 We are working in close association with the world largest organization known for selfless service
Rashtriya Swayamsewak Sangh
(RSS) and
Sewa Bharti.
Sewa Bharti has already established support centers (आपदा राहत केन्द्र) in the vicinity of the communities. We have also identified some shops near target communities from where ration, medicine etc can be provided. Funds generated by this campaign shall be spent through the Sewa Bharti network and at these specific shops to procure aid kits. The kits containing wheat, rice, daal, oil, salt, sugar, spices and soap will be distributed in the community under the vigil of trustworthy community leaders and swayamsewaks', equipped with safety kits to avoid the spread of the infection. There is a control room monitoring day to day activities of the operation to ensure that this campaign runs smoothly. At some places we are also running kitchen from where food packets are being distributed.
What have we done so far?
As we belongs to Lucknow, we have successfully channelized our work in this city (state capital of Uttar Pradesh). With your support we hope to intensify our work at other places. Lucknow has been divided into 4 parts (भाग) and one major resource center is operational in each part . We are selecting 2000 families from each bhag to assists in first phase.
We have been engaging and coordinating with the local NGOs, Sewa Bharti, community leaders and communities throughout the Lucknow. Since lock-down, we have reached more than 8000 families who are in critical conditions & distributed 100000+ of food packets, 10000+ mask and 2000+ sanitizer through network . At the same time we are also coordinating government agencies and community kitchens to serve smoothly and effectively.
The world needs your love and support more than ever before. Let it flow!
_________________
देश हमे देता है सब कुछ, हम भी तो कुछ देना सीखे ……………………….
_______________
~Be a part of the initiative by helping us, help them. No matter how much you choose to contribute, every little bit helps!Most importantly, it will make a big difference in the life of those who need our support.~
_______