Rajyotsava Raaga is a 100% Crowd Funded Program set up to help Amrutha Shishu Nivaasa in Bull Temple Road Bengaluru and the stressed Artists with NO CONCERTS.
Rajyotsava Raaga as the Name Suggests is set up to showcase the Kannada Culture with 8 Programs Lined up from November 1st to November 8th 2020.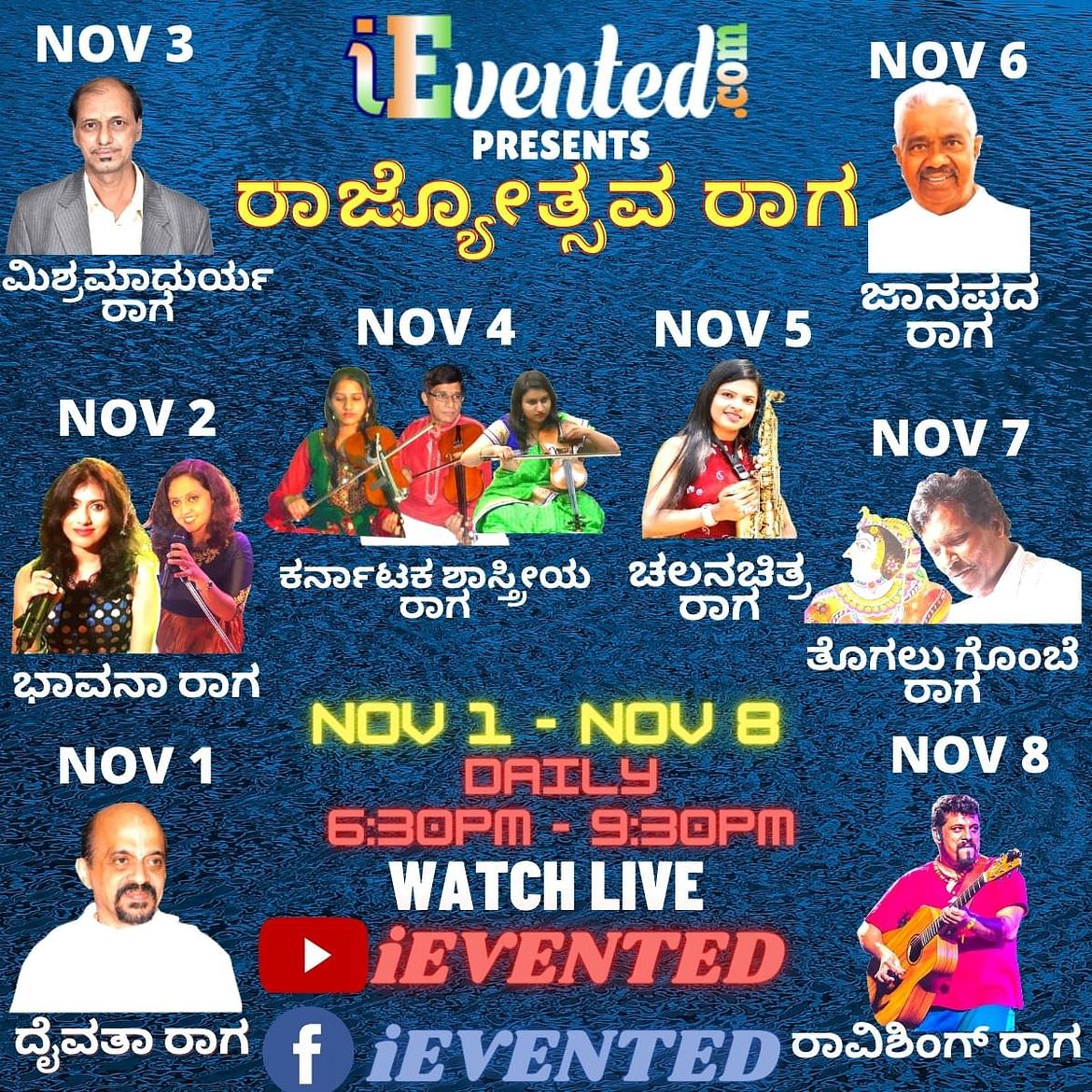 This is set up to help a Stressed Foster Home with 161 kids hit badly due to the Covid 19 caused Recession and Artists Stressed due to No Concerts due to the COVID Situation.
Programs List and its Promos are listed Below:Nov 1 - Daivataa Raaga
(Devaranaama karyakrama) - Dr. Vidyabhushana and Team
Nov 2 - Bhaavanaa Raaga
(Bhaavageetegala karyakrama) - Chinmayee chandrashekhar, Pratima Bhat and Team
Nov 3 - Mishra Maadhurya Raaga
(Deshabhakti, jaanapada haagu chalanachitra geetega kaaryakrama) - Dr. Anil Kumar Patil and Team. Watch the Promo here:


Nov 4 - Karnataka Shaastreeya Raaga(Violin Trio) - B.Raghuram, Ramya, Divya, and Team.
Watch the Promo here:


Nov 5 - Chalanachitra Raaga(Saxophone) - Old Kannada Songs Musical - Anjali Shanbhogue and Team


Nov 6 - Jaanapada Raaga (Janapada geetegala karyakrama) - Gururaj Hoskote and Team


Nov 7 - Togalu Gombe Raaga (Togalu Gombe Aata) - Gunduraju and Team


Nov 8 - Ravishing Raaga with Raghu Dixit - Raghu Dixit online Solo Live concert (tickets 499 and 999)
FUND UTILIZATION:
Artists Costing - ₹468000

Artists Makeup - ₹35000

Venue Cost (Rehearsal Cost Extra Incl.) - ₹98000

Camera Cost with LIVE Streaming - ₹140000

Audio and Generator - ₹76000

Creatives Design - ₹25000

Sanmaana (Felicitation) - ₹15000

Tranportation for Artists - ₹20000

Marketing Cost (Tentative) - ₹40000

Anchor Cost - ₹35000

Food for Volunteers and Artists (Tentative) - ₹14000

Sanitisation, Sanitisers, Masks and Face Shields (Tentative) - ₹13000

Miscellaneous - ₹20000

Above All We will be donating 70% (30% tax) of our Donations from Raghu Dixit Event to AMRUTHA SHISHUNIVAASA, Bengaluru



PLEASE DONATE GENEROUSLY with a Bigger Heart to HELP THE ARTISTS IN PAIN AND AMRUTHA SHISHUNIVAASA.