A 7-year-old girl is suffering from a rare skin disorder which is gradually turning her into a stone.
Scutes shaped as barks -- caused due to mutation of genes -- have spread all over her body. Rajeshwari, hailing from a tribal area in Dantewada district of North Indian state of Chhattisgarh, suffers from a case of
ichthyosis
that causes reddening, scaling and severe blistering of the skin. The disease affects the process of skin regeneration in the human body, making it hard and flaky. Visuals show a heart-wrenching sight of
Rajeshwari sitting under a thatched hut with blisters almost covering her whole body.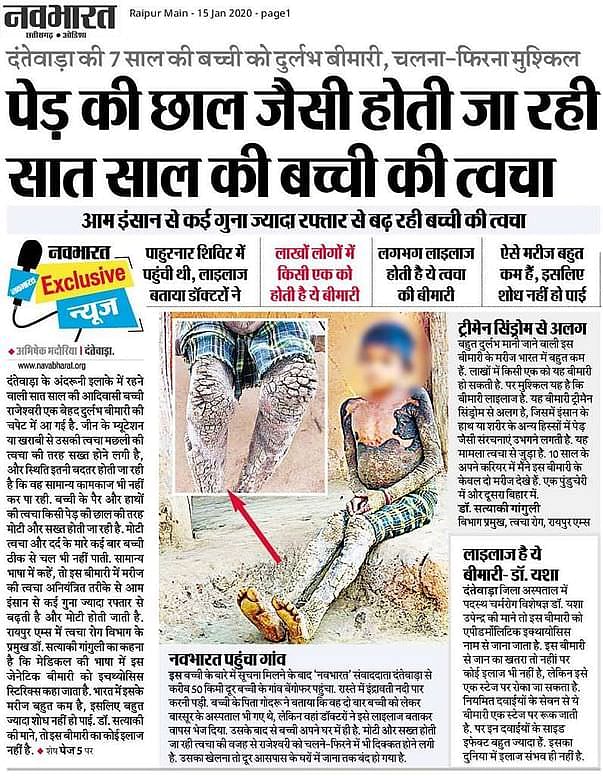 Though the disease doesn't pose any risk to her life,
it has made life 'a living hell'.
The disease hinders her daily life, making even simple activities such as walking and sitting very painful.
According to reports, the rare genetic condition affects very few people and till now only two dozen cases have been reported in the world.
The rarity of the case makes research difficult and the medicine to control the incurable disease has severe side effects.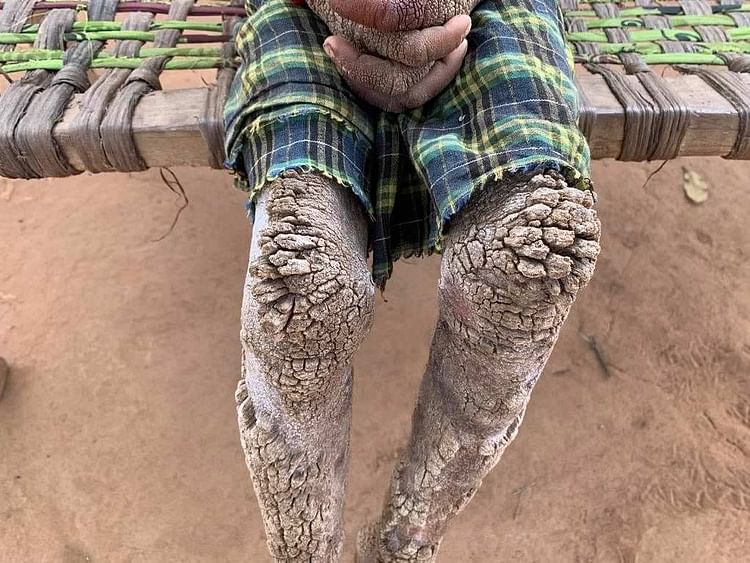 For people residing in the Naxal infested area, availing simple health care is already a mean feat and Rajeshwari's condition requires her to travel to a big city which is difficult for the time being. When doctors were shown the patient's case file, few of them came forward to express their opinions and diagnosis.
Speaking about her condition, Dr.Satyaki Ganguly, Associate Professor at All India Institute of Medical Sciences (AIIMS), Raipur, said,
"The medical term for this genetic disorder is Ichthyosis Psoriasis and due to very few cases in India, there has not been any major breakthrough in terms of research. Currently, science has no cure for this ailment."
Another dermatologist has another take on Rajeshwari's case, Dr.Yash Upender from Dantewada Hospital believes that the girl suffers from Epidermolytic Ichthyosis which is not a life threatening disease but is still incurable.
With the help of regular medication, this disease can be stopped at one stage.
Rajeshwari has never had the good fortune to live a normal life like kids her age. With continued treatment, her condition can be brought under control. Her family has no means to afford the medicines and ask for your generous contributions to help her.