DHAN GURU NANAK SEWA MISSION !!
ABOUT OUR MISSION-
DHAN GURU NANAK SEWA MISSION was originated as a consequence of critical and panic situation in India due to Covid-19 pandemic. Following the inherited profound principles of Guru Nanak Dev ji -Naam Japo-(Have spritual experience), Kirat Karo-(Honest efforts for Livelihood )and Vand Chhako-(Sharing and caring), the mission was initiated.
It was started in March,2020 when there was chaos all over the country and the economic and financial instability made the migrant workers and labourers suffered. Considering the criticality of the situation, DGNSM tried to
fulfill the food requirement by serving langar.
Taking the initiative to the next level,
Dhan Guru Nanak Dawa Khana
was inaugurated .
The second Covid-19 wave turned out to be worse as we all know how the shortage of oxygen(Praanvayu) was the cause of high death rate in Delhi. In this situation,
DGNSM provided free oxygen cylinders door to door
. Not only this, we took a next step by
organizing 24*7 oxygen refiling sewa
at
Gurudwara lajpat nagar (Langar hall)
. About
300-400 cylinders are refilled
daily. Proceeding in the same direction, DGNSM arranged to set up
oxygen beds
, with the availability of
doctors ,nurses and ambulance service 24×7
, at the Gurudwara premises.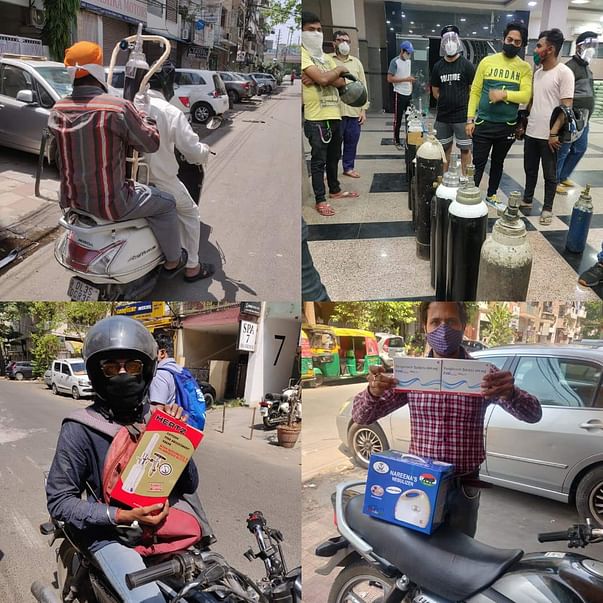 The only purpose of the mission is to serve the needy in the time of crisis.
Till now the funds for the mission were contributed by sangat all over Delhi & suburbs but with the expansion in the volume and diversity of sewa, more funds are required.
AT PRESENT DHAN GURU NANAK SEWA MISSION REQUIRES FUNDS FOR THE FOLLOWING THINGS-
1. 50 OXYGEN BEDS
2.PURCHASE OF AMBULANCE (AT LEAST 5)
3.OXYGEN CYLINDERS WITH OXYGEN KITS
4.OXYGEN CONCENTRATORS
5. 24 HOUR OXYGEN REFILLING SEWA
6.FREE MEDICINES FOR COVID PATIENTS
7. OXIMETERS AND STEAMER'S
8. LANGAR SEWA (FOOD FOR NEEDY)
*Your every single penny is assured to be a part of the ongoing mission & will surely reach the needy.