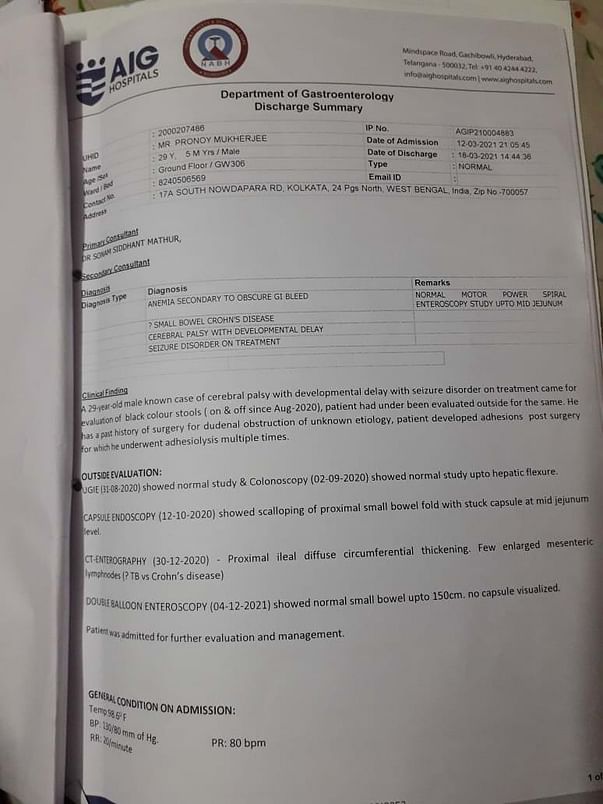 PRONOY'S CURRENT CONDITION
:- My cousin brother Pronoy Mukherjee aged 29, weighs just 45kgs, residing in Kolkata, West Bengal has been suffering from
obscure gastro intestinal bleeding during defecation
since AUGUST 2020.
A BRIEF HISTORY
:-
Since birth, Pronoy has been a person with special needs, Namely, CEREBRAL PALSY and SEIZURE DISORDER and the family has been doing all in their possible reach for 29 years which has unfortunately led to exhaustion of their savings and funds today.
CURRENTLY
Pronoy has been suffering obscure gastro intestinal bleeding while defecation, due to which has has been hospitalized 2 times in ZENITH SUPER SPECIALIST HOSPITAL, 9,3, feeder road, Rathtala, Belghoria, Kolkata WestBengal-700056. Undergoing diagnosis and tests.
But the
cause of this suffering remains undetermined.
Now, Pronoy and his family have reached out to AIG HOSPITALS, Mindspace road, Gachibowli, Hyderabad, telangana-500032, who had recommended POWER SPIRAL ENTEROSCOPY and others tests which was supposed to diagnose the cause, but unfortunately the tests were unsuccessful as it is couldnot be carried out due to a kink in the intestine.
The Proposed Course of Treatment is
SURGERY
.
But the family has run out of all their personal funds and options.
This Fundraiser is the only hope ahead.

WHAT CAN YOU DO TO HELP :-
The family is reaching out to all to help Pronoy from his suffering by DONATING MONEY, because it gives him a chance to fight before his SYMPTOMS GET SEVERE. The money donated will help in the diagnosis and also in the further course of treatment .
HELP HIM, HIS FAMILY BEFORE IT'S TOO LATE!
Pronoy has been a fighter all his life, he has fought through multiple surgeries, hospitalization and medications with a smile on his face. he is a strong person with the purest of heart.
HELP THE FIGHTER FIGHT FURTHER, DONT LET HIS WILLPOWER BREAK!