We, a group of 9 Teach for India Fellows from the cohort of 2020 and 2021 have started "Project Sanjhi", which is currently working towards empowering 10 women from the Low Income Group of Lalbagh, Azadpur Colony, Mukundpur, and Azadpur Village in Delhi. We rooted for this project when we recognised our 9th and 10th graders are lacking female role models to make higher career choices and Mothers are the biggest source of inspiration for most of the students.

Our Mission
Project Sanjhi aspires to build confident Mothers by providing basic literacy and finance knowledge, employable skills such as stitching and knitting therefore they become self-reliant and create a sustainable source of income for their household. This will not only provide them financial stability, but also inspire them to have a long-term vision for themselves and their Children.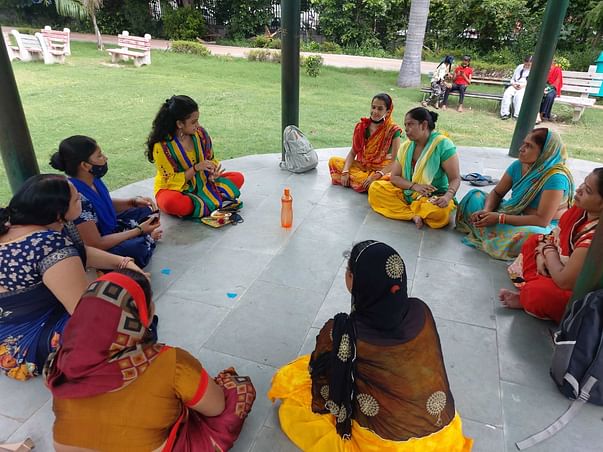 Social Emotional Learning (SEL) session being conducted for women where they share different challenges, find solutions by showcasing courage and confidence to build growth mindset.
How can you help?
We have started the training of Basic Literacy and Social Emotional Learning with 10 women. We need resources to start the Skill Training and therefore we are here to seek your help to overcome these challenges of collecting resources. Your valuable support will help to empower 10+ women and will go towards training them in stitching, knitting, designing fashion and home accessories.

We will not be able to empower these women without your generous contribution!
We require the following resources to provide skill training to our Mothers
Sewing Tool Kit - 1 Kit = INR 500
10 Toolkit = INR-5000
Sewing Machines - 1 Sewing Machine - INR 4400
10 Sewing Machine - 44000
Cloth/Fabric - 30 to 40 Meters = 3000
Training investment - GRC skill development training
INR - 300 Per mother (10 Mother - INR - 3000 per month)
Total Cost = INR - 55,000


You can donate these resources in donations in Kind as well!

We look forward to your wholehearted support in transforming and empowering these 10 women.