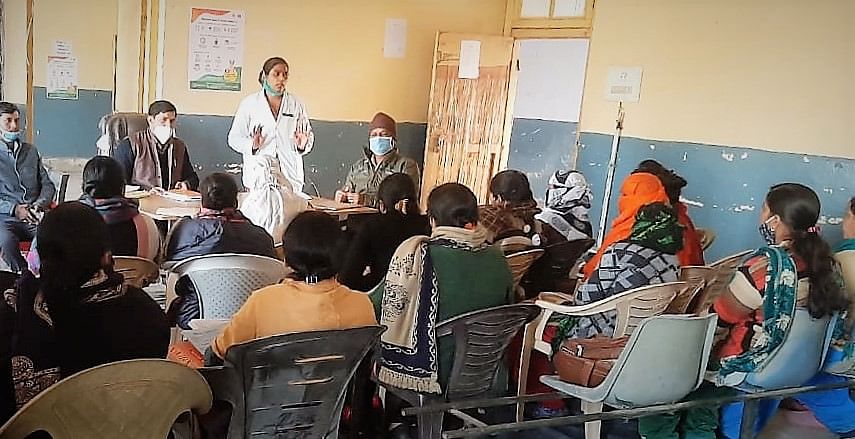 Project statement
The project intends to set up a low-cost sanitary napkin enterprise for providing an affordable option for menstrual hygiene management and piloting a business model for creating employability for the girls and women in the working rural areas. Women often seek affordable feminine hygiene thereby setting this low cost manufacturing sanitary napkin enterprise will help reach a wider audience of rural women
International declaration of Human rights states that everyone has the right to adequate standards of living for the health and well-being of all; including food, clothing, housing, and medical care. In India during menstruation, nearly 62% of rural women use old clothes instead of hygienic sanitary napkins leading to vaginal infection & diseases.The Health camps conducted in the villages of Allahabad (Prayagraj) District have shown a large number of women and girls suffering from leucorrhoea – a Pelvic Inflammatory Disease (PID), fungal infections, and repeated infections to the reproductive tract (RTI), cervical cancer, and vulnerability to infertility. This is basically caused by unhygienic practices during the menstruation cycle. The awareness on menstrual hygiene and usage of sanitary napkins is virtually absent in villages since the source of information and education on menstruation are generally her mother and grandmother, who themselves have practiced the unhygienic behaviors for years of using readily available old cloths, washing pads, and reusing them again and again during menstruation. Unfortunately, reproductive hygiene and sexuality education are not part of any education system in India.
Project Objectives

1) To establish a low-cost sanitary napkin production unit managed by rural women/ Self Help Groups for ensuring an adequate supply of sanitary napkins at an affordable price.
2) To improve the economic conditions of women and provide them the opportunities for augmenting their income.
3) To create awareness among rural girls and women on issues of Menstrual Hygiene Management
4) To provide quality infrastructure in the form of vending machines to promote Menstrual Hygiene Management in schools.
5) To engage some rural unemployed youths for marketing (commission basis) and also to fulfill the school requirements to maximum parts.
Another important aspect of the project is to develop the adolescent girls and women as entrepreneurs while taping their potentials and imparting training for their skill diversification and becoming self-sufficient as part of the social enterprise of the low-cost sanitary napkin business and our responsibility to society as a whole.
The proposed project does not compromise on the quality of the sanitary napkin as the raw material used comes from pinewood fiber and not from cotton. The sanitary napkin also has a biodegradable element that ensures minimal damage to the environment.
Request
: SIDSR is working for the noble social cause through the donations received from its members and public donations.
The organization requests you to join hands together for the well-being of the rural women and girls by helping us to set up the sanitary pad manufacturing machines in the villages of Meja Block of Prayagraj district.
Each machine and its setup will cost Rs. 3,95,000