ABLE Charities (ASSOCIATION FOR BLINDNESS & LEPROSY ERADICATION) Estd. 1993
ABLE Charities, a registered non-profit organization that operates in the rural areas of Palwal, Nuh, and slums of Faridabad, India for the last 29 Years to facilitate education and healthcare for the grossly underprivileged people of our society. We, at ABLE Charities believe in Care, compassion, partnership: to change rural India through education and touch the lives of the underprivileged. We need your help to fulfill our mission. Your compassion will be our future: the future of millions around us who need our care.
At ABLE Charitable Hospital we are providing the following services:
General medical services at ABLE Charitable Hospital at Palwal
2000 free Cataract Surgery every year.
Dialysis for Poor & Needy
Gurukul for Girls at Palwal.
Old age home for 100 needy people
Providing Non-Formal Education to nearly 700 Children of slums in Faridabad
Providing nutritious lunch to 500 children every day.
Click here for more information

ABOUT THIS CAMPAIGN
The number of Covid-19 patients has crossed the 4lakh cases/day mark over the last few weeks which is crippling and heart-breaking. The Second Wave of the pandemic and the new variant has hit the less privileged particularly hard since they neither have the money nor the resources to seek out help and treatment for their families and loved ones. We do.
The acute shortage of OXYGEN at health facilities and the loss of livelihoods because of these limitations are causing the loss of life of thousands Every. Single. Day.

Able Charitable Hospital has opened a well-equipped wing for Covid -19 patients. We have 30 beds, 4 Ventilators, Oxygen Cylinders, and well qualified and skilled doctors and staff for the same. We have vaccinated about 350 people and the work is in progress.
We are planning to expand the beds and ventilators to facilitate the patients. all the donations collected will be used for that support.
Through this campaign, we will fuel funds and make available more beds, ventilators, oxygen cylinders, and oxygen concentrators which will be available at minimal rates. We also provide other facilities at affordable rates to the underprivileged.
ABLE CHARITIES AND THE FIRST WAVE
Difficult stretches call for extreme actions, and we, at ABLE, have been at the highest point of our best work all through the present circumstance. We were adequately resourceful to have given food and fundamental necessities to 3038 underprivileged families.
We have been a provider of dry apportion flour, rice, dal, sugar, salt, cleanser, and different necessities to individuals and families who have been hit the most noticeably awful by the essential lockdown.
In addition to that, our group takes care of 75 to 150+ families every day.

We are doing our part entirely heartedly and we encourage you to venture forward and help us in our central goal to make lockdown simpler on the oppressed. Donate for this noble cause and get blessings from the whole world.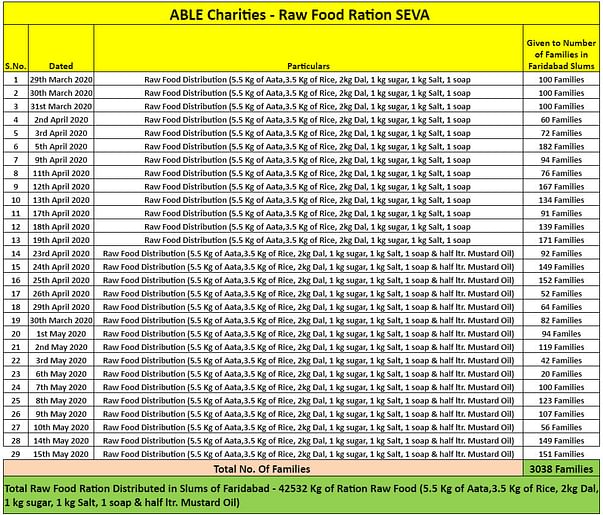 TAX BENEFITS
Funding for this campaign is eligible for tax breaks as ABLE CHARITIES is a registered NGO & you can avail of benefits under section 80G of the IT act. Foreign funding is not eligible to avail of this benefit.
ENSURING YOUR TRUST
To ensure that there is complete transparency we shall get a report with the details of who benefitted from the funding. This will then be posted on the UPDATES section of the campaign. As soon as we post an update, the platform will send an EMAIL alert to all the funders - i.e., to you. That's transparent right?
Thanking you for your support,Prem Kumar Khullar
Squadron Leader (Retd.)President
Association for Blindness & leprosy Eradication,
House no.885, Sector -15, Faridabad, #9811157104