Coliseum Productions was set up in 2017. With an intent to introduce theatre and stage to newer audiences in the city, our first production "William Shakespeare's Macbeth" was a massive hit. Since then we've staged one big production in the city every year.

After a wait of 2 years (owing to pandemic), we are gearing up to get back on stage - to thrill our audiences once more. And this time we intend to bring them one of the best plays written by William Shakespeare - Hamlet! As a production house, we've always focused on one thing - providing a happy experience. You can be an actor, crew, audience or just a well wisher, every production journey of ours has ensured a great experience to our stakeholders.

In order to raise our quality standards of our overall production, we are reaching out to the people who believe in this art form. With Hamlet, we are looking at a bigger and a bolder production in the city of Hyderabad. Our objective is very simple: create a unique experience for theatre goers in the city by elevating the quality of our production.

With all these sentiments and excitement, Coliseum presents "Hamlet" to you. This shall be an unique opportunity for you to invest and become an integral part of this mega production. We look forward to your contribution and support for helping us as a team to put up a play.
Please find out cost break up below: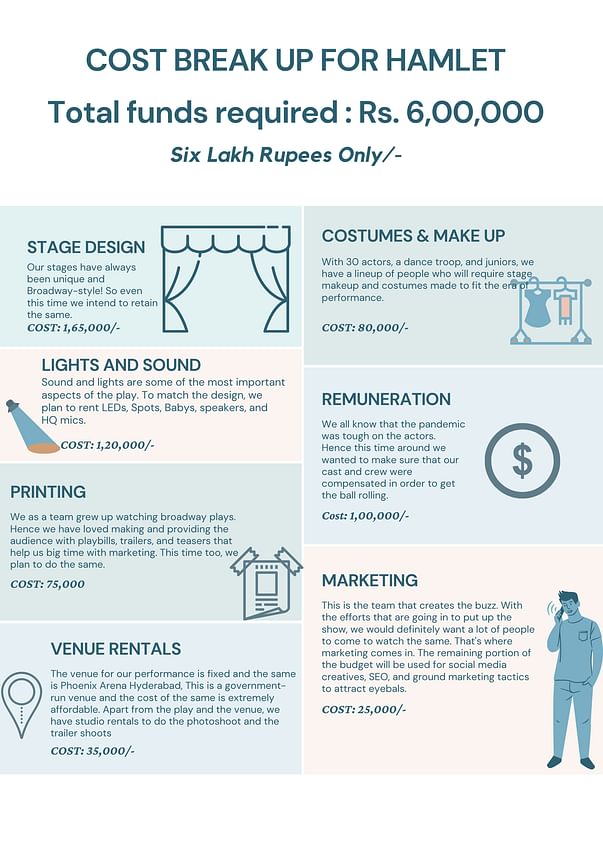 Thank you!
Love and Regards!