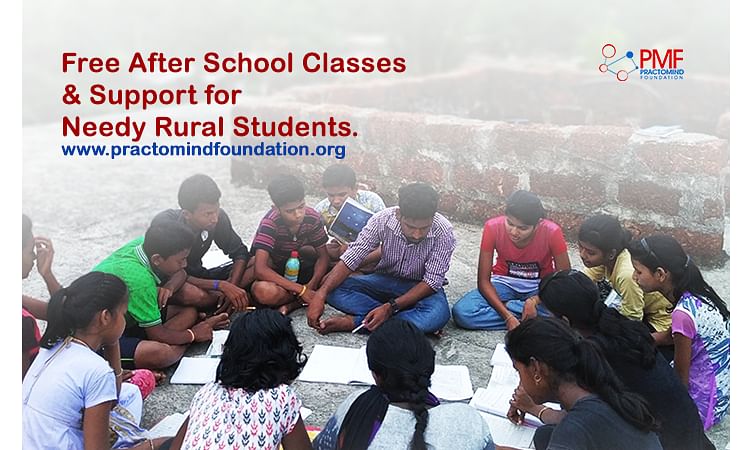 PractoMind Foundation
has been started as a trust to support the cause behind Mo Pathashala and is a non profit organization mainly in the field of Education. We aim to modernize Rural Reach in the areas of Education, Health and Social Status.
Mo Pathashala as an initiative has been started in the Kumarpur Panchayat of Cuttack District, Odisha during December 2014. Since then we have tried our best to provide quality education at our 4 centers where more than 350 students are getting benefited. So far we were able to bring a positive change to almost 89 families in 3 GPs with 22 villages and have also provided 126 scholarships to the deserving students.
Till now we are sponsoring the initiative from personal fund along with program fees collection and was not able to expand to more locations due to financial constraints. It's not possible for us to fulfill our mission statement as defined below and we have planned to completely change our outreach model from this year.
From 2021-22 session we are aiming to give totally free after school classes to rural students having excellent talent and eager to explore more in their interest areas. We have planned to reach maximum possible area of rural Odisha with this program.
Our Vision
Create a quality education system for the overall development of students in Higher Secondary level and to achieve 100% literacy rate.
Our Mission
Discover, develop, and deliver innovative educational practices that can reach each and every students of Odisha by 2030.
Our Objectives
Providing free educational consultation along with personality training to needy/backward rural students of Odisha.
Providing career counselling after HSC.
Promoting Odisha State Board curriculums in Rural Odisha.
Creating Micro-Employment in Rural Odisha for the young aspirants.
Reaching every students of Rural Odisha through affordable and effective platform through which we can develop different life skills among them.
To get 100% result in HSC Board exams in Rural Odisha.
Providing higher studies scholarships to the needy and deserving students
Solutions to be provided by PMF/Mo Pathashala
Providing Free Online Content in Odia (Video + Content + Assessments)
Providing Offline Subject Notes to each student
Organizing Free Weekend Class in GP Level for Doubt Clearing
Creating connection between teachers and students through Volunteers
Organizing GP wise Seminars for creating competitiveness among students
Providing sample chapter wise important question and answer sheets for HSCE Exam, with help tools
Developing an effective Digital Platform for Students, Teacher, Parents, and our Volunteers