Hello,
I am Sam Chugh a Volunteer of Hamari Pahcahn NGO and an activist working to eradicate Hunger from our society. My goal is to let everyone have a meal before they sleep.
Today, 690 million people around the world will go to bed on an empty stomach. But your gift means that one less child will be at risk of starvation tonight. Whether you decide to make a one-off donation or set up a monthly gift, you can change a life forever today. Often, one meal at the right time will be enough to make a difference between life and death.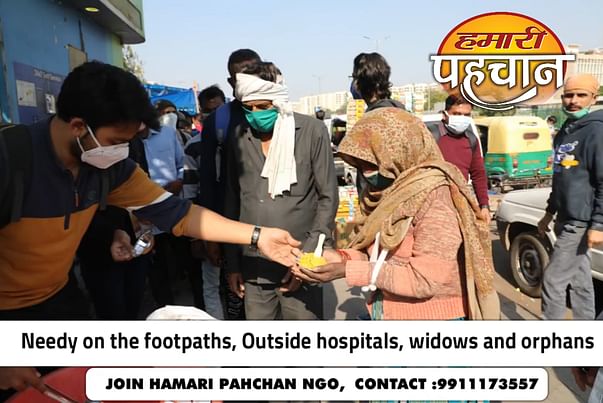 More than thousands of families in Delhi have no source of income due to Covid-19. They are finding difficulties to feed their families. We have decided to help them with monthly Ration and sanitary products.It is my appeal to you to support people in need.
1 family - Rs.1499/-
10 families- Rs.14990/-
50 families- Rs.74950/-
Helping a family of 5 for one month cost Rs-1499/-
Ration to 1 family includes:-
( Three types of pulses, rice, Atta, eggs, Tea, Sanitary pads, Soap, Shampoo, Cloth and utensils washing powder.)
No amount is small for us, if you are unable to donate big amounts you can still donate a person's one time meal i.e. Rs.50/-
So, don't hesitate, Please DONATE!!!