Youth4jobs trains and connects youth with disabilities (Divyangjan / Disabled / Deaf) to jobs across India. Over the last 8 years 23000+ young men and women with disabilities have benefited from across the country. They come to our free residential centers from villages and tier-2 towns.

Calamities like Covid impact vulnerable segments of society like disabled. The youth needed jobs much more now. Their fathers incomes have dwindled as most are marginal farmers.

We quickly responded.

The class rooms have now become virtual, our trainers have adapted themselves to online virtual classes. Youth told us they are keen to learn digital skills. Enrollments have doubled from the remotest of villages.

More girls with disabilities are enrolling. Parents are happy that their hitherto "useless"child is acquiring work skills in isolation times.

Most of our youth come from poor families and do not have a smart phone. They cannot participate in our online class or the work-at-home opportunities.

HELP US NOW TO HELP THE VULNERABLE YOUTH GET SMART PHONES, MARKET- LINKED SKILLS AND JOBS
Like our speech and hearing-impaired alumni, Naveena!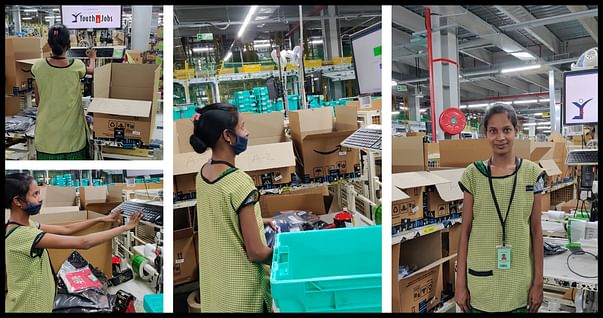 Naveena Kandraboina was born in a fisherman's family. She was poor and she was speech and hearing impaired. This meant your life itself is one big challenge. Yet, the 26-year old had battled all odds and completed her SSC success.Luck soon ran out as her mother developed an illness that prevented her from working long hours. Her alcoholic father began stealing from the household savings to fund his addiction. Soon, he was hospitalized and the family had huge medical bills. Naveena and her two sisters found themselves deep in debt, and joined their mother as daily wage earners. Facing creditors at their doorstep was a daily ordeal for these young women.
Just as Naveena gave up hopes of furthering her education and her prospects at a better life, a friend introduced her to the Youth 4 Jobs program. Naveena was skeptical at first, on how the program would help a speech and hearing-impaired girl. The two-month program also meant that she could not carry on with her daily wage job, which would be a huge loss of income.
Backed by sound advice from the Y4J counselors, Naveena completed the program. She was placed in a leading e-commerce company in Hyderabad. Her annual income is now over Rs 120,000, which is three times the family income. Today, Naveena is confident of her future and she helps pay off her family's high-cost debts.
According to Naveena, the program boosted her confidence and made her believe in herself. It taught her that her speech and hearing impairment are not her weaknesses. The training gave her not just employable skills, but other valuable life skills such as goal setting, time management and decision-making. The program helped her overcome negative traits such as impatience and inability to take advice from others.
Says a now-confident Naveena "I will always be grateful to Youth4jobs which transformed my life and made me independent. Though I have a disability and am a girl, I am proud to support my family in these difficult times."
-------------------------------------------------------------------------------------------------------------
FCRA registration number: 368140019
Donations to Youth 4 Jobs are tax exempt U/s 80G of the IT Act