''Let's all come together and fight Corona Virus''

Charity comes from home but shouldn't end there"~ Thomas Fuller

Covid 19 has indeed led to a massive impact on our lives both physically and mentally. But the section of the population that has been affected the most is the marginalized, disadvantaged and underprivileged sections of society. So as to bring sustainable change in their lives, it should be our duty to aid them in any way possible. We are glad to let you know that SP Seva Sansthan is conducting a covid relief fundraiser for ensuring an efficient supply of ration and food and oxygen cylinders to help those who are in sheer need of them.

Menstruation still remains a very stigmatised and tabooed topic in some parts of our country. The onset of the pandemic has restricted access to sanitary pads for economically disadvantaged women. This has led to the use of unhygienic clothes by women; daughters, wives etc in the rural areas. SP SEVA SANSTHAN will be distributing free sanitary pads in some of the rural areas.

So let's act as an agent of change to help the poorest of the poor, grant them access to what they actually deserve and actualize their human right.

So join us to shake the world in a gentle way.

One of the major positive effects of donating money to charity is simply feeling good about giving. Being able to give back to those in need helps you achieve a greater sense of personal satisfaction and growth, it feels good to help others.

Charity does not have to be big or leave a huge impact. A little act of kindness at the right moment can give someone a good day. These days you can also make online donations that help keep charity alive even during a busy life.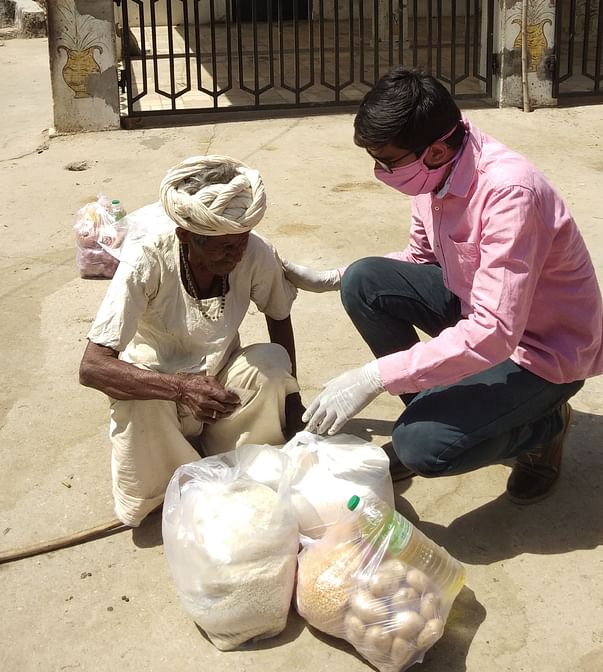 EXPECTED IMPACT ON TARGET GROUP.

- A dry ration kit costs ₹600 for a family of four for 15 days!
Includes 2kg rice, 10kg wheat flour, 2kg dal, 100g salt, 1 ltr cooking oil, 100g Red Chilli Powder, 100g turmeric Powder, 100g rye and cumin.

- 1 packet of the sanitary pad is ₹45.

Directly support individuals impacted by the virus. As the crisis grows, the people most affected by it will be those living in India's unorganized sector of the Indian economy. These are typically daily wagers, maids, house helps, construction site workers, plumbers, electricians, workers in small units, delivery boys, etc., and their financial well being will be directly impacted by their inability to earn their daily wage. It is here that we can all extend our help to such affected persons in turn help their families.

"One small step for a Man, a Giant Leap for Mankind."

Help us Fight Coronavirus by helping the needy!