"I thought it was a small pimple, but reports said something shocking. Doctors claimed that the infection had spread to her spine. I am a poor pani-puri seller and had no idea what this meant. I paced the hospital wards for hours, waiting for the doctor to guide me and provide clarity on my daughter's condition. And as he did, I was shocked to learn the condition of my child's spine and the amount required for surgery. I stayed strong and ran to gather money for his surgery." Anil Kumar, father.

Following a small pimple on his back at birth, his health worsened with time, resulting in a shocking diagnosis.
On 24th October 2019, Anil Kumar and Uma Devi received the best gift as little Paras came into their life. Unfortunately, things started getting worse for them as they discovered a small ulcer on his back. They rushed to the local clinic, but they guided them to visit a big hospital in Jhansi.
After reaching Jhansi, they discovered that the ulcer had spread so much to the spinal cord that Paras won't be able to stand on his feet. The only option to save his legs was an operation costing Rs 1.5 lakh. Poor father had no money to pay doctor's fees. But he borrowed money on interest for his son's surgery. Unfortunately, there was no improvement after the surgery. The poor man lost his money, his son's health, and everything else. Doctors asked to continue treatment, but they couldn't because of their poor finances.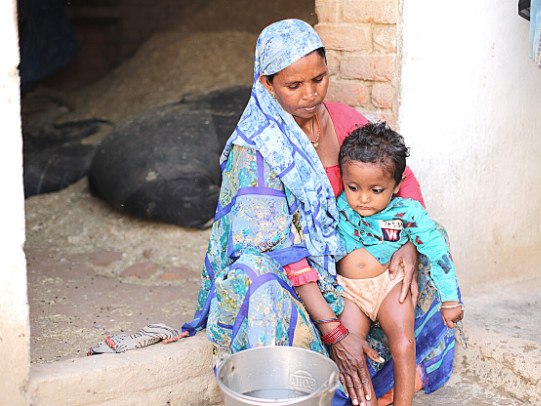 Today Paras is two-year-old, and he can't even stand on his feet like other kids of his age. His lower body is paralyzed, making him lose control of his bowel movements. His feet are bent outwards, making it hard for him even to sit. He cries in pain all day and doesn't utter a word. If his mother feeds him milk, he vomits as he can't digest anything. His condition is getting worse day by day.

"My child is in pain, and I can't see him suffer like this. He can't even eat anything. My husband did every possible thing, but we failed. We failed in giving our child a healthy life." Uma Devi, mother.

Anil Kumar, the father of Paras, roams in the streets all day with his pani puri stall, hoping to make enough sales to feed his family and pay back interest, but he returns hopeless. He hardly manages to feed his family. His mother, Uma Devi, is a homemaker who prepares food for his husband's stall and looks after her ailing child. It is challenging for the family members to fill their stomachs as they went into colossal debt during covid and Paras' surgery. Now, they are empty hands and seeking medical help for their son.

"I want to be a normal child who can play, laugh and eat." Inner cry of ailing Paras. Please hear him before it's too late.

With a little help from you, poor parents can continue their son's treatment and give him a better life. Donate Now!