onehelluva.org

Have you ever come across an interesting fact on one of those "fact pages" on social media and had an urge to find out more about it? Of course, you have. And, from personal experience, it can be said that you went straight to Wikipedia looking for relevant articles. Right? But, and you know it, that's where things start to get skew. You find yourself scouring heaps of unwanted information that looks like someone's graduation thesis paper. You're completely overwhelmed by the knowledge Wikipedia throws at you, but you still keep going with the frail hope of learning something useful. A while later, you're done skimming. Somewhat satisfied, you move on to do what you were doing in the first place. But suddenly you realize, "Wait, did I even find what I was looking for?" The answer is a big old, "NO!".

This happens way too often with numerous people. At the end, you end up with no additional information about the fact, neither do you learn something you can use in daily life. Like, you wouldn't find a person who you can casually walk up to and start a conversation with, "Neutron stars can spin upto 600 times a second", can you? Well, you could but that never ends well. And nobody wants that.

We have also faced the same problem and it was rarely ever that we got the required information online. Mostly, it didn't help, so that cancels out the times it did. After all, Wikipedia is an organized household for 'science guys' like Sheldon Cooper but for laymen like you, me and most of us it's an organised mess. And those who don't look for stuff on Wikipedia, make multiple google searches but still end up with very little.

That's also the reason, the excitement to know more about something new has been seemingly decreasing. You tap on the post and it shows to follow some other account to see the full fact. LIES! Downright LIES! The account you follow might not even have the fact that came looking for in the first place. And, that's straight up painful…

Enough of the unproductive net surfing! Introducing 'onehelluva.org', created and ran by a trio of 17-year old HIGH-SCHOOLERS: Dibyendu Ganguly, Anshuman Sengupta and Himadri Bhusan Pradhan, hailing from Puri, Odisha, India.

Dibyendu Ganguly,17 is an experienced web designer and developer and has built multiple websites for many clients, and also is a Wikipedia markup editor. Anshuman Sengupta,17 is an avid quizzer, fact enthusiast and a frequent Wikipedia reader, which has got him numerous trophies. Himadri Bhusan Pradhan,17 is a talented screenwriter, author; has a knack for editorial; Wikipedia editor. All of us have been Wikipedia contributors and encyclopedist for quite a while.

Onehelluva.org is going to be a completely free of cost, easily accessible, ever-expanding, informative, fun-to-read and an addictive platform where you can get your daily dose of knowledge with a subtle tinge of humor. The website is going to contain articles written in a simple, casual and brief language. And, the website will always be open to diverse ideas and won't be just sticking to something particular. We will be accepting suggestions and contributions from people all around the world. It'll include a variety of knowledge once it's taken off, all of which will be appealing to all ages.

But, unfortunately, everything needs money to be set up and we being petty high-schoolers, definitely can't fund the whole thing ourselves. So, all of this can only be possible with your help. We'll begin working on the website as soon as your donations start coming in.

Well, now that you have stuck around and read this entire desperate attempt at impressing you, thank you. We hope we have impressed you enough to donate to our cause. It would mean a lot to us. We are planning on growing our site to provide enjoyable information as diverse as possible and we can promise that one day it will be as good as, if not, better than Wikipedia at delivering information.

So, remember, a donation to us is a donation to deliver better knowledge at free of cost to hundreds of thousands of people worldwide. Thanks for your support. Have a great day!

See you next on our website! :D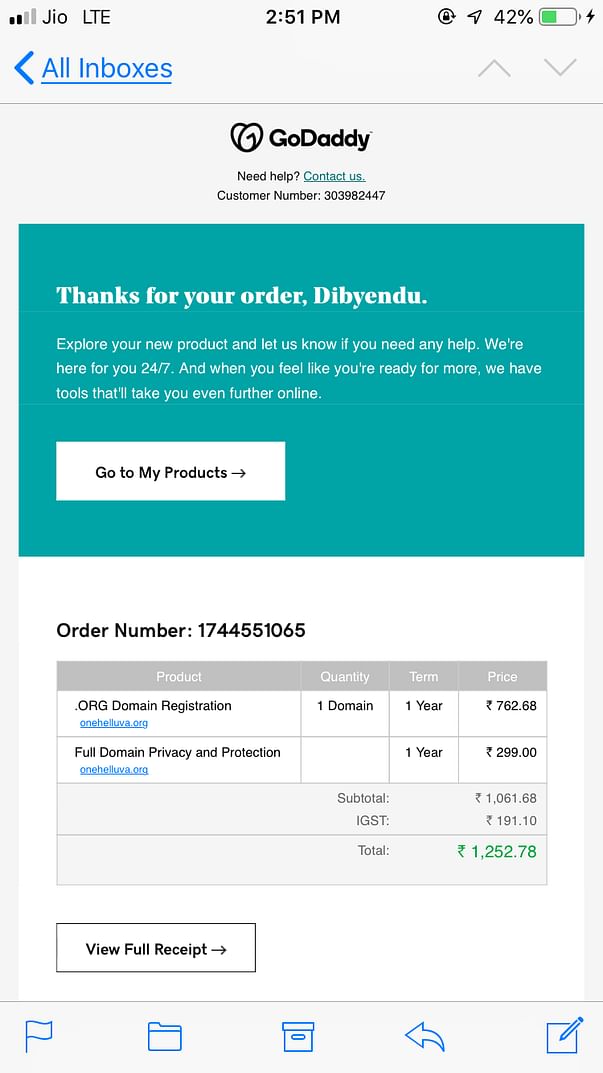 We have already bought the domain. Now for the rest we need your help.
P.S. The website isn't ready yet, we are still working on it.

If you have something to ask or have suggestions/ideas that you think might be a great addition to the website before we make it live, contact us at onehelluva.org@gmail.com