PPE Not just a slogan; its the way of Life ahead for Health Care Centres: A fervent appeal for donation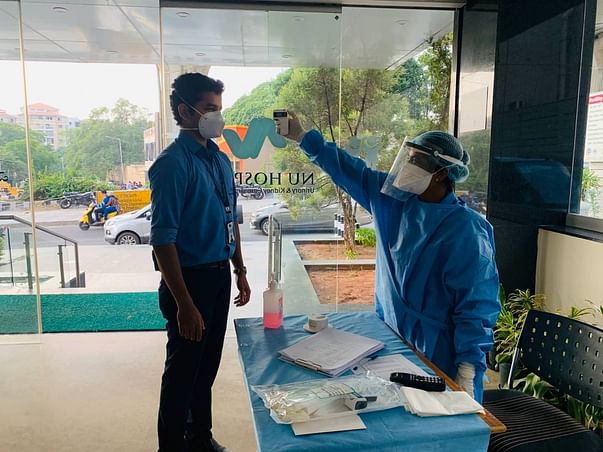 The COVID-19 Pandemic continues to teach us many lessons. Going by facts and figures we can understand that it is severe on human beings than on any other living beings and it has also more or less removed the complacency, which we as human beings had developed, with respect to our healthcare. Not only that, it has also exposed the level of preparedness of health care centres across the globe, to be ready to face a pandemic of this magnitude, especially when it just comes without any notice!!!. As a result, the need for protective equipment has increased many a fold to enable infection control around the world.
COVID-19 continues to be a huge challenge for scientists as well as health care centres; the former as they look to develop a suitable vaccine and the latter, to ensure a high quality and flawless Personal Protective Equipment (PPE), for doctors, nurses and other hospital staff. Before we make a fervent appeal, lets understand a little bit about PPE safety and its significance.

What is PPE?
In simple terms, PPE kit or Personal Protective Equipment is a set of safety equipment, which acts as a barrier between an individuals skin, eyes, nose or mouth and viral or bacterial infections that can get into an individuals body system, through these sources. Most PPE comprise of medical gloves, gown and N95 respirators. However, they can also include boots or closed-toe work shoes, protective for the eyes and Aprons, depending upon the need of medical professionals and additional healthcare support staff.
What is the significance of a PPE?
PPE or personal protection kit is proven medical safety equipment which plays a huge role in helping healthcare workers guard themselves against any exposure to bacteria or virus, especially while treating a virus-infected patient. However, extreme care must be taken while sourcing a PPE as it should fit the individual employee correctly and should be of good quality. The COVID-19 virus has caused significant damage across the world over and doctors and workers are giving everything by being active 24/7 to keep the disease from spreading rapidly using equipments like PPE safety goggles. PPE prevents harmful viruses from spreading across a health centre and thereby protect individuals from contacting with the viruses and exercise infection prevention.
Why NU Hospitals is inviting contributions towards procuring PPE
NU Hospitals is one of the premier hospitals in India which has carved a niche for itself by offering path-breaking services in the field of Nephrology, Urology and Fertility services. Since its inception, the hospital has been successful in cracking many complicated cases and has successfully conducted complex surgeries including Kidney Transplants. With the hospital receiving patients from all across India for treatments spanning from transplant surgeries to maintenance Haemodialysis, the unfortunate, current health hazard, created due to the rapid spread of the COVID-19 virus has undoubtedly created a need for the hospital to upgrade its overall as well as lab management safety measures , especially for its healthcare workers which include doctors, nurses and hospital support staff, who are in direct and frequent contact with these vulnerable patients.

While patients with different medical histories walk into the hospital requesting for services with respect to Nephrology and Urology, due to the prevailing COVID-19 pandemic situation, it becomes extremely critical for every healthcare worker and employees of the hospital to safeguard themselves equally while trying to attend to the visiting patients. This because, it is a challenge to identify a COVID-19 infected patient, amongst the vast number of people who daily visit the hospital for Nephrology or Urology specific treatments. As such, it has now become very necessary for the entire critical hospital staff to equip themselves with PPE kits. Also, another important aspect that must be taken into consideration during these difficult times is lab management safety.

A Fervent Appeal
We continue to constantly hear about the damage caused by COVID-19 to global economy with even the healthcare sector not being spared. The fear within patients of contacting COVID-19 virus on just visiting a hospital, even if they are undergoing treatment for medical issues other than COVID-19, has stopped them from even visiting the hospitals. With the central health ministry making it mandatory and absolutely clear that every hospital needs to equip its healthcare workers with proper PPE safety, it has thrown a monumental challenge to all hospitals to plan its medical purchases. Though NU Hospitals is not a designated COVID-19 treatment hospital, it becomes absolutely necessary for its entire staff to be well-equipped with quality personal protective equipment to safeguard patients who visit for Nephrology and Urology services..
Hence, to join us in our fight against COVID-19 and help our ever determined and dynamic medical staff safeguard themselves, the hospital is in immediate need of Personal Protection Kits. NU Hospitals, by practicing safety first has always been successful in avoiding the worst. As living with COVID-19 will become inevitable for some time to come, we now come towards the main objective of this appeal, which is to make a fervent appeal and request for all corporates, philanthropists and likeminded, good Samaritans to support us with their generous contributions/ donations towards procuring the required number of PPE kits.

Since this is going to be a continuous requirement for the some time to come, it becomes inevitable for us to pass on the burden to our patients, who would have already been stressed out in planning their medical expenses.
As much as we would never want to take this step in over-stressing our patients, at the same time, it would become a challenge for the hospital too to bear the cost ,with the percentage of patients visiting the hospital for treatment having dropped , leading to very low percentage of inpatient flow and bed occupancy.
Per PPE kit Cost- 1000
We require 500 kits

NU Hospitals has never had a history of either compromising with the health of the patients or with its own ever determined and committed hospital staff. Hence, to maintain this strong record, we would like to extend this request/appeal to all corporate friends who could support us by extending their valuable contributions from some part of their budget reserved for donations under corporate social responsibilities. When bright minds and big hearts combine we can surely come out with the best medicine. The beginning for which, needs to be done, by taking good care of healthcare workers.