Former National Champion

Arvind Bhat

about Ninad:-"Ninad Kulkarni is training with me last 1 year. He is one of the most hard working and dedicated student I have. I sincerely request anyone seeing this fund raising campaign profile to help him as much as possible. I'm sure it will be put to good use and he will do his best to achieve laurels".
Born on 12th May 2005 and brought up in a typical middle class Maharashtrian family from Pune,
Ninad Kulkarni
has a natural inclination towards sports from his early childhood. From 5th standard, he was in the school Basketball team of Millennium National School. By observing his serious participation in the sports activity for couple of years, his parents decided to put him in an Individual sports. Ninad joined Nikhil Kanetkar Badminton Academy, Pune (NKBA Millennium Branch) for the formal Badminton training from Jan 2017. In a span of just 1 year, he picked up the sport gracefully with all the basic strokes, footwork, etc.
With the formal Badminton training started at NKBA, Ninad was also doing his academics in the Millennium National School. He attended every coaching session with a very sincere approach and was doing badminton fitness training early in the morning before school time.The task of taking him to the academy and back to home multiple times a day, was dedicatedly managed by his parents so that he shouldn't miss a single session unless & until any important reason.
With sincere efforts, his participation in various tournaments showed his progress in the game. So to take him further, his father decided to learn the game so that Ninad can get more practice at home too. Ninad's parents are into a very different field of Arts, his father Prashant is a Musician & his mother Suvarna is a Classical Bharatnatyam Dancer & Teacher. Inspite of that, they also took keen interest and Ninad started regularly practising with his father on court. With the additional practice & dedication, Ninad progressed further with more skilful playing. According to experts, his progress in the game of Badminton with just 2 years of training is remarkable with a good potential of achievements.
With his strong commitment towards Badminton, it was becoming difficult for Ninad to manage his school academics simultaneously. So facing many criticisms, his parent took a tough decision to drop him from the formal school and opt for open schooling (NIOS - National Institute of Open Schooling), so that he can concentrate more on his game.
To take him further on the path, Ninad's parents decided to shift him to Bangalore,with a successful trial at
LEVEL UP Badminton Academy, Bangalore
.
Ninad is now training at Levelup under the guidance of chief coach

Arvind Bhat

who is a former National Champion & 2014 German Open Winner. Arvind Sir is also Head Coach of Bengaluru Raptors team for Premier Badminton League (PBL) & also one of the coaches for the Indian senior team.
Ninad has performed well in many open tournaments as a Winner or Runner-up.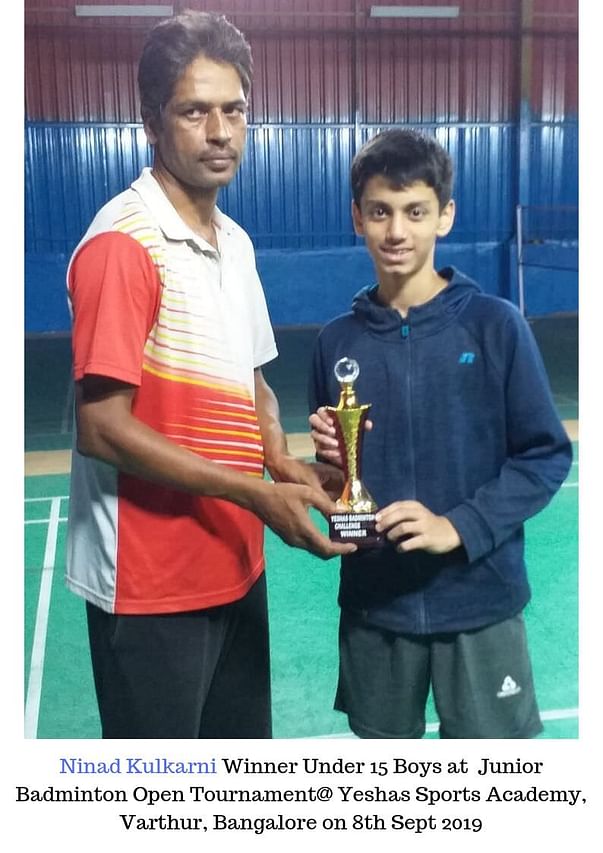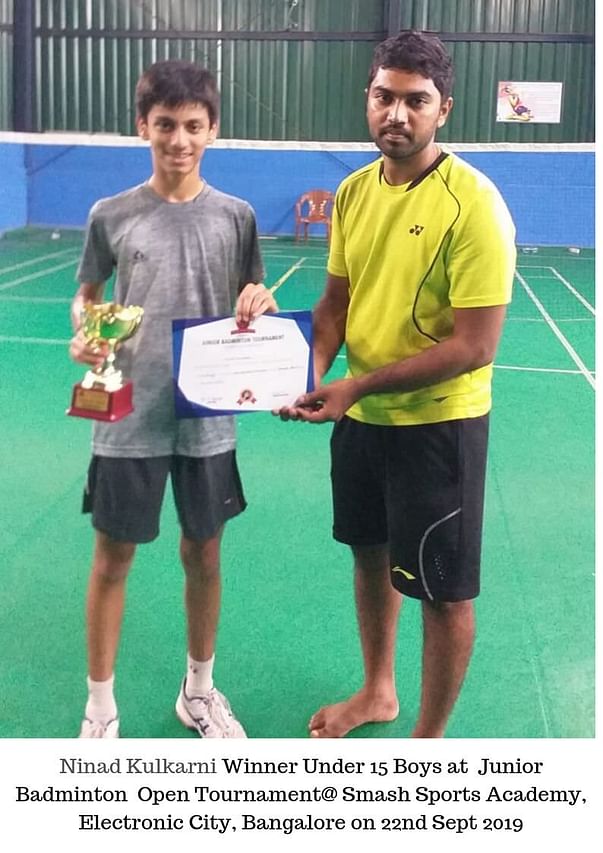 Ninad's daily training is of 6 hours which consists of 2 on-court sessions of 2 hours each before lunch and 2 hours of fitness training in the evening with weekly off on Sunday, on which he plays open tournaments in Bangalore sometimes. Left-Handed player Ninad is now 14 years old and he has next 4/5 years to develop himself as a professional badminton player.
Away from his mother & hometown, Ninad is now living in Bangalore with his father who is providing him support not only for discussion with coaches, additional diet requirements, monitoring his training sessions & tournaments, taking extra practice whenever needed but also managing house keeping & also doing some music tuitions to make out some part of the living expenses.
More than the other sacrifices, making of a sportsman is really challenging for the parents in terms of financials.
The approximate Financial requirement for 1 year of training & tournaments is about 8 Lacs.
The actual break-up is as follows-
Badminton Coaching Fees - Rs. 1,80,000
Fitness Training Fees - Rs. 54,000
Rent & Mess Charges - Rs. 1,44,000
State, National Out-Station and other Tournaments - Rs. 2,40,000
Badminton Equipments (Rackets, Shoes, Clothings, etc) - Rs. 50,000
Racket Guttings (Stringing) - Rs. 24,000
Feather Branded Shuttle Boxes - Rs.50,000
Diet, Supplements & Misc. - Rs. 72,000
Physiotherapy - Rs. 24,000
With his all potential, Ninad with his parents completely believe in himself and with his sincere dedicated efforts & hard work, he will surely succeed on his path as a professional Badminton player.

Any financial help & support will really mean for Ninad and his parents to take him further on this path.
We also request you to share this campaign to your contacts & groups, probable supporters and sport enthusiasts so that it will reach out to maximum. (WhatsApp & Facebook share links are provided above & with the corresponding icons).

Thank You very much !