Year 2021, came with a lot of challenges, this time the terrible second wave of Coronavirus has been seen. Many people were killed due to a lack of oxygen and hunger. These issues of compulsion and hunger amidst the state of this epidemic prompted us to help the needy.
Challengers Group
has provided ration kits, medical kits, and oxygen concentrators to the people in need. In 2020, amid lockdown, we had provided cooked or packed lunch to the people living in slums, footpaths, etc for continuously 90 days.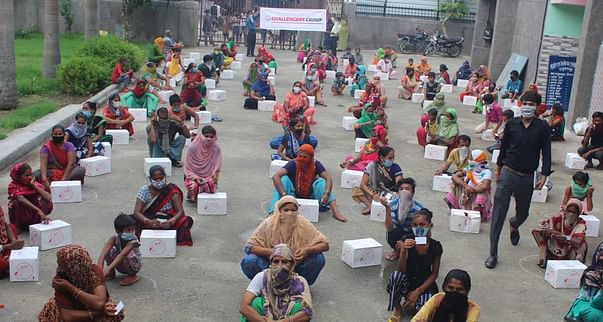 The founder of the Challengers Group, Mr. Prince Sharma said that this is not the time to be afraid but to be courageous to each other. We do not want this social distance to become emotional distance.
We are making every effort to bring relief to as many people as possible.
Recently, we are providing ration kits to that section of the society that is currently in desperate need of a helping hand.
While distributing ration kits we met several people who are struggling with different kinds of grief and want major help.
Catherine Henry
(Age-65+) lost her son due to Corona. Moreover, even her husband could not bear this shock and left the world in this agony.Catherine's grief is immense. While telling her pain she was started crying and find herself alone in this whole world. In such a situation, we helped her with some ration and finance but it will not enough.
Shiv Chandra Sah
(Age-33) who takes care of his family by selling vegetables, is feeling helpless due to the pandemic. He used to earn money by selling vegetables by going to different societies of Sector-19 and 20 Due to the pandemic, he is not being allowed to visit there. Chandra Ji is now forced to sell tobacco but that is also not working at all. The pandemic has had such an impact on his life that he is doing whatever he can to feed his family. Challengers Group is in touch with him and continuously aiding him by providing ration.
Rajwati Ji
(Age-60) Is an elderly labor woman who returns home empty-handed due to lack of work, due to which she is forced to sleep hungry and waits for the next day's positivity. The Challengers group was given information about the woman. After 2 days of finding her, we met her in Delta, Greater Noida, the organization provided her all possible help immediately.
For helping people like Catherine, Rajwati, and Shiv, who are battling the Corona epidemic alone, the organization is trying its best but there are several people like them who need our help in this difficult time.