I am based in Bengaluru. My friends stationed in three Taluks of Karnataka are working since beginning of lockdown in identifying the marginalized poor with no social security, and distributing ration kits to them.
Chintamani Taluk, Chikkaballapura District: Ramakka Building Youth Group (Shashiraj & friends, and Vatsala Madam)
Chikkamagaluru Taluk: Ravi K R.
Hiriyur Taluk, Chitradurag District: Eshwarappa M.
As can be seen from below table updated today, based on donations from our friends & acquaintances, we were able to cover almost 600 families spread over 62 villages:

By May 3rd, we want to reach out to another 500 families (300 Chintamani, 150 Chikkamagaluru, 50 Hiriryur) in the three Taluks. There will be more families as we go deeper into the villages, and especially if lock-down gets extended.
Unfortunately, we are observing donor fatigue, and the donations from within our circles have reduced.
Please Come forth & donate generously!
FYI, the ration kits costs around 1230/- per family.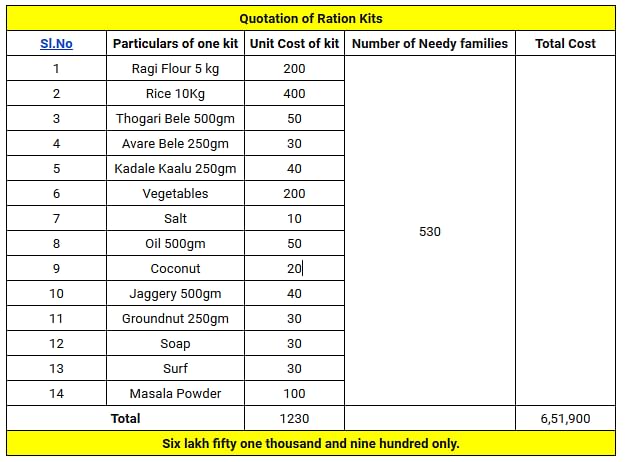 The selected families are Marginalised poor (alemari people, single women, widows, divyang, migrants, daily wagers, landless) With NO Social Security:
(ration card, jandhan account, medical insurance etc.)
They have not received any covid released fund/ration/food from Panchayat and also from any NGO.
Shashiraj is a social worker. He is representing "Ramakka Building Youth Group", a dedicated group of young women & men working for the past 10 years in villages around Chintamani, on issues like organic farming, water/soil conservation, providing social security to the poor etc.
Ravi K R is an Outdoor Enthusiast & Natural Farmer, based in Bengaluru. He has been practicing natural farming in his native village in chikkamagaluru taluk. He is now identifying & distributing ration kits in villages in his taluk.
Eshwarappa M, is a Social Worker & Activist, based in Bengaluru. Currently he's put up and helping out in & around his native village, Obalapura, Hiriyur Taluk, Chitradurga DIstrict.
BACKGROUND OF IDENTIFIED FAMILIES:
- Rural poor with minimal/zero economic support/backup, and in some cases, with no social support.
- Freed Bonded Laborers (Jeetha vimuktharu). These people were identified 5 years ago & certificates given by govt 1-2 years ago. Out of promised 2.5 lakh relief package of cash/home/land, they have got only 25,000/- money.
- Widows living alone.
- Disabled People with special needs.
- Single women.
- Aged people living alone.
- People Living in kuchha (gudisalu) homes.
- Migrants (valasigaru) from other states living in these villages.
- People staying hungry without food & rations since lock-down.
- These families have been identified personally by volunteers living in the same villages.
- Some families have Ration Card. However, the ration received from Government (10kg Rice & Wheat) is not sufficient.
- Most families do not have ration card, Jandhan Bank accounts or medical insurance.
- They have not received any covid released fund/ration/food from Panchayat and also from any NGO.